Consumer Behavior, Email Marketing and Mobile App Deep Linking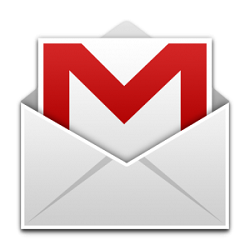 Mobile devices have brought profound change to every aspect of consumer marketing. Email marketing, meanwhile, remains one of the most steadfastly important channels for engaging customers and prospects. According to a recent report by Experian, email marketing by volume increased by almost 26% in 2016 while open rates remained steady or above 2015.
For retailers, however, there are signs that email conversion rates are under pressure. Unique click rates decreased slightly in Q1 of 2016 from 2.4 percent to 2.1 percent and the transaction rate also dropped from 0.06 to 0.05 percent. What can be done?
Most retailers still manage their mobile app and traditional email marketing as separate marketing channels that operate in silos. Email links typically send customers and prospects to the mobile website without consideration for the brand or retail app on the mobile device. Push notifications and in-app messaging, meanwhile have high opt-out rates among app users and are not connected to the brand's wider email strategy.
When marketers do not update links so they can detect and open the mobile app vs. website, a customer experience is created that ignores current and potential mobile app shoppers. This leads to lost engagement, app installs and ultimately revenue. At every mobile moment, including email, retailers and other companies should check for the presence of their mobile app before routing customers to the mobile website. Efficiently routing customers to any destination (desktop, mobile web app) from one link is called deep linking.
Email marketing and mobile app deep linking.
Deep Linking in a World Full of Mobile Apps
In online marketing speak, 'deep linking' previously meant linking to a page beyond the home page of a website. Today the phrase also means linking to a mobile app from another app or a browser. URLgenius uses your mobile app's URL schemes to open a particular page in the app or even a feature of the mobile device (e.g. camera). Think of a URL scheme as simply a prefix for opening the right page. As an example, the URL scheme for opening the home page of the Amazon shopping app is the following:
com.amazon.mobile.shopping.web://
Amazon also created other URL schemes to open category and product level pages. URLgenius deep linking can route traffic to any destination including websites, mobile apps and both app stores all from the same marketing link. Just remember to have your mobile app developer create URL schemes for any page your marketing team will be linking to in efforts to drive downloads and app engagement.
Email marketing and mobile app deep linking.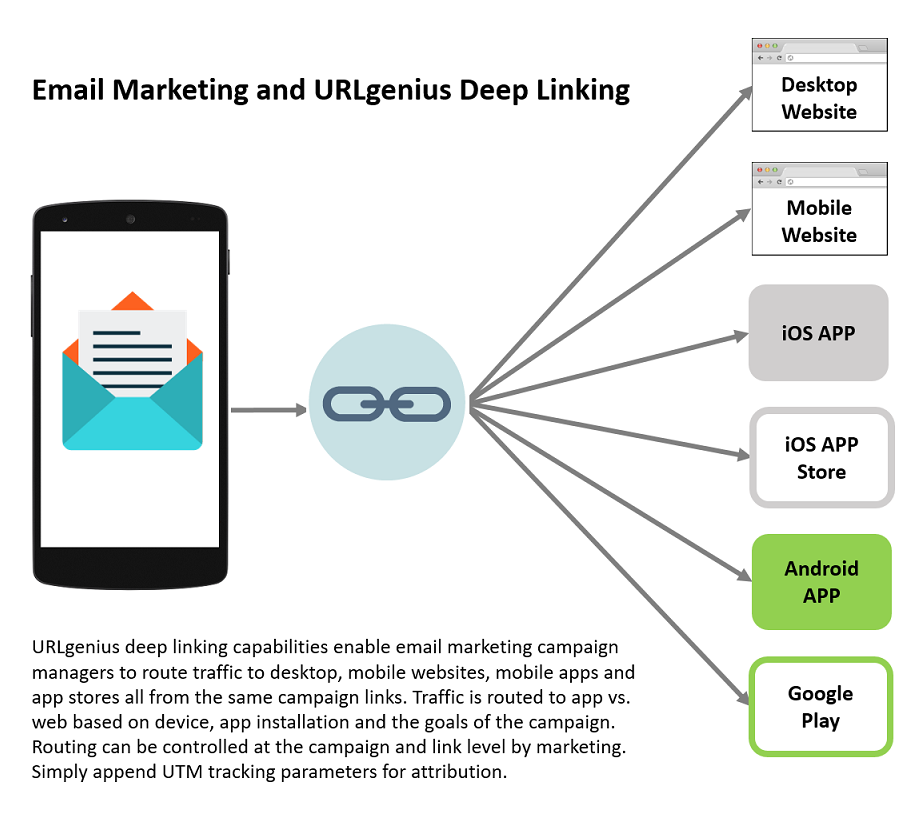 Email marketing and mobile app deep linking.
Marketing silos are keeping most retailers with mobile apps from implementing an app deep linking strategy. The email marketing manager may not be measured on mobile app downloads and reengagement. Similarly, the mobile app manager may not be focused on traditional email open and click rates. Mobile app deep linking presents an opportunity to integrate these channel teams more effectively while working toward a unified revenue goal.
In addition, deep linking to mobile apps is also not a feature in most enterprise email systems or may require significant development and SDK integration. Platforms like URLgenius are different from other deep linking platforms in that it requires no SDK or development and it is designed for marketers and agencies. Designed for marketers and agencies, solutions like URLgenius let you immediately update typical web URLs to easily test and implement app vs. web strategies on iOS and Android from a single link.
Email marketing and mobile app deep linking.
Competitive Edge: Email Marketing and Mobile App Deep Linking
Email marketers with mobile apps can quickly get an edge on the competition by implementing deep linking from email which creates a more seamless consumer experience. Mobile apps are typically designed for a brand's most loyal consumers who engage and spend more. Engaging current and potential app users from email will make your app a favorite among your audience while increasing the return on investment of your mobile app.
In addition, URLgenius supports your current analytics investments via UTM parameters. A UTM parameter is a tag that is added to the end of a URL which sends attribution data back to your web or channel analytics package (Google Analytics, Adobe Omniture etc.). You can also let your email system dynamically append UTM parameters. Deep linking combined with UTM support allows marketers to track which email links are driving mobile app engagement vs. mobile website engagement.
For omnichannel retailers and other companies, mobile apps and mobile websites are both here to stay. Email marketing and deep linking with URLgenius will help you pave the way for a smoother mobile path to purchase a more engaged consumer and more revenue.
Deep Linking platforms also let you update your profile links including Facebook, Instagram, Snapchat, Twitter, Youtube, Pinterest, Linkedin, Messenger and Telegram. This will help increase social app engagement.
Login now and get started and contact us at info@urlgeni.us with any questions.