As an Amazon Live Influencer, you not only have the ear of your customer, you have the full attention of Amazon itself! Once you become wildly successful, you might even be wined and dined by Amazon at fancy paid getaways in Mexico, New York, or Los Angeles to hear more about what's in store for Amazon's influencer strategy.
It's no surprise that Amazon is putting influencers (like you!) front and center when it comes to curated product recommendations. It's all about consumer behavior. The platform LTK, for example, reported that Gen Z makes up 40% of influencer-oriented shoppers and that 92% of all Gen Z adults (ages 18-25) have purchased an item based on a social media influencer's recommendation. Influencers will be the stars of e-commerce for the foreseeable future.
To compete, affiliates are always looking for ways to increase commissions. This tip we're about to share with you will help you dramatically grow your revenue from the audience you already have, and it will blow your mind because it's so easy, yet so powerful!
With the right on-screen presence, becoming one of Amazon's top influencers is within anyone's reach if you have the right knowledge. It doesn't matter if you're just getting started or already established, you need to know the inside scoop on how to keep growing and maximizing your results.
In fact, this post will show you how to 2x, 3x, or even 4x your commissions (yes, really—that's what we're hearing from influencers!). The secret is to promote your Amazon live streams more effectively on social media to ensure that every click works to help you earn more commissions by getting shoppers back into the Amazon app directly to your live stream so they can buy the products you're recommending or view product details and add-to-cart to buy later.
Are you with us? Let's dig in!
Why Amazon Live Influencers Are Discovering URLgenius for Generating Amazon App Links
So, why are so many Amazon Live influencers finding URLgenius and using it to link from social media to the Amazon app?
There are lots of wildly successful Amazon Live influencers who are already successful. They provide product advice in a variety of categories, including home, family style, beauty, and travel. Loyal shoppers are appreciating the candid, down-to-earth—yet practical and often entertaining— advice. And did we say popular? Some Amazon Live influencers have hundreds of thousands or even millions of followers on social media.
Now even successful influencers are discovering that URLgenius can help them double and triple down on that success! The simple reason is that URLgenius creates a smoother experience for shoppers when going from social apps to the Amazon app. The result: the shopper can instantly watch the live stream, engage with product details, and ultimately buy the product—leading to more commissions.
Influencers, of course, promote their Amazon Live streams on social media, including Facebook and Instagram. Facebook groups in particular are a great place to share a link to an Amazon Live stream because these chat groups are incredibly popular and have tens of thousands of followers. Facebook groups also have a strong sense of community, and the members often promote each other's streams and social presence. So, promoting Amazon Live broadcast links on Facebook is a smart strategy to drive awareness of an Amazon Live channel.
The problem influencers are discovering and many of their followers are complaining about is that the regular Amazon link to the live broadcast does not open the Amazon app from Facebook and other social apps. Instead, the Amazon link sends the shopper to the Amazon website within the Facebook internal browser.
Most people just don't log in to Amazon that way. When the shopper doesn't log in, the influencer's affiliate marketing tags are not passed to Amazon—meaning that the web login friction is suppressing measurable commissions!
That is the eureka moment Amazon influencers are having, and that is why they use URLgenius to solve for it!
More and more influencers are waking up to the fact that not solving for this will increasingly hurt commissions over time, and that is why URLgenius has become the go-to platform for linking to the Amazon app. And wow, is it paying off—big time!
"My instincts were right! My commissions were being suppressed by the website login when linking app-to-app! URLgenius proved it instantly, and I'm now seeing a 3x increase in commissions compared to using regular Amazon links in my social media promotions. I'm also getting more followers and engagement. I'm thrilled with the results!" – Amazon Live Influencer
Influencers might not realize that web login friction is a common problem when linking apps to each other. It's actually not the fault of the Amazon link itself, but something called the "walled garden," which keeps you from linking out of one app to go to another.
The URLgenius patented, cloud-based process to link out of Facebook (or any social app) and into the Amazon app to the right screen. That is, there is no need to log in to the Amazon website in order to watch your Amazon Live stream, follow your channel, browse your shop, and eventually click product details and buy the products you recommend on your live stream.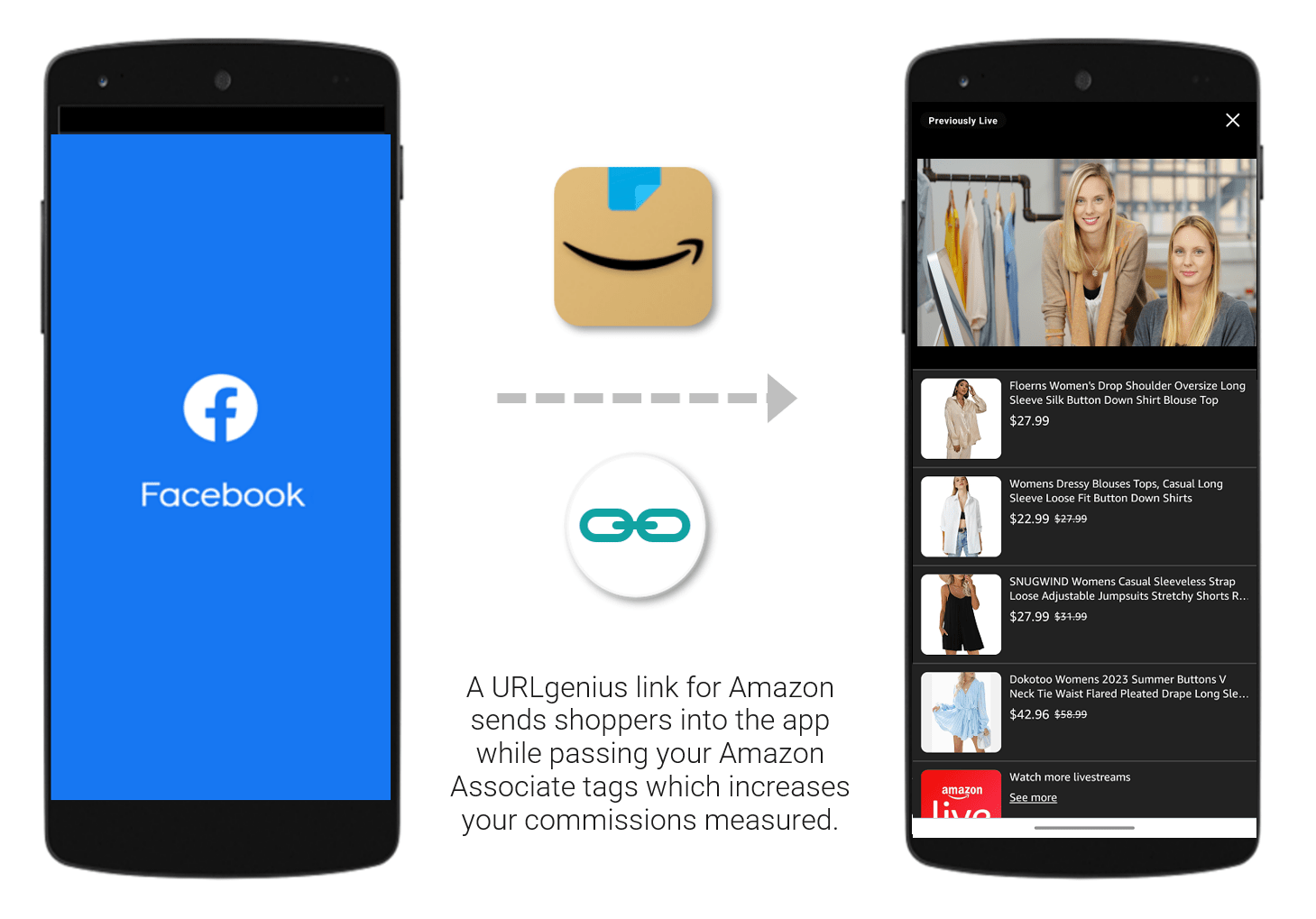 The results will astound you just as much as they did for many other influencers!
Not only does the Amazon app open instantly to the right screen, but your affiliate marketing tags are also passed into the Amazon app. This is key for a few different reasons. First, the sale comes from a shopper who is willing to buy right away. So, your sales increase instantly if you have an audience of buyers. Second, for anyone that doesn't buy in that click session, you're still capturing their interest and sending that engagement signal to Amazon. So URLgenius is also helping you improve your remarketing opportunities!
And not to worry, URLgenius links are approved by Amazon—we're a verified Amazon partner for Amazon advertising and attribution. The platform is already used by thousands of Amazon influencers, affiliates, and sellers around the world.
So now you might be wondering how to get in on this $$$ action yourself. Well, it's simple as 1-2-3, and you can update your Amazon links and test it out immediately. Just open another tab in your browser and follow these step-by-step instructions.
Step-By-Step: How to Generate Amazon Live App Deep Links to Open the Amazon App from Social Media Posts
Here are the steps for updating your Amazon live broadcast links. This is a tutorial for a single link. If you need to create Amazon app deep links for advertising feeds and other solutions, URLgenius offers enterprise customers access to an API.
Pro Tip: URLgenius also offers an Enterprise Dynamic App Deep Linking for publishers to scale URLgenius link creation. Contact us for details
Sellers should know that URLgenius is the only verified Amazon Ads partner that can pass Amazon Attribution measurement tags without SDKs. Follow these steps and update your campaign links today.
1. Enter your Amazon Live Broadcast URL into the URLgenius home page
Start with the link to your live broadcast, including your affiliate tracking tags. Paste the link into the URLgenius homepage to update the link so it can open the Amazon app. You can use your brand's domain for your app deep link, which we recommend.
Notice that you are given the option to customize the end of the URLgenius link to align it with your campaign. This will also help you find the link later in your list of links in the URLgenius dashboard.
Then simply select "Compose," and you'll be taken to the settings page for your Amazon app deep link. To go back to get the link later and get to this settings page again, just click "Console" from the menu for a list of your links and select the link from the first column.
2. Test your Amazon Live Broadcast app deep link
From the settings page of your Amazon app deep link, you can copy it to place into your paid search campaign. First, however, it's a best practice to test your Amazon app deep link, which you can do by scanning the QR code or clicking the button to email it to yourself.
3. Need a QR code for the same link? Just click "QR Settings" to download
Need a QR code that opens the Amazon Live broadcast? You're in luck! Every URLgenius Amazon app deep link also comes with an Amazon QR code. Just click "QR Settings" to download and customize. You can change the color and logo and density (scanning distance) and more. Just make sure to test it in context because changing the design can affect the ability to scan it depending on how you're using the code.
4. Amazon app deep link analytics
URLgenius will track app clicks, app-opens, and other information— such as referring URLs and referring apps.
The following chart shows the volume of Instagram app-opens by platform and device. The app-open rate tells you what percentage of people who scanned had the Facebook app installed for iOS and Android.
This chart shows scans by city and separately by language preference. These anonymous insights help you figure out where and how to focus your campaign, both in terms of geography and language.
Start Generating Amazon App Deep links and Multiply Your Amazon Affiliate Commissions
More in-app engagement, sales more $$$— need we say more? It's time to maximize your social media promotions with URLgenius app deep links.
At URLgenius, we're here to help! Contact us for a demo or with questions at info@urlgeni.us about Amazon app deep links and QR codes.
---
If you found this content helpful, check out some other how-to posts for increasing Amazon conversion: