Snapchat will reach 493.7 million users worldwide in 2022, on track to reach a milestone of more than 500 million users in 2024. Now that's a sizable captive audience for advertising!
So it's no wonder that you're looking for information about how to open the Snapchat app from different marketing channels and other social apps. This post will show you how to link to your brand's Snapchat profile to help you increase followers and engagement with your brand.
First, let's consider how Snapchat has evolved and why the platform is still important for marketers.
Since the introduction of the Snapchat app in 2011, disappearing messages have grown so popular that even Facebook and Instagram have developed their own variations of several of Snapchat's most popular features since its debut in the social media world.
Snapchat's messaging features are supplemented by Stories (picture or video communications that may be replayed for 24 hours), Memories (saved photos for later sharing), and stickers that enrich messages.
The revolutionary photo-sharing app has become an essential marketing channel in efforts to reach younger demographics for all kinds of companies and brands— whether it's a cosmetic line, an up-and-coming Amazon product or shop, or even a place where established media publications can find new audiences.
The 'stories page' functions as a great platform to feature relevant content to users, and a logical destination for ads placed among stories of publisher content. The placement is done, of course, with the utmost precision (courtesy of the algorithm, of course).

The Benefits of Generating Snapchat Profile Deeplinks for Businesses and Influencers
Why link to a brand's Snapchat profile from different marketing channels, you ask? Well, for a countless number of reasons, but we'll list the few that top our list based on the key demographics you don't want to overlook.
North America accounts for 96.1 million of Snapchat's daily users (i.e., their number one market!). As a result, the app is an excellent tool for any company trying to make major waves in the US and Canada.
Almost 20% of users on the video messaging app are between the ages of 18 and 24. Only 6.1% of male and 11% of female users are beyond the age of 35. Snapchat is an awesome way to reach a Gen Z and young millennial audience if your social media approach is oriented toward them.
And this last statistic takes the cake— almost 90% of Snapchat users are also Instagram users. Every Snapchat user has an account on another social media platform. The app's audience is most similar to that of Instagram, Facebook, YouTube, and WhatsApp. A small percentage of Snapchat users also use Reddit and LinkedIn.
One way to increase your Snapchat following is to include a link to your Snapchat profile page in the bio of your other social media pages, such as Instagram, TikTok, Twitter, or YouTube. This cross-promotion strategy will help you synchronize your social media presence, particularly if your other profiles have more followers.
Now let's say you have indeed linked up all of your accounts across all platforms (including Snapchat!)— i.e., theoretically creating the perfect web of social media marketing. Great! However, there's something you've forgotten to account for or that you may not realize.
It's a little party pooper known as the "walled garden." This is when you click a link and, instead of opening the app, you're sent to a web login. At URLgenius, we are very familiar with this industry problem and wanted to solve it so much that we mastered the art of escaping the walled garden with a trusted and patented process for deep linking (that is totally designed for marketers).

So how does URLgenius remove that web login friction from your visitor's content journey? Keep reading!

Get Around the Walled Garden With URLgenius Snapchat Deep Links
Most of us have several social media accounts and apps installed on our phones—it comes with the territory of owning a smartphone, right?
We're also familiar with ads that pop up on our feeds or links that are placed in various accounts' bios, which upon clicking, are supposed to take you to the destination page within the corresponding app.
Let's say, for example, you are a content creator whose main source of revenue and following comes from YouTube, but you're ultimately trying to expand your reach across all platforms. A great way to do this is by linking all of your social media accounts on your profile page in the "About" section.
Let's go on to say that one of these links is to your Snapchat profile page, where your YouTube followers can watch even more curated content specifically made for your featured Snapchat stories.
Unfortunately, what's going to end up happening is that the user will click the link, only to be hit with a Snapchat login page within the YouTube app. This phenomenon is what we call running into the "walled garden." Think of it this way— the social app has its own embedded web browser, which your shopper is sent to— instead of simply allowing the user to leave and open the other app.
The walled garden is the biggest enemy of a successful social media advertising campaign. As a matter of fact, the phenomenon will completely stunt the potential growth of your Snapchat following, which ultimately stunts the overall success of your brand.
At the end of the day, the link to your Snapchat Story just needs a special capability to securely jump over that login and open the destination app to the right screen. And yes, this is where we can help.
The URLgenius platform makes it simple to update your Snapchat profile link so that you can seamlessly open the Snapchat app from any social app or marketing channel— including Youtube, Instagram, TikTok, Facebook, etc.— and we're going to show you how. Let's jump in!

Step-By-Step: How To Use URLgenius' Deep Link Generator for Your Snapchat Profile
Creating an app deep link for Snapchat is easy! At URLgenius, we've designed a process for marketers— you don't need SDKs or technical resources and you can get started immediately.
The first thing you need to do is to navigate to your Snapchat Profile page on a web browser and copy the link from the address bar.
You only need the core links— you can remove any navigation tags that may have been added as you searched for the right product link to make sure they don't interfere with tracking or opening the Snapchat app to the right screen.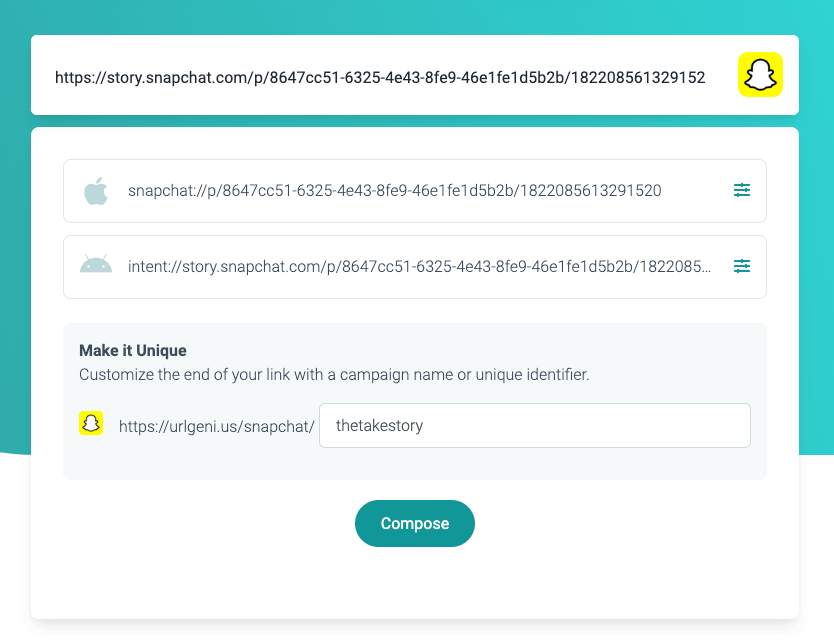 Paste the link into the box provided on the URLgenius home page. When pasting the link, notice the Snapchat icon is highlighted— this tells you that URLgenius understands the type of link you just pasted. You'll see the app address for that product for iOS and Android devices— it's just showing you that information to let you know the link is going to the right place.
You can customize the end of your URLgenius link to match your campaign to make it easy to find later or just use the pre-populated random characters.
Now click "Compose" which takes you to the settings page for your Snapchat app deep link, where you can copy to place into your social media ad or any other marketing channel. To test the behavior of the link, scan the QR code or email it to yourself or to someone on your team. To go back and get your Snapchat app deep link later or look at the app-open analytics just click 'Console' from the menu.
Notice that there are advanced features on the settings page— this is also where you can see clicks and the number of app-opens.
URL branding pro tip: You can use your brand's domain for your Snapchat app deep links. Just choose a word and set it up as a subdomain by creating a CName record (ask your web team). See the instructions in the settings for your URLgenius account.

QR Codes for the Snapchat App
Doing a multi-channel campaign in coordination with your social media ad? Lucky for you, every URLgenius Snapchat app deep link also has a corresponding QR code.
Create a branded Snapchat QR code to use online or offline to promote your page. Use them in posters, retail displays, tradeshows, and giveaway promotions. Just click on 'QR Settings' to find and download your Snapchat QR code.
We are always here to help you with your campaigns! Contact us with questions at info@urlgeni.us about Snapchat app deep linking from social media including YouTube, Instagram, Facebook, etc.
---
If you found this content helpful, check out some of our other popular how-to posts for app linking: