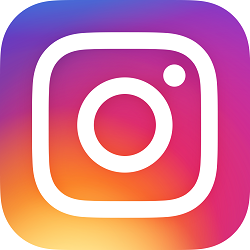 As consumers, we've all had that experience on mobile where you click a link and despite having the related mobile app installed, the link takes you to a mobile website to login where you abandon in frustration. For brands, advertisers and publishers it's a lost opportunity for engagement and revenue.
Instagram is no exception. The good news is there's an easy way around this with URLgenius. For example, you can update the link to your Instagram profile so it can detect the Instagram mobile app for iOS and Android. You'll increase engagement and attract more follows as you get your audience into the Instagram mobile app for iOS and Android as often as possible. Here's a step-by-step guide.
Pro Tip: Want to link into your mobile app from your Instagram profile or Instagram stories? You need an app deep link that can open your app from social media. You can create one with URLgenius simply by entering the App Store link or the Google Play link for your app into the box provided on the URLgenius home page. Fill out the fields accordingly then select "Compose". Note that you can control where to send someone that does not have your app installed. You can set it to go to the right app app store or to a web URL. You'll get some cool reporting too including app opens, app store visits vs. desktop clicks
<>
Step-by-Step: Creating Mobile App-Aware Links for Instagram
Sign up for URLgenius
https://app.urlgeni.us/signup
Copy your Instagram profile link to the clipboard.
(In this example we're using the online retailer Zara: https://www.instagram.com/zara/.)
Login to URLgenius: http://app.urlgeni.us. You'll see a box where you can paste the Instagram link: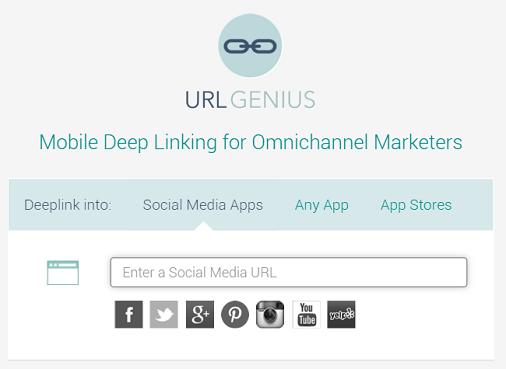 <>
Paste or type in your Instagram profile link into the box provided and select compose. (Note: If you don't see the compose button you might be in the wrong place. Just refresh your browser and start again).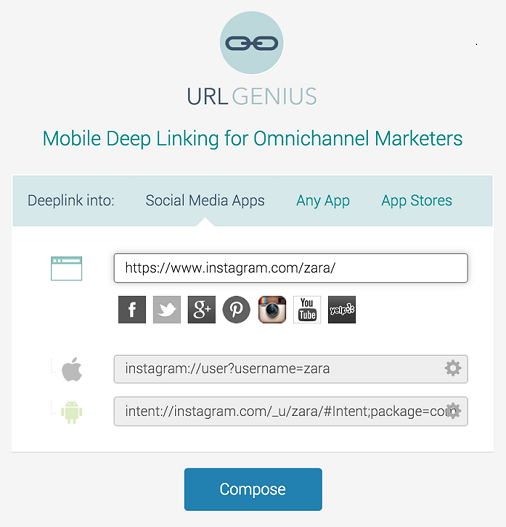 <>
When you select compose, the next screen provides you with the URLgenius link. Just select copy and then you can paste that link anywhere you would normally promote your Instagram profile link.

<>
You can use your updated Instagram profile link in any marketing channel. Here are some ideas to get your started:
Place the updated link behind the Instagram icon on your Website so when people follow you from a mobile device they'll go directly into the Instagram app if it's installed (if not they'll go the Instagram website).
Use this link behind the Instagram icon in your email campaigns.
Use this link in hashtag campaigns to drive more targeted Instagram engagement on mobile.
You can even use this link in display and search advertising campaigns to drive traffic to your Instagram account.
To view how many times your link is opening the Instagram mobile app for iOS and Android just sign in to URLgenius and click on "Dashboard" in the upper right corner.
More Deep Linking Tips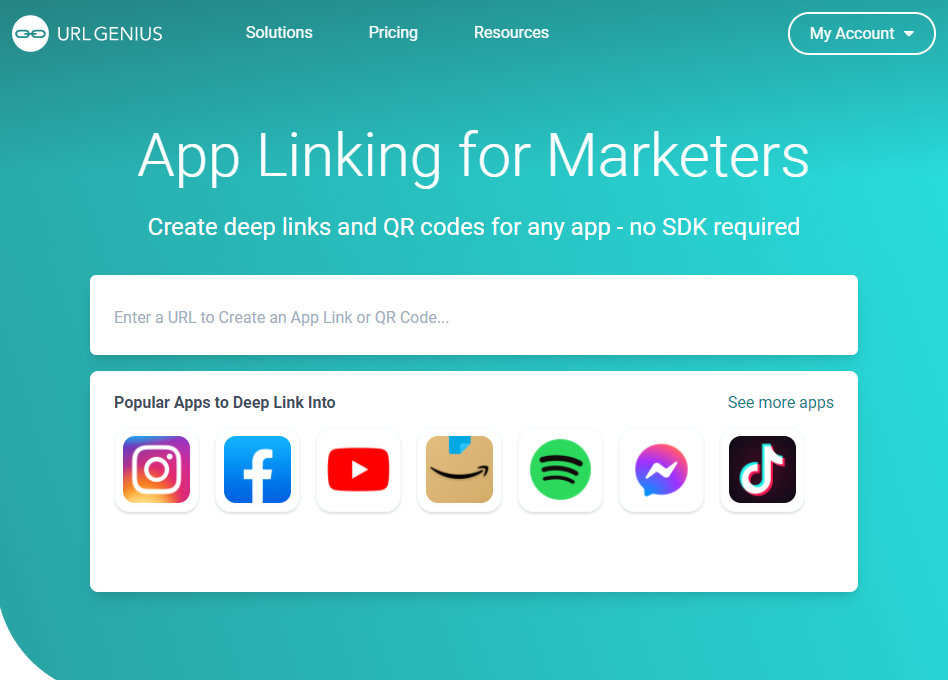 Tools like URLgenius support deep linking into literally billions of pages inside social apps, music apps, shopping apps, entertainment apps, news apps and more.

See these "how-to" articles for more tips!
How to Deep Link into Instagram TV Videos
Introducing Instagram Story Camera Deep Links
How to Create QR Codes that Deep Link to Your Mobile App
How to Deep Link to Alexa Skills
Deep Link to Product Pages in the Amazon Shopping App
Facebook Deep Linking Step-by-Step: Track App Opens and Engagement Across Channels
YouTube Deep Linking to the Mobile App vs. Website
Snapchat Deep Linking Step-by-Step: Track App Opens and Engagement Across Channels
Twitter Deep Linking Step-by-Step: Understand Mobile Moments Across iOS and Android
How to Deep Link to Facebook Messenger
How to Deep Link into Telegram Usernames and Channels
How to Deep Link into Spotify and Track App Opens
Deep-Linking into Facebook "Pages" on Android… #ForTheLike
Top 10 iOS App Deep Linking Schemes for Mobile Social Marketers
Contact us about deep linking to your app with URLgenius.
<>