The Rise of Amazon Third Party Marketplace Selling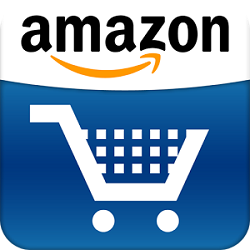 The growth of Amazon revenue across all product categories has forever changed the retail competitive landscape. In a recent report from Slice Intelligence, Amazon captured 53% of all sales growth among all online retailers in 2016. An amazing achievement.
Many brands or 'sellers' are also riding the wave of Amazon's success as the company stores, packs and ships third party goods through its Fulfillment by Amazon service. Active sellers using the Amazon fulfillment service rose more than 70 percent in 2016 and Amazon more than doubled the items it delivered for other sellers reaching two billion. In addition, Amazon also sells advertising to these sellers. Clicks on such ads were up 150 percent in 2016.
Deep linking to the Amazon shopping app is important for these sellers and marketers because it can help increase conversion rates while avoiding logins to the Amazon mobile website.
Deep Linking to Product Pages in the Amazon Shopping App
Tools like URLgenius can help marketers increase conversion be driving more traffic to the app which consumers prefer. Sellers, marketers and, agencies can update Amazon category and product links so the links can detect and open the Amazon Shopping app when it is found on the user's mobile device. Deep linking to the Amazon Shopping app vs. mobile website will help you increase brand engagement, product consideration and ultimately revenue.
For example, the following link leads to a Sony camera:
Note: This link has the letters 'gp' in the path. Amazon links could also have "dp" in the path or the word "product" plus the 10 digit product identifier.
Amazon Affiliate Marketing Tips
Generate your affiliate link in the Amazon affiliate system then update that link with URLgenius.
When generating your affiliate link, only use the product portion of the link like the example above.
Do not include navigational tags or search tags etc.
Before updating your affiliate link with URLgenius, make sure it is appended with your affiliate tracking ID and other necessary tags.
Here's an example:
"https://www.amazon.com/gp/product/B00QZDM9M8/ref=as_li_qf_sp_asin_il_tl?ie=UTF8&tag=extrescubam-20&camp=1789&creative=9325&linkCode=as2&creative&ASIN=B00QZDM9M8&linkId=eef2f368848d7727f723cc308d0a3c80"
The link above contains the following tags for Amazon affiliate tracking.
ref=as_li_qf_sp_asin_il_tl
?ie=UTF8
&tag=extrescubam-20
&camp=1789
&creative=9325
&linkCode=as2
&creativeASIN=B00QZDM9M8
&linkId=eef2f368848d7727f723cc308d0a3c80

"
Not seeing the data tracking in the Amazon affiliate system? Contact us for help at info@urlgeni.us.
Step-by-Step: Amazon Shopping App Deep Linking
URLgenius users can follow these steps to update Amazon links:
Navigate to your target page on the Amazon website and copy the root product link from the address bar of your web browser. You only need the root product link – do not include navigation tags.
Here's an example: https://www.amazon.com/gp/product/B00I8BIC9E
Update your product links in the Amazon affiliate system then update in URLgenius
To update in URLgenius, click the 'Shopping' tab on the URLgenius home page and paste it into the box provided.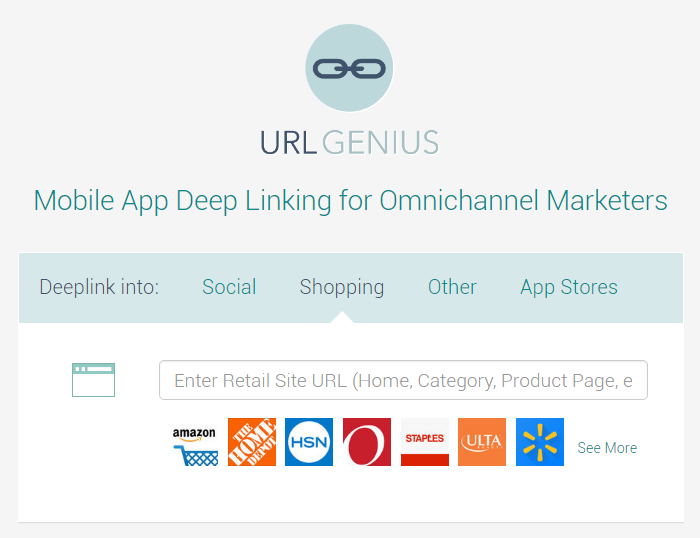 Staying with our example, in the screenshot below we are creating a deep link to the Sony camera.
When pasting the link notice the Amazon icon is highlighted.
This tells you that URLgenius understands the link type you pasted.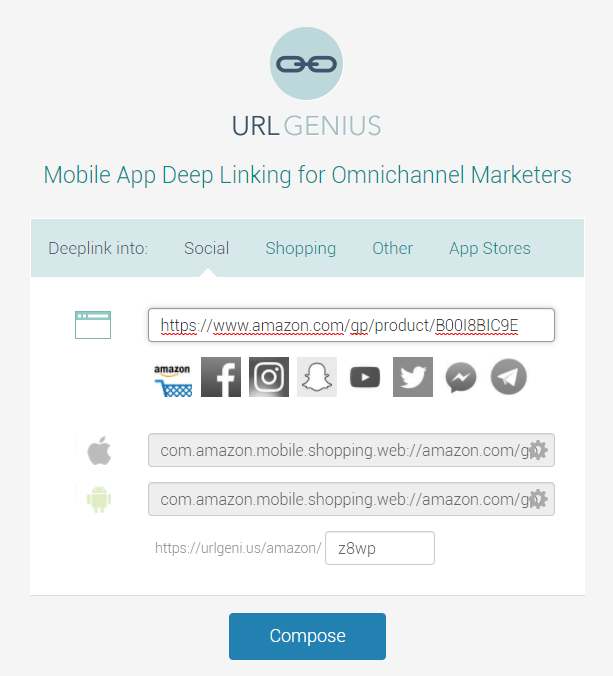 Notice at the bottom of the dialog there is a pre-populated field that contains four random characters.
You can customize this part of the path for tracking purposes by channel or campaign.
For example, you could change it to say 'fall-campaign" or "email-campaign".
In this case we will make it 'sony/camera'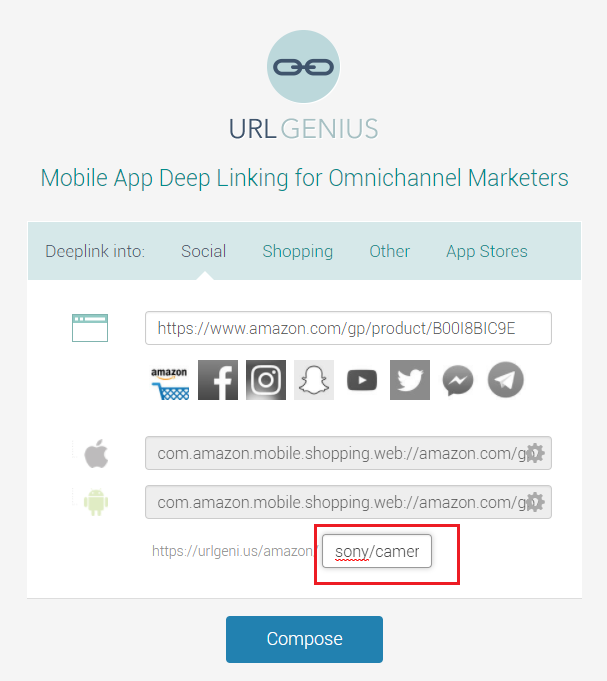 Click the "Compose URL" button which takes you to the settings page where you can copy the link for use in any marketing channel.
Tip: Scan the QR code with your mobile device to test the behavior of the link.
Copy your Amazon deep link and use it in your all your marketing efforts

How to use your URLgenius Amazon deep links:
Promote on your Twitter feed and other social channels
Place it behind graphics in email marketing. You can even have your email system append tracking parameters to the link.
Place behind banners in display advertising and paid search campaigns that promote your YouTube content and presence.
Analytics tip: append your preferred web or channel analytics UTM parameters for tracking (Google Analytics, Omniture, Kenshoo etc.)
URLgenius Deep Linking Metrics for Amazon Shopping
You can login to URLgenius anytime to understand how much engagement you are driving to the Amazon Shoppinng app.
This screenshot is an example chart for daily visitors and clicks by date range:

URLgenius Deep Linking Metrics for Amazon
The next chart below shows Amazon app opens by platform.
Using these charts, you can estimate what percentage if your social engagers have installed the
YouTube mobile app for iOS and Android.
App store opens indicates those showing interest in opening your links in the Amazon Shopping app but actually have not installed the app yet.

URLgenius Deep Linking Metrics for Amazon
And here's a chart example of clicks by device and by state.
URLgenius Deep Linking Metrics for Amazon
URLgenius Deep Linking Metrics for Amazon
After a click there is a one hour delay in reporting.
When you have clicks we will send you an analytics update each month.
Contact us about creating URLgenius links for your app.
---
See these "how-to" articles for more deep linking and QR code best practices:
How to Create a QR Code that Deep Links to Your Mobile App
How to Deep Link into Instagram TV Videos
How to Make Deep Link QR codes into Products in the Amazon App
How to Create YouTube Video QR Codes and Deep Links into the App
How to Make Deep Links and QR Codes for Facebook Pages
How to Make Deep Links and QR codes into Snapchat to Grow Followers
How to Create Deep Links and QR Codes into Twitter to Grow Engagement
How to Make Deep Links and QR Codes for Facebook Messenger
Deep Links and QR Codes for Telegram Usernames and Channels
How to Generate Deep Links and QR Codes for Spotify Music
Top 10 App Deep Linking and QR Code URL Schemes for Marketers