The Challenge
We Energies, a utility provider of residential electric service to more than one million customers in Wisconsin and Michigan and a nationally awarded leader in energy reliability, recognized its customers were increasingly turning to smartphones to get information. In 2013, the company started seeing large spikes of web traffic from mobile devices during storm-induced power outages when home internet routers were usually without power.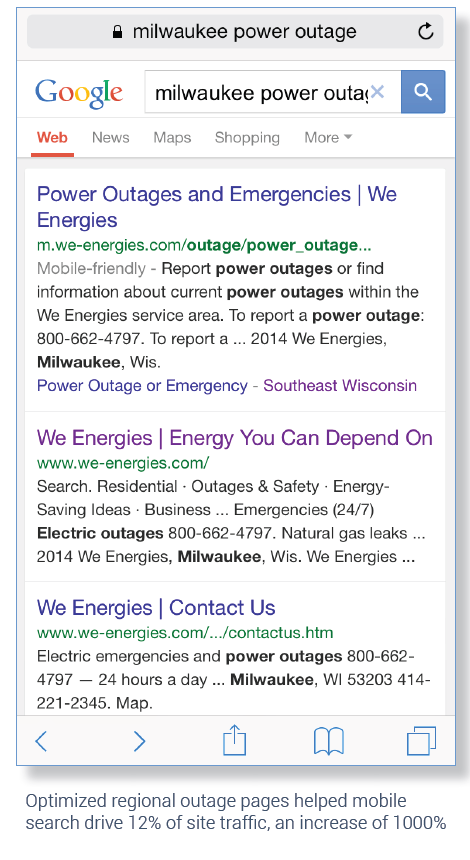 The consumer shift to mobile and mobile search engines (e.g. Google, Bing, Siri) surfaced a search visibility problem. As a regulated utility in Wisconsin, We Energies is required to promote its emergency hotline in each municipality so customers can notify the company of power interruptions or emergencies. During power outages, however, mobile customers were turning to search engines to find hotlines and outage information by searching for keywords that ranged from brand terms like "We Energies" to location-based terms like "Milwaukee power outage". The company realized its website and hotline were not visible to the mobile customers doing searches on those terms.
Numerous challenges would need to be overcome to address the issue. For one, weather-inducedpower outages are impossible to prodict in terms of frequency, geographic impact, order or magnitude or duration. While the company had desktop website content, power outage maps and a dedicated mobile website, these assets were not aligned witht he voice-of-the-customer keywords or the signals by search engines to rank pages highly for mobile searchers.
We Energies viewed the approaching summer storm months as an opportunty to extend its award-winning reputation for energy reliability toward an improved customer experience. The company would use search engine optimization and marketing as a key enabler to ahieve power outage readiness.
The Solution
Working with Pure Oxygen Labs, a leading mobile search optimization firm, We Energies put in place a comprehensive plan to achieve outage readiness on mobile devices by targeting local, non-brand search terms. Key elements of the plan included:
Mobile Desktop and Local SEO
Integrating voice-of-customer keyword data into critical areas of on-page copy and HTML elements, making structural improvements to improve desktop and mobile signals and deploying new regional landing pages targeting more than 300 communities in serviced regions.
Mobile and Desktop SEM
Activating paid search campaigns, geo-targted to municipalities in service regions for specific "power outage" keywords, directing customers to call the company hotline and visit the mobile outage in company history.
Mobile Cickstream Optimization
Implementing mobile clickstream optimization technology by Pure Oxygen Labs to route iOS and Android mobile searchers to target mobile pages on company IT resources to manage mobile server redirects.
Key Results
The benefit of this plan become evident during massive storm-induced outages in late June 2014 that affected more than 125,000 We Energies customers over a three-day span, the fourth largest in company history.
Some 55,000 people searched Google for "We Energies" outage information during this time, mostly from smartphones and tablets. Of the queries, 55% were for local outage terms or maps and 45% included We Energies keywords.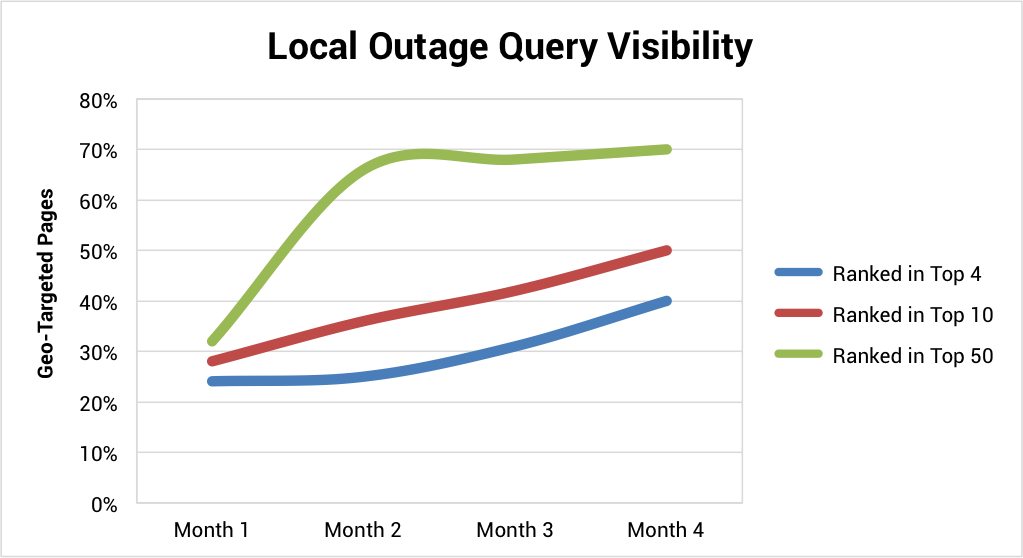 Of the 300 municipalities targeted, more than 50% ranked on the first page of Google search results for local outage queries. During this time, mobile devices would drive 75% of We Energies total website traffic – a 900% increase over typical mobile traffic levels. During this period, 70% of the company's Google search traffic came from mobile devices.
Lars Larsen, Senior Multichannel Marketing Manager, remarked "Customers naturally expect to find us offline and online and now they can find us on mobile. We will never know precisely when outages will occur but mobile optimization puts us in a position to help our customers reach We Energies in the moment, whenever storms strike. We expect to leverage this mobile readiness to improve customer satisfaction and lower call center volume and costs in the future."