QR codes are an easily misunderstood technology. This often leads to critical mistakes in QR marketing. But thanks to Coinbase and Super Bowl LVI, we all just experienced what a successful QR ad can look like at scale. (The results were so staggering, the ad industry stopped and took notice: 20 million scans in 60 seconds, causing the site to temporarily crash, yet ultimately drove so many new installs, the app went from #184 to #2 in the iOS app store.)

Here is a look at 7 technical factors that helped make the Coinbase ad the most successful QR code in history:
1) They optimized for QR scans, not beauty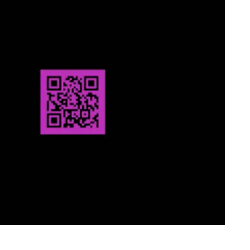 Adding logos or cool shapes and designs to QR codes often make the "data pixels" smaller and harder for phones to read. Encoding long URLs as QR codes also hurts scan rates. Coinbase optimized for scans by avoiding logos and fancy designs, and by keeping the encoded URL short.

What also helped performance is they kept the QR code's data pixels black while applying color only to the QR code background (not vice versa). This too made the QR more easily scannable as it ponged across our black screens.

2) They made the QR scannable from the couch
QR codes look like simple 2D boxes. But a third dimension – distance – is critical to optimize for success. In this case, we were all on our couches 10-15 feet away from our screen. Being scannable from that range requires significant screen real estate dedicated the QR code display size (due to the mix of newer and older phones with varying camera resolutions, combined with highly variable TV screen sizes). Coinbase displayed their QR large enough on screen to be scannable for most viewers. To free up that space they boldly made the QR the center of attention – avoiding any competing visual element.

3) They gave TV viewers time to scan the QR
A fourth dimension – time – is also critical to optimize in QR marketing. It takes time for the ad to generate enough interest in scanning the QR, and for viewers to retrieve their phone and swipe up. Too often TV viewers don't bother because the QR code on screen is displayed too briefly. Coinbase (famously now) displayed their QR code for a full 60 seconds.

4) They created a compelling reason to scan
This is where creativity counts. The bouncing QR was the ad. The fact it was onscreen alone – for that long – without context – broke our expectations of a Super Bowl ad. Curiosity compelled us to scan. It was a brilliant way to catch the attention of a prime time audience – while balancing the technical requirements above that would have been easy to overlook.

5) They established trust using their URL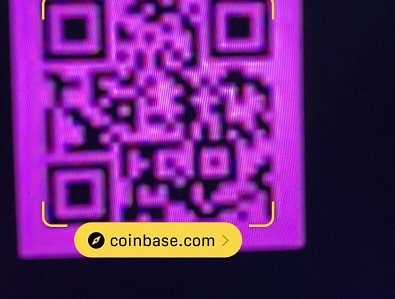 Scanning the QR showed "coinbase.com" in most camera QR scanners. Coinbase basically leveraged this meta data as an extension of the ad – revealing brand context absent in the ad. Encoding their own URL as the QR code (as opposed to using unknown or potentially harmful link shortener domains) provided a signal boost that ultimately drove 20 million users to their site.

6) They provided mobile deep links for users
Scanning the QR routed you to a mobile landing page with buttons for new and existing users. New users who wanted to try the offer were routed to the iOS or Android app store to install the Coinbase app. Existing app users were routed to a different page that took you into the Coinbase app.

One missed opportunity to point out: the QR could have contained the deep link logic to open existing app users to the relevant app screen upon scan, rather than forcing them to make additional clicks on the web landing page.

7) They made the campaign 100% trackable
Lastly, by adding a small parameter ("?qr") to the landing page URL, Coinbase was able to attribute 100% of the resulting online activity to scans from the ad. This illustrates what makes QR codes such a powerful part of the ad tech stack – not only do they offer a way to engage mobile consumers at scale, they also offer marketers a way to make offline and on-air media accountable. And in this case, the results may have marked an inflection point for QR codes in marketing.

So kudos to Coinbase on running the most successful QR in history! This ad showed marketers around the world how powerful QR can be at engaging mobile consumers, while demonstrating best practices for QR marketing success.


For additional QR code marketing resources, tips, best practices: