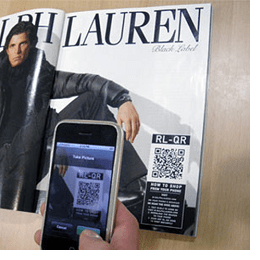 Sure, it might seem like digital marketing holds a monopoly on advertising in today's world, but that doesn't necessarily mean that print ads have become obsolete.
And yes, most of humanity has its eyes glued to that giant collective smartphone that delivers consumer engagement and sales, however, there is another popular tool that marketers are now using across the digital spectrum to bring together the online and printed physical world— the QR code.
Let's say you're a retailer that just dropped a brand-spanking-new line of sunglasses that you're keen to advertise everywhere, including print ads in newspapers and magazines and you want to include a QR code in the ad to capitalize on the ubiquity of QR codes and the willingness of customers to scan them which has massively increased.
The question is— how do you correctly generate and use a QR code for a print ad? The last thing you want is a QR code fail that will reflect poorly on your brand and your marketing team. Well friend, you are reading the right article!
Here are some key questions your marketing team should consider as a start:
Where should the QR code be placed within the ad and what size should it be to maximize scanning?
What other design details will affect the customer's ability to scan?
What if the QR code needs to open an app like Amazon vs. a website?
How can the QR code be designed in a way that will not just inform consumers but drive sales?
How can QR scans be tracked and tied to revenue?
So, what are we saying exactly? Well, we're telling you that if you answer these and other questions correctly, you can drive real business and measurable engagement and revenue with QR codes. In fact, a QR code designed and optimized the right way can seamlessly marry your old-school print ad with the new-age digital marketing tactics of today.
Now, before your marketing team— in their haste and excitement— dashes off to find a free QR code generator— which is a serious risk to your brand— learn how to create and optimize Enterprise QR codes for print ads that can open apps, websites, place phone calls, send SMS text messages, or even trigger an email with a pre-populated message ready for your customer to hit send— yes really!
And good news, you don't need SDKs or a lot of technical resources but you do need a serious Enterprise QR platform like URLgenius along with the right guidance. First, however, for a QR code to have any of these advanced capabilities for print or any other channel, the key phrase to remember is this: Dynamic QR Codes.
What makes a QR code dynamic?
Of course, virtually everyone is familiar with the standard QR code and how to use it. But many, if not most, might be scratching their head at the word dynamic.
A dynamic QR code is different from a regular QR code in that you— as the marketer or agency— can control the destination of the scan. The destination is dynamic in that it can vary— we'll say it once more— from your website to your brand's app, to a phone call, an email or even get this— an SMS text. And you can change the destination even after the QR code is printed and in production.
So if circumstances arise that require you to adjust the QR code after it's printed— such as, for example, the call-to-action changes— you can easily update dynamic QR codes without breaking the experience or having to go back and reprint the code. Plus, dynamic QR codes give you the ability to think about the lifecycle of your QR codes over time and treat them like a corporate asset that drives your first-party data (which they are!).
Awesome, right? Here at URLgenius, we are all about making our dynamic QR code generator a simple yet powerful Enterprise QR platform for you and your team (we did all the heavy lifting so that you don't have to!).
When you create a URLgenius Enterprise QR code, you not only create a great customer engagement experience, but you don't have to worry about strange domains (you can use your brand's domain) or nefarious tracking software which can put your brand at risk for a data breach.
Now, let's talk about some QR best practices for print ads!
Dynamic QR Code Best Practices for Print Ads
Although creating a QR code on the URLgenius platform is straightforward and as easy as 1-2-3, the details concerning your ad and your call-to-action are important and there's a lot that can go wrong. URLgenius allows you to choose your QR density, colors, and logo and all of these variables will impact the ability of your customer to scan the code.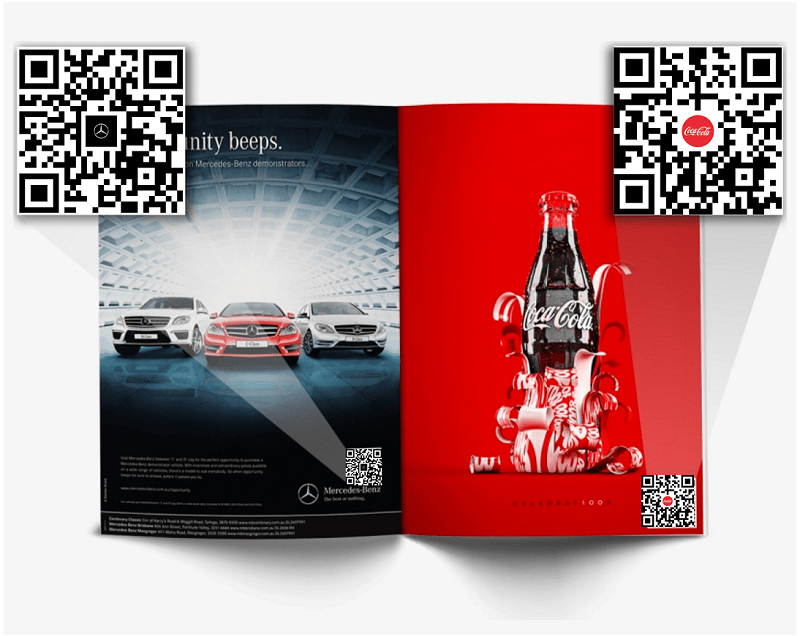 Here is a more detailed breakdown of just some of the things you should consider when customizing the design elements of a QR code for print ads:
1. QR code color and background color
As a marketer, it is natural to want to be creative with the design and color of your QR codes. If you wish to incorporate your brand colors or depart from a typical black and white code, keep in mind that codes scan best when there is a significant color contrast between the different color boxes. The lighter the color and contrast between colors, the more difficult it is for your smartphone cameras to scan them every time.
2. Logo placement
When it comes to branding a QR code with color, adding a logo is often the next step. This works best when using a higher-density setting with a lot of built-in redundancy in the code. Redundancy is related to the little squares of color which control where the code will take your customer. Make sure your logo does not interfere with the pixels in the code. Don't test the code without the logo and then add the logo and assume the code will continue to work.
3. Proximity and scanning distance
Since your magazine or newspaper will be in the reader's hands when they scan the code, the phone will be quite close to the ad when they scan it. A medium or higher density code would be best. We recommend testing the code in context on a sample printed ad before putting your advertising into production to ensure that the code fills the camera space in a way that will maximize scanning across device types.
4. Multi-channel codes and density
What if you're using the QR code for a multi-channel campaign— can you use the same QR code for a poster or a billboard that you also used for your print ad? Probably not. Choosing the correct density is related to proximity or scanning distance. Low-density codes perform better from a distance. If your user will be scanning from a distance, such as a billboard, use a low-density code. Use different codes at the correct density for different marketing channels.
5. QR size and placement
Did you know that there is indeed a minimum QR code size for print ads and other types of media? The recommended smallest QR code size for print is 2 x 2 cm (0.8 x 0.8 in) but QR codes can be created as large as needed for your print or newspaper ad as long as you use high-quality files of your logo and the pixels are not blurry. The placement of the code requires enough room for the camera to capture the entire code.
Pro tip: Did you know that UTM tags like those for Google Analytics and other measurement software will increase the density of your QR code? This could make it unscannable. Make sure to add all your tracking tags after you create your QR code.
These are just some of the important variables than can affect scanning. Make sure to contact us about your specific use case. Now that we have you thinking about some of the QR design details, let's cover some innovative call-to-action examples that will delight your customers and achieve your marketing goals.
Four Innovative Use Cases for Dynamic QR codes in Print Advertising
QR codes in print advertisements can do much more than send your customer to a website. They can truly drive consumers to engage with your brand in ways you might not be thinking about. Entertain, delight, and surprise your customers with QR codes that deliver something valuable to your audience.
Pro tip: Think about using QR codes in ways that get your customer into your marketing funnel. Think of each scan as a Google Search that your customer didn't need to perform because you're delivering the offer or the information immediately. Used effectively across channels, QR codes will not only drive sales but will cut down on your paid search expenses over time while enhancing your first-party data strategy for remarketing.
Here are four ways to use QR codes in print ads that will give you an edge over the competition:
1. QR codes that open your brand app to a special offer screen
Enterprise QR platforms like URLgenius let you create a dynamic QR code that can open an app to a specific screen where you can present the user with a special offer. You can also control where to send the user if that app is not installed (a website or the right app store). QR codes that open your app will save your customer time and lead them further down the purchase funnel.
2. QR codes that open your store or product pages on a 3rd party marketplace
Of course, not all brands have apps but almost everyone these days sells on Amazon. Why not create a QR code that opens to your brand's store or product details page in the Amazon app or another marketplace app? If you sell on Amazon you can also add Amazon Attribution tags to your QR code and measure the sales and revenue that your QR code is driving from your print ad.
Even if your customer doesn't buy in that session, the customer engagement from the QR code will be seen by the Amazon platform for remarketing. As a result, your sales will go up along with your on-site product rankings.
3. QR codes that open to your social media content
So you've got that beautiful ad in place and along with it some fantastic social media content. Why not get more from that photography investment and use a QR code in your print ad that takes the user to your social media presence or the hashtag for your campaign. Better yet, take your customer into your brand environment with a virtual reality experience. It's a perfect way to let customers continue the brand experience and research your products— and you'll gain a follower, some likes, and perhaps even some comments as a result.
4. QR codes that place a phone call, send an email or SMS text to order
A great print ad may inspire your customer to buy immediately or request more information. Strike while the iron is hot with a QR code that lets the customer contact a sales representative or customer service. Try phone calls that go to a real person or an automated phone menu. Or try SMS text messages that kick off a bot experience or an email with a pre-populated message. Try all three strategies from the same QR code over time.
Remember they're dynamic so the destination can be changed. Just make sure your destination matches the call-to-action in your print ad.
URLgenius Is Your Dynamic QR Code Generator Platform
At URLgenius, we make generating dynamic Enterprise QR codes easy, but using them correctly and extracting all their potential value takes expertise, the right technology, and the right strategy.
As we said, there is a lot that can go wrong in the process. Even something as simple as logo design or UTM parameters can interfere with the scanning process. We can guide you and your team every step of the way. We'll make sure to get the design, density, size, and placement perfect for your print ad and other channels in relation to scanning distance— plus we'll consult with you on your analytics strategy to ensure you're measuring results as effectively as possible.
Check out our QR Experience Playbook and QR Strategy Guide for more advice and common mistakes to avoid and learn how other brands are using QR codes.
Contact us with questions at info@urlgeni.us about your QR code unique requirements.
If you found this content helpful, check out some of our latest how-to posts for deep link app marketing: