Instagram's ad revenue is forecasted to grow to an incredible 39.7 billion dollars. If your advertising budget is part of that forecast, you already know that the platform gives your brand a lot of ways to promote its products and services, including profile links, organic posts (without links), stories, and paid advertising campaigns. Quite a marketing gold mine in one app, right?
Instagram ads are increasingly being used to entice potential or current customers to click through to store and product pages on the spur of the moment, either to buy or to get more information to move the customer further down the funnel when making a more deliberate purchase. So as marketers, we think of a brand's website, right? Naturally, but what about linking to your brand's app from Instagram ads, profiles, and stories?
You may have landed on this post because you're thinking about such a campaign. Well, guess what? We have the keys to success for social selling via any type of app! For app marketers, social advertising has increasingly become a crucial tactic to drive app installs and re-engagement (after all, that's where your consumers spend most of their time), so you're on the right path. To successfully link from app to app, you must have the right type of link behind your ad.
Instagram has turned into a shopping powerhouse because of the nature in which product imagery is presented and displayed. The concepts in this post, however, also apply if you're looking to link to your app from Facebook advertising or video ads on TikTok, YouTube, or any other app. You can even append Google UTM tags to track app installs and engagement from social media (don't worry, we'll get to that too!).
It doesn't matter what type of app you're promoting—whether it's for retail e-commerce, travel, finance, healthcare, entertainment, etc.—app deep links behind ads are a proven method to boost your campaign.
Now first, as you consider the link behind your ad, it's important to think about the behavior of the link in the context of your campaign goals. Ideally, how should the campaign link behave if the app is already installed?
Answer: The app should open to the right screen, right? (Really, why send that user back to the app store?)
If the app is not installed, the user should definitely be sent to the corresponding app store, namely if the goal of your app marketing campaign is to increase app installs. (It's best to avoid any extra landing pages, especially if your app doesn't need a lot of explanation.)
On the other hand, let's say that your goal is increasing revenue (app or web, doesn't matter!). In that case, where should the link take the user if the app is not installed?
Answer: In that case, it could be better to set the fallback destination to the web URL to maximize sales.
Wouldn't it be great if you had control over that fallback setting so you could change it at any time to align with your campaign?
This is where we say— of course AND you can! You just need the right link behind your ad. In a perfect world, that's how links should always work. "Should" is the operative word in all this, because not all app deep linking capabilities are created equal. Even if your app already has deep linking technology built in, you've likely discovered by now that it doesn't work in this social marketing use case.
So what typically happens when an Instagram user clicks an app link behind the ad for one of their favorite brands? Even if they already have the app installed, they're sent to the web login or to an extra landing page—or worse, to the wrong app store. This all ultimately results in lost customers.
Okay, so what's up with that? This particular issue is the unfortunate by-product of something the industry calls 'the walled garden'. It's no fault of the link itself—it's just that the technology behind it isn't appropriate for this use case.
So, how do marketers solve this problem? Worry not—we have all the answers for you. We're going to cover it all, and in a matter of minutes, we'll show you how to generate one intelligent ad campaign link—with all the ideal behavior built in so that you can align the settings with your campaign goals.
Let's dig in.

How to Solve the Instagram Walled Garden to Link to Your App from Profiles, Stories, and Ads
We've all experienced this as consumers. You click on a link and, although you have the app installed, you're stuck in the app that you're currently in. Essentially, you're now stuck in a mini-browser that is part of the app, often called an 'embedded web browser' in technical speak.
Let's keep all this in mind with regard to Instagram and your ad campaign.
Scenario: An Instagram user—who we'll call Lana—is tapping through various Instagram stories, ranging from her close friends to some favorite celebrities.
Lana loves to travel. So much so that she's downloaded travel app upon travel app to make sure that she's always getting the best deals on flights and hotels.
Let's get back to her story tapping. Tap, tap, tap. After a few stories, lo and behold! San Diego native Lana is advertised a great deal on a New York hotel (crazy, she was just thinking about booking a trip to the Big Apple!) from Klook, one of her favorite travel websites/apps.
Tap, tap! Take me to the app! (Lana has the app installed).
Alas, the tap did not take Lana to the app. Instead, the tap sent her to a strange landing page where the deal she initially was excited about was, well, gone. And she has to log in? Why didn't the Instagram tap just take her to the Klook app, and even better, to that specific deal?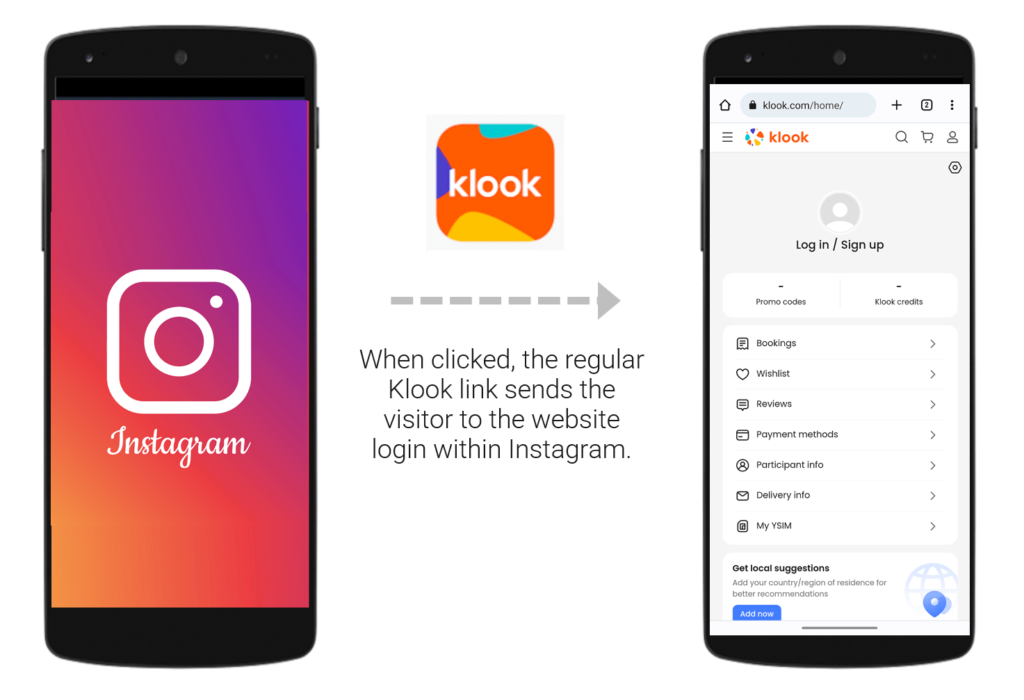 Unfortunately, that logical course of app-to-app action was intercepted by that not-so-little opponent that we previously mentioned: the walled garden.
Imagine the walled garden as an impenetrable hedge lining the parameters of the app a user is in (in this case, Instagram). The walled garden exists to keep app users within the "walls" of the said app (which, by the way, is a problem across all apps), which is ultimately why Lana is being kept from going straight from the ad to the destination app (in this case, Klook).
And guess what? Lana is likely to exit Instagram completely out of frustration, and at best she'll put a mental "pin" on planning this trip with Klook. Unfortunately, because of this lapse in smooth customer service, there's a pretty big chance that she'll check prices in another app for a better deal. Not great for sales. Not great for conversion rates. Not great for the Klook brand.
Even more, that lack of sales velocity hurts your app store rankings over time.
But what if Lana jumped over to the Klook app herself and bought the trip? Great, right? Fine, maybe. But why risk a sales opportunity? Plus, even if Lana did so, your campaign would not get credit because tracking would be lost. So ultimately, when you report the outcome of your ad campaign, the numbers fail to accurately represent and report the extent of your success, which all in all makes it rather difficult for you to make the case to invest more in social media advertising.
What's the solution? Why friend, we thought you'd never ask.
All you need to do is update your link to give it some extra deep linking power to securely hop right over that web login and open your app to the right screen.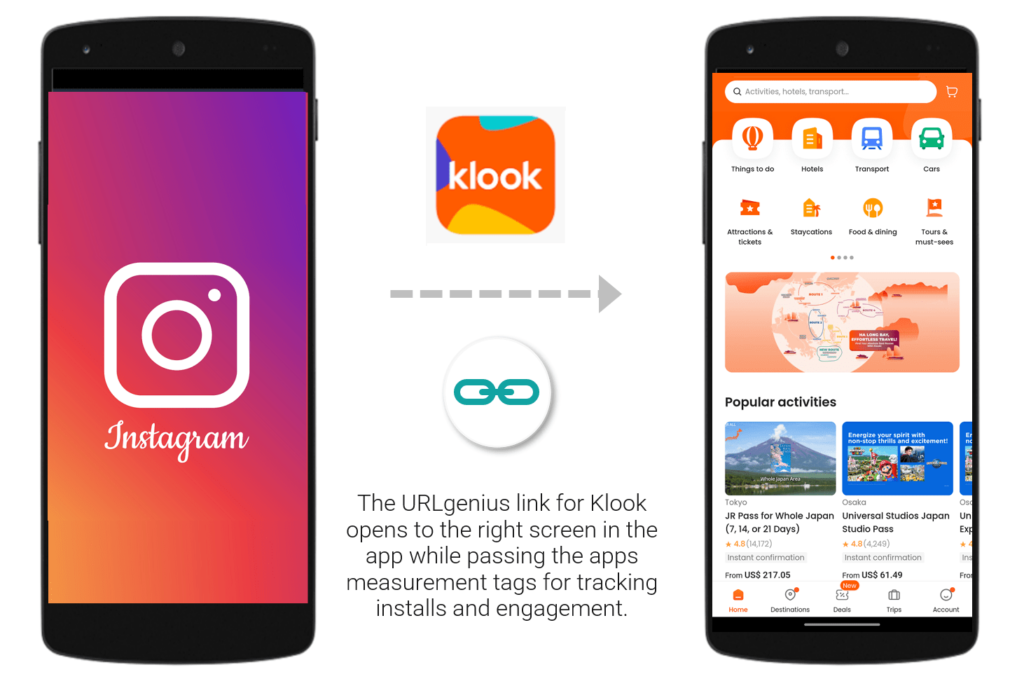 The solution is to replace each ad's link with a unique, patented mobile app deep link from URLgenius. This deep link will ensure a smooth customer journey from app to app—from start to finish. Not only that, our mobile app deep link generator is easy to use—no SDKs or other technical resources are required to do the job, and yes, you can even use your brand's domain for your link!
Oh, and lucky for you, we're going to show you a quick and simple step-by-step tutorial on how to generate one of these deep links within minutes. Let's get started!

One Ad Campaign Link for iOS and Android
As you're laying out the details of your social advertising campaign, you may be under the impression that you'll need to create two separate links for two ads: one for your iOS app and one for your Android app/Google Play link.
With URLgenius, you're able to create one intelligent link that will direct the user to the right app store according to their device. If your app is straightforward, then there's no need to send traffic to a landing page first—you just need to get them to the correct app store then and there. Take note of this: The more clicks and steps you take out of your customer's journey, the more app installs and re-engagement you'll get, which ultimately means you'll reach your advertising goals much faster.

Reaching Your App Marketing Goals
If you're pondering whether your app marketing strategy should center on either app installs or app re-engagement, we'd say why limit yourself to just one of those goals? When the app is not installed, your visitor should be directed to the respective app store, but you may also choose what screen the program should open to when it is already installed.
You might want the app to open to a category screen or another specialized screen for guests to interact with certain content. You can establish a single campaign link (i.e., an app deep link) that does everything mentioned above.
Remember that sending traffic back to the app store is pointless if someone already has your program loaded. Set the link to open the home screen or a screen deeper in your app. Even if just a small number of clients have your app loaded when they click your Instagram ad, they'll appreciate that you saved them a step and launched it directly and immediately to the right screen (increasing conversion!).

How to Control the Fallback URL for App Links
You may want the fallback URL to go to the associated app store or web URL, depending on the purpose of your campaign. This setting should be managed by your marketing team. For example, if you have an e-commerce app, your objective may be to grow revenue at times, but at others, it may be to increase the number of app installations. Giving your marketing team control over the fallback URL—whether you want it to go to a web URL or the selected app store— will help you optimize your campaign and reach your goals.
There's one more item to think about after you've determined your campaign's goals and appropriate link behavior. Many apps utilize deep linking technologies, and marketers may mistakenly expect that their web URLs will open the app from Instagram and other social apps, only to find out that this is not the case. Remember, this is due to a phenomenon known as the 'walled garden' and your links just need to be updated. This happens because Instagram (or any app) holds you within its embedded browser rather than instantly opening the target app (in this case, your brand's app), thereby keeping you on the login page!

Pro Tip: Deferred Deep Linking
App marketers may be familiar with the term 'Deferred Deep Linking.' When you run a delayed deep linking campaign, you give your audience a reason to download your app. The user is directed to the offer screen the first time they start the app. Deep links in the URLgenius app can be customized for this advanced use case. Deferred deep linking does not require an SDK; instead, just a few lines of code are added to your project. If you want to test this use case, please contact us. URLgenius also provides codeless methods for increasing app installs, such as how to design app install banners for iOS and Android.

How to Generate Google UTM Tags for Your iOS App Store and Google Play Links to Track App Installs from Instagram Ads, Stories, and Profiles
You'll be set to track how many installs your app is generating as long as you have the Google Analytics SDK for Mobile Apps for iOS and Android installed. You can track app store visits, app installations, app opens, and app re-engagement through social media and other channels without installing or managing another third-party SDK.
You just need to create a campaign link in the consoles which will append the right tags to your app store links for iOS and Android so that you can track and attribute app installations to your Instagram ad. Simply follow the steps below to add UTM tags to your app store links.
You may produce UTM tags for measuring app installations for your iOS app by creating a campaign link in App Store Connect. Create a fresh campaign link with the App Analytics feature for each app install campaign to track and attribute the results to your campaign.
Under 'Sources,' you can see a list of your app install campaigns and their results: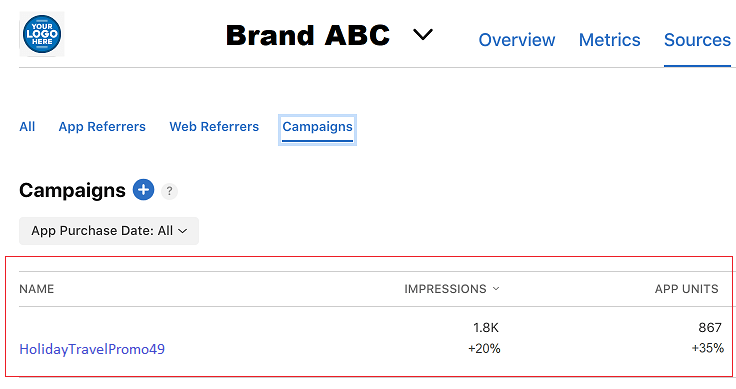 Create a campaign naming convention that corresponds with your plan when producing fresh app store links with tracking.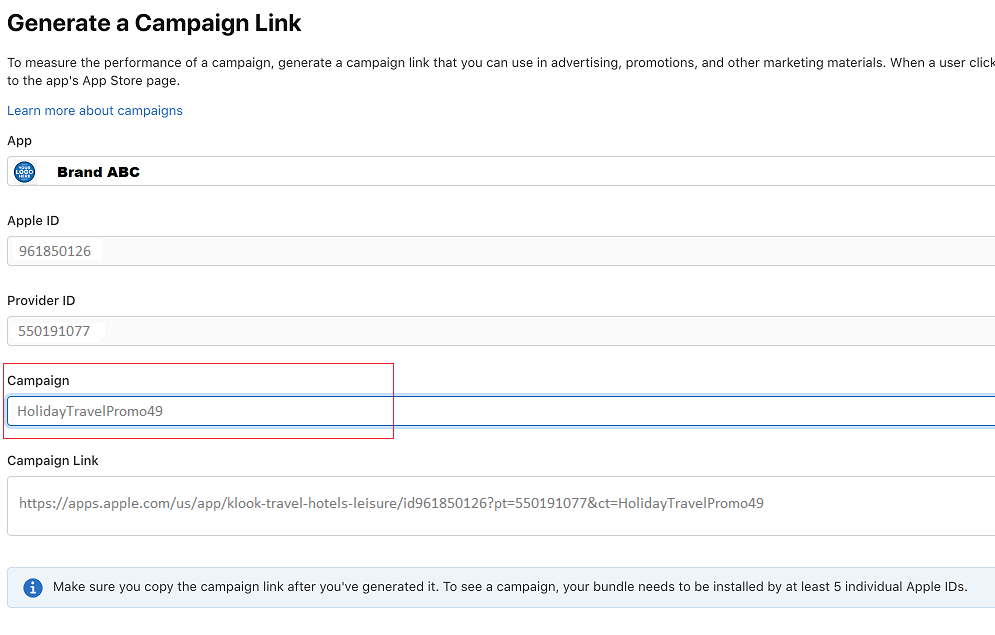 Your iOS app store URL with UTM measurement tags should look like this:

apps.apple.com/us/app/klook-travel-hotels-leisure/id961850126?pt=003002099&ct=HolidaysQ4
It is important to note that iOS app store links with campaign tracking include 'pt' and 'ct' parameters, which stand for 'Provider Tracking' and 'Campaign Tracking,' respectively. The 'pt' field is your provider ID, whereas the 'ct' value represents the name of your campaign. These values cannot simply be appended. These tags must be generated in App Store Connect using the campaign tool or your campaign won't be measured.
The procedure for adding UTM tags to your Google Play link is quite similar to that of the Google Play Store, however, the application is known as the Google Campaign Builder.
When you construct the campaign URL, Google will detect that it leads to Google Play and will direct you to the Google Play URL Builder.
The procedures for building app deep links for Instagram advertising below do not require UTM tags on your app store links, but it is the greatest way to monitor how well your campaign is performing!
Step-By-Step: How To Generate a Custom Deeplinks To Open Your Brand's App from Instagram Ads, Stories, and Profiles
Start at the URLgenius main page, where you will notice a box where you can add a web URL to generate an app deep link with attribution that opens your app while falling back to your website or the appropriate app store. This is the URLgenius app link composer or builder.
Copy and paste your app's iOS app store or Google Play link into the field on the URLgenius home page. In this example, we'll make an app-to-app deep link to the Klook app home page (but this could be any screen in the app that you like):
Fill out all of the sections, including the app store links as well as the URL scheme, or app address, for the screen you want to open when the app is already installed. If you don't know what the URL scheme is, leave it blank and enter it later in the link's settings. Check out this blog post for more information about app URL schemes, and feel free to contact me if you have any questions.
This will not be necessary every time. Once your app is added to the platform, the composer may be configured to identify apps and links, and your app deep link will automatically populate all of the required information. Customize the link's end to match your campaign, then click 'compose,' which will lead you to the settings page where you can copy your URLgenius deep link to use in your campaign.
Scan the QR code to see how the link behaves. You can also utilize your brand's domain for your links, which is simple to set up in your account's settings. To access this link later or to change the link settings, go to the menu and pick the link.
There are various advanced options tabs on the settings page. You can set the fallback URL to the website or app store in the routing tab. You can also update or add attribution measurement tags. Remember that your attribution tags must be put on your backup URL as well as the app URL for iOS and Android. If you'd like to see a demo or have any questions regarding adding attribution tags, please contact us.
In addition to reporting, there are further capabilities linked to driving installs. Do you require a QR code for a multi-channel campaign? Every URLgenius link includes a QR code, and scans are counted independently of clicks.
QR codes are an excellent technique to increase and track app installs. Your URLgenius link is the link hidden behind your QR code that opens your program to the same screen or directs you to the appropriate app store if it isn't already installed. Click 'QR Settings' to download and personalize a QR code for your app.

Create Your Custom Mobile App Link for Instagram Advertising With URLgenius Today
More app installs, more app engagement, more money—do we really need to say more? It's time to use URLgenius to maximize Instagram advertising for your app. Remember, no SDKs or technical resources are required.
We're here to help! Contact us at info@urlgeni.us if you have any queries concerning multi-channel app deep linking and QR codes for your app.
---
If you found this content helpful, check out some of our other popular how-to posts about linking to apps from different marketing channels: