It's no secret that consumers spend a lot of their time on their mobile devices—more than 4 hours per day! Of course, a lot of that time is a reflection of how often consumers tend to jump in and out of their favorite apps (including social apps!) throughout the day. For app marketers, this means that social advertising has increasingly become an important way to drive app installs and re-engagement. If you're thinking about social advertising campaigns to promote your app on Facebook, Instagram, TikTok, or YouTube, there are some important things to consider to maximize the ROI of your campaign.
Whether you're a car rental company, a retail brand, or any other type of app, consider what your goals are for the campaign. Ask yourself these key questions as you think about the link behind your Facebook ad and how it behaves when the app is installed or not. You don't need SDKs or other technical resources to link to your app from Facebook and other social apps, but your marketing team should have full control over the user experience when creating app links for social ads and other channels.

Generate One Campaign Link for Two App Stores
When starting out, you may be under the impression that you'll need to create two different ads: one for your iOS app and one for your Android app/ Google Play link. Guess what? You don't! With URLgenius, you're able to create one intelligent link that will direct the user to the congruent app store—all depending on the device clicking, of course. If your app needs little explaining, then there's no need to send traffic to a landing page first—you just need to get them to the correct app store then and there. Remember, the more clicks and friction you remove from your customer's journey, the more app installs and app re-engagement you'll get, and you'll reach your goals much faster.

App Installs v. App Re-Engagement
Question: is your goal to increase app installs or app re-engagement? Why not both? When the app is not installed, your visitor should be sent to the corresponding app store, but you can also consider what screen you'd like the app to open to when it's already installed. You may want the app to open to a category screen, or maybe some other specific screen for guests to engage with select content. You can create a single campaign link (i.e., an app deep link) that can do all of the above. Remember: there's no point in sending traffic back to the app store if someone already has your app installed. Make sure that the link can open to the home screen and to other screens deeper in the app. Even if it's only a small percentage of customers who have your app already installed when clicking your Facebook ad, at the end of they day they'll appreciate that you saved them a step and opened it to the desired screen.

App Re-Engagement and the Fallback URL
Depending on the goal of your campaign, you may want the fallback URL to go to the corresponding app store or web URL. Your marketing team should have control over this setting. For example, if you have an e-commerce app, your goal at times might be to increase sales, while at other times it's boosting the number of app installations. You ultimately have control over the fallback URL—whether you decide to set it to go to a web URL or the desired app store.
Once you determine the goals of your campaign and the optimal link behavior, there's one more thing to consider. Many apps include deep linking technology, and marketers may believe that their web URLs can open the app from Facebook and other social apps, only to discover that this is not the case. This is because of a thing called the 'walled garden.' This refers to the instance when Facebook (or any app) keeps you within its embedded browser, instead of directly opening the destination app (in this case, your brand's app), keeping you on the login page!

This significantly harms conversion because most people abandon their shopping journey at this point. So, how can marketers ensure a smooth app-to-app journey from their brand's Facebook ad (or organic post) to a screen in their brand's app on iOS or Android? The answer is to use an app-linking platform like URLgenius. And if you're wondering whether you can pass UTM tags to track app installations and engagement, and furthermore attribute the activity to your campaign link: the answer is yes—yes you can.
Feeling a tad bit lost in this pool of information? Don't worry, we've got all the answers for you (and we're pretty sure you're gonna like them, too!). Let's elaborate a bit more.

How App-To-App Deep Linking Solves for the Walled Garden to Increase Sales and Conversion
Remember, even if your app has deep linking capabilities for other use cases—such as organic search results—your links will not be able to open your app from Facebook or other apps. This will seriously limit your conversion because most customers will abandon at the very moment the mobile web login page populates.
The good news is that there's a simple solution for marketers—all you need to do is give your links some extra special linking power. URLgenius has a unique, patented process that lets you update links for any app and to control the settings (e.g. the link behavior) for when the app is installed or not installed. When you update the link, it can securely hop right over that walled garden and open the app to the right screen if and when it's already installed.


Now picture this: A loyal customer of yours is targeted by your ad on Facebook, but they do not have your app downloaded. They click, and guess what? They are sent straight to the right app store, without a single landing page in between to slow down the process.
When the app is installed, the link behind your Facebook ad simply opens to the corresponding screen—whether it's an offer, a product details page, or any other page in the app. You just solved the walled garden issue in a moment—and that, my friend, is how you increase the number of app installations and conversions by linking from the Facebook app to your own app.
Look—when it comes down to it, customers simply aren't a fan of manually logging into websites. Recalling login information and trying a variety of different usernames and passwords takes too much time and energy in a world where time is quite literally money.
We at URLgenius have a two-pronged solution for your app-tp-app ad-linking dilemma in the form of our mobile app deeplinking generator. Not only does it give your ad link an advanced deep linking capability, but it also passes attribution tags to your app, website, or app stores—and yes, all from the same link!

How to Generate UTM Tags for Your iOS App Store and Google Play Links to Track App Installs
As long as you have the Google Analytics SDK for Mobile Apps installed for iOS and Android, you'll be ready to go. You can measure app store visits, app installations, app-opens, and app re-engagement from social media and other channels—all without installing or needing to manage yet another third-party SDK.
Make sure to append the correct tags that are on your app store links for iOS and Android so you can track and attribute app installations to your Facebook ad. Just follow the steps below to learn how to add UTM tags to your app store links.
For your iOS app, you can generate the UTM tags for measuring app installations by generating a campaign link in App Store Connect. For each app install campaign, generate a new campaign link with the App Analytics feature to track and attribute the results to your campaign.
You can find the list of your app install campaigns and view the results under "Sources:"


When generating new app store links with tracking, create a campaign naming convention that aligns with your campaign strategy.
Your iOS app store link with UTM measurement tags will look something like this example:

apps.apple.com/app/hsn-shopping-app/id32432699?pt=003002099&ct=HolidaysQ4
Note that iOS app store links with campaign tracking include "pt" and "ct" parameters, which stand for 'Provider Tracking' and 'Campaign Tracking'. The 'pt' parameter is your provider ID and the 'ct' value is the name of your campaign. You cannot simply append these values. You must generate these tags in App Store Connect using this campaign feature.
The process to add UTM tags to your Google Play link is very similar to the Google Play Store, but the tool is called the Google Campaign Builder.
When you generate the campaign URL, Google will recognize that the link goes to Google Play and will then direct you to the Google Play URL Builder.
The following steps for creating app deep links for Facebook ads don't require the UTM tags on your app store links, but it's the best way to measure how your campaign is performing!

Step-By-Step: How To Create a Custom URL To Open Your Brand's App from Facebook
To create an app deep link with attribution that opens your app while falling back to your website or the right app store, start at the URLgenius home page, where you will see a box where you can enter a web URL. This is the URLgenius app link builder or composer.


Paste either the iOS app store or Google Play link for your app into the box on the URLgenius home page. In this example, we're going to create an app deep link to the Home Shopping Network (HSN) app for a specific product category: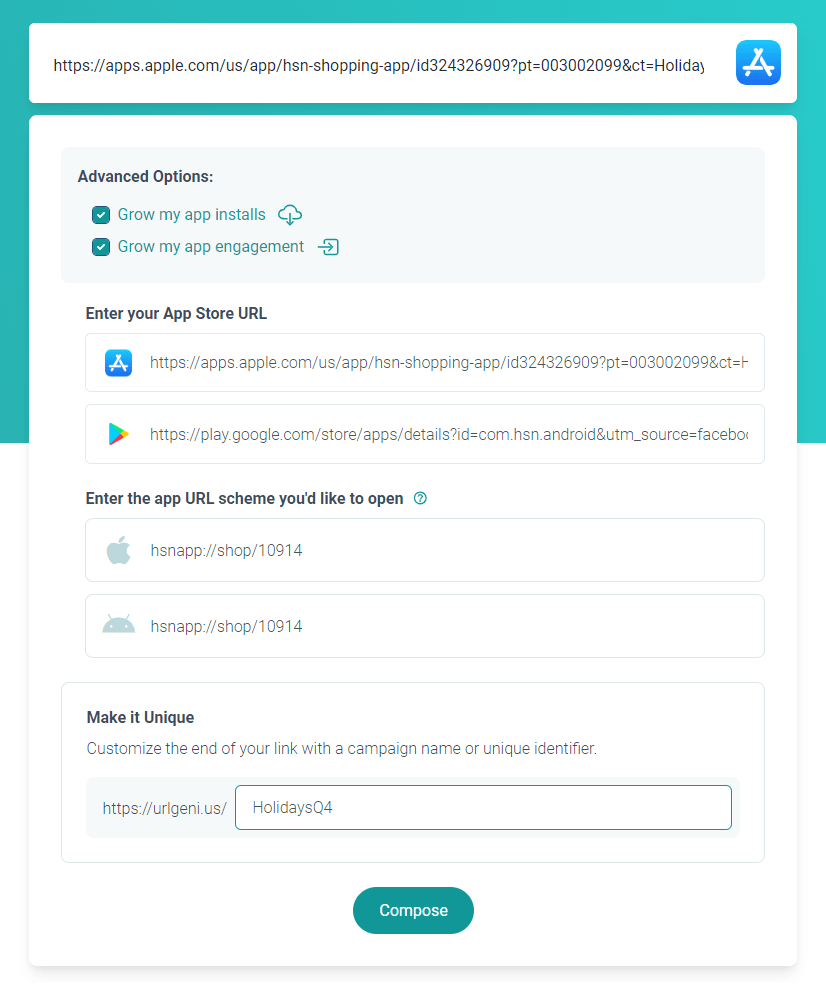 Make sure to fill out all the fields, including both the app store links and the URL scheme, or app address, for the screen you want to open when the app is already installed. If you don't know what the URL scheme is, you can leave that blank and enter it later in the settings for the link. Check out this blog post with information about app URL schemes and contact us with any questions.
You won't need to do this every time. Once we add your app to the platform, the composer can be set up to recognize apps and links. Then, when you click on your app's deep link, all the necessary information will be filled in automatically. Customize the end of the link to align with your campaign, then select "compose," which will take you to the settings page where you can copy your URLgenius deep link to place in your campaign.


Scan the QR code to test the behavior of the link. Note that you can also use your brand's domain for your links, which is easy to set up from the settings of your account. To get this link later or to adjust the link settings, click 'Console' from the menu, and then select the link.
The settings page has several tabs for advanced settings. The routing tab is where you can set the fallback URL to the website or the app stores. You can also add or change your attribution measurement tags. Keep in mind, your attribution tags need to be added to your fallback URL and the app address for iOS and Android. Contact us if you'd like to see a demo or have any questions about adding attribution tags.

Pro Tip for Deferred Deep Linking: App marketers may be familiar with the phrase "Deferred Deep Linking." A deferred deep linking campaign is when you offer your audience an incentive for downloading your app. The first time the user opens the app, they are routed to the screen with the offer. URLgenius app deep links can be configured for this advanced use case. An SDK is not required for deferred deep linking—only a few lines of code are placed in your app. Contact us if you'd like to test this use case.
Need a QR code for a multi-channel campaign? Every URLgenius link also comes with a QR code, and scans are tracked separately from clicks. QR codes are a great way to track app installs. Your URLgenius link is the link behind your QR code that opens your app to the same screen or goes to the right app store when it's not installed. Click "QR Settings" to download and customize a custom QR code for your app.

Create Your Custom Mobile App Link for Facebook Advertising With URLgenius Today
More app installs, more app engagement, more $$$— need we say more? It's time to maximize Facebook advertising for your app with URLgenius. And remember—you don't need SDKs or technical resources.
At URLgenius, we're here to help! Contact us with questions at info@urlgeni.us about multi-channel app deep linking and QR codes for your app.
---
If you found this content helpful, check out some of our other popular how-to posts about linking to apps from different marketing channels: