The COVID-19 crisis has made contactless commerce a top priority. Dynamic QR codes are now playing a major role in new, innovative no-touch strategies for all types of companies. To address the urgency, simple tools are required that let agencies and marketing teams easily create sophisticated QR codes sometimes in bulk that can open apps and websites. This blog post is for anyone researching dynamic QR codes and for agencies and marketers that need to generate custom QR codes right now for upcoming campaigns.
Platforms like URLgenius give you all the tools you need to create QR code deep links designed to increase touch-free engagement. There is no need to install anything and technical resources are not required.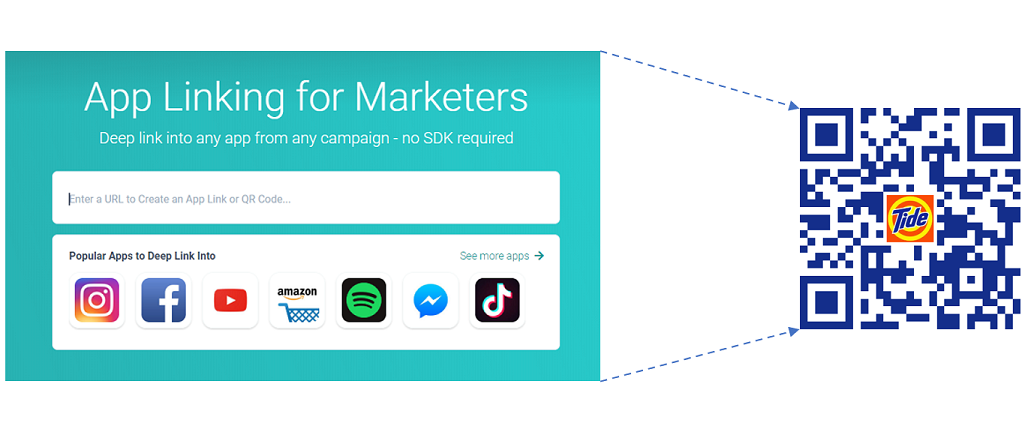 You can customize, test and implement your QR codes immediately. Create QR codes that link into to social apps like Instagram, YouTube and TikTok, e-commerce apps like Amazon, any third party app or even your own brand app. Creating custom QR codes to open apps and websites has never been faster or easier and you have complete control over the customer experience.
Pro tip: Check-out our free QR Experience Playbook and QR Strategy Guide to learn learn how today's leading apps, brands retailers are getting them right including density, scanning distance and how to brand and customize your QR codes.
Step-by-Step: Generate Custom QR Codes for Immediate Deployment
To generate a mobile app QR code, simply paste your default destination link into the URLgenius home page. In this example, we are using the Instagram profile link for Tide laundry detergent. When pasting the link into URLgenius, note the icon for the app you are linking to appears in the upper right corner. If you don't see the logo for your app just request to have the app added to the platform. You can customize the end of the link to be aligned with your campaign. In this example, we will customize the path to be "tidelaundry" to match the name of the Instagram social profile.
Copy/Paste Web URL: www.instagram.com/tidelaundry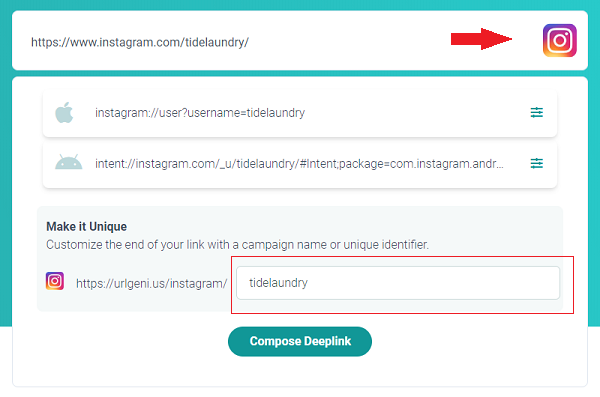 When you select "Compose", you will be taken to the settings page where you can test the QR code or copy the related app deep link which you can use in other marketing channels.

In this example, scanning the QR code with your mobile device will open the Instagram app directly to the profile for Tide laundry detergent.
Pro Tip: When linking to an app, make sure your QR code is not sending your visitor to a mobile website login. A QR code that opens an app will maximize conversion because consumers prefer apps and they will abandon their content journey at web logins. For Instagram QR codes, opening the app results in increased followers and engagement.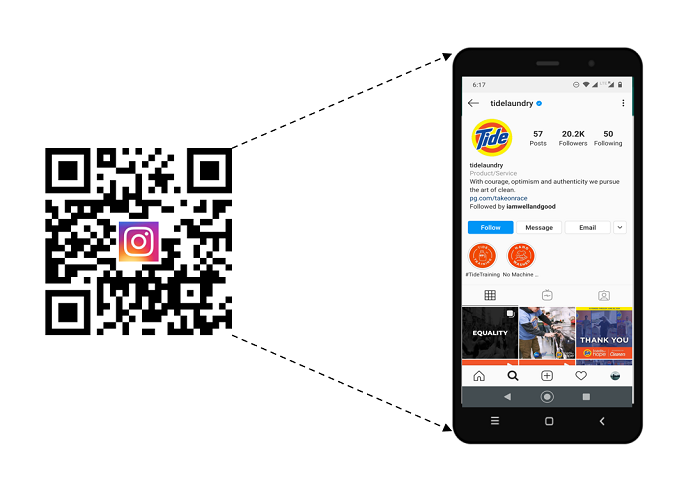 Dynamic QR Codes for Maximum Control
URLgenius QR codes are dynamic. In the settings, you will see an option for "Routing" where you can change the destination of the QR code by device. Change QR code app or web destinations as needed at any time even after the QR code is printed or in production. This is important for marketers and agencies that may need to change course via product or landing pages due to planned or unforeseen circumstances.

When creating a QR code for your brand's app, consider when to change the fallback destination to the app stores for when the app is not installed. The radio button lets you easily switch from the web destination to the app store when your campaigns objective is to increase app downloads.
Pro tip: Use your brand's domain for the link behind your QR code which can be especially important when you plan to expose the link in the call-to-action. Your brand's domain would simply be used in place of the URLgenius domain. This feature inspires trust in the link and lets your audience know your brand is controlling the QR code.
Inspire Engagement with Custom QR Code Colors and Logos
As the use of QR codes becomes more commonplace, marketers need ways to stand out from the crowd. Customizing your QR codes with colors and brand logos will increase engagement and conversion. Marketers can choose a different color to match their brand and upload a logo for center placement. Just use the color picker and the upload logo option to create a more branded customer experience.
The default QR code color is black and uses the logo for the app you are linking into. This customized example opens the Tide product page in the Amazon shopping app.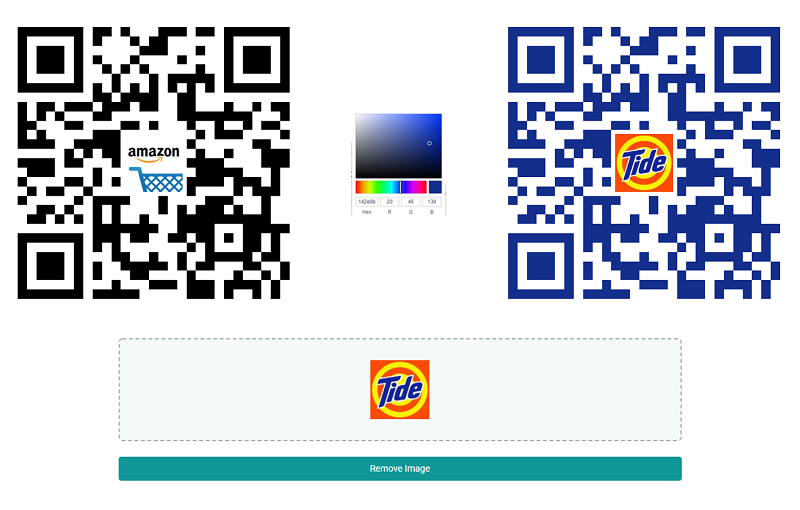 Pro tip: Contrast is important in creating an optimal experience. If the color of the QR code is too dark or too light in relation to the background it may not function as expected. Light colors function best on dark backgrounds and dark colors function best on light backgrounds.
Optimize QR Code Density for a Seamless Customer Experience
When you customize your QR code make sure to choose the right density to make it easy for your audience to scan it from the expected distance for the use case. Low density QR codes are best for campaigns that have a long-range scanning distance or small display sizes. High density QR codes are best for short-range scanning such as product packaging or those with larger logo requirements. Medium density may be ideal for scanning QR codes that are displayed on TV screens. You can export your QR codes in different formats for use case testing and production.

The example below links into the Uber Eats app to the IHOP restaurant profile for a New York City location. This is the same QR code but with a different design and density: low density (black), medium density (blue) and high density (red). Notice that the number of squares in color increases as density increases.

QR Code Visitors Can Deliver Valuable Insights for Remarketing
Another powerful tool that marketers have with URLgenius QR codes and app deep links is remarketing. Simply add your Facebook Pixel or Google Analytics Remarketing ID to your QR code in the settings.

Discover trends about QR code visitors that may be unique from your typical website visitor which can be used in your remarketing strategies. QR code visitors are sending a strong signal that they have interest in your brand and are much more likely to become customers or complete other valuable actions on your site. Develop tailored ads for your QR code customers that promote the products and services they have has previously researched.
There is no doubt that QR codes are here to stay. QR scanning with smartphones has become standard behavior while the Covid-19 crisis has added a sense of urgency in making ecommerce and marketing touch-free and seamless. Try customizing your QR codes with different colors, logos and densities and you will be on your way to creating the best user experience for your brand and use case.
---
See these "how-to" articles for more deep linking and QR code best practices: