Personalization has been a major theme within the marketing technology industry for a few years now and it has completely changed email marketing as a channel. Retailers continue to increase their investments in personalization and they are capitalizing on the wealth of first and third party data that is available today. Publishers and advertisers are also sending fewer emails that simply broadcast discounts which is a strategy that sees lower conversion amid a noisy marketplace.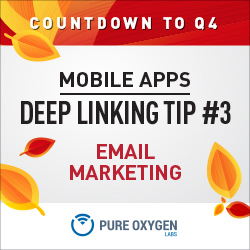 Unique product recommendations per consumer, for example, based on the shopper's past browsing and\or purchase behavior is now a popular email marketing tactic. A survey by leading email service provider Listrak found that 22.2% of the IR500 in 2014 used personalized product recommendations in their emails which was up 85% YoY.
At the same time, not only have customers come to understand personalization, they expect it. In another recent survey by Listrak, over 50% of consumers said they expected retailers to use data from previous in-store and online interactions to personalize gift ideas.
Customers receiving personalized emails on their mobile device may have the retailer's app installed and this is where mobile app deep linking tactics can be applied. The links in personalized emails should check for the app and open the page within the app rather than send the customer to the mobile website by default. If you are a affiliate publisher you can still be commissioned if you send the shopper to the brand app.
Routing loyal email readers and app users to your mobile website by default and asking them to login is likely to result in a high abandon rates. Not checking for the app is also at direct odds with personalization investments.
Whether you need help getting your apps ready for deep linking or you want to test deep linking to your app by placing intelligent links into your personalized emails, we can help! We can typically get your test links setup within minutes. Check out the URLgenius FAQ.
Contact us to get started!