Introduced to the world in 2010, Instagram went from creating ripples in the social media world to transforming into a tsunami to contend with (to the point that Facebook bought the company for $1 billion less than two years after its establishment!).
Fast forward to today, and Instagram has at least 1.44 billion users worldwide—also growing as an e-commerce liaison for brands and influencers alike. It's now a platform where new audiences can be reached via sponsored photos and video "reels," and #hashtags, of course.
Speaking of hashtags, ever heard of hashtag marketing? It's an Instagram advertising approach overlooked by many marketers when really, its potential shouldn't be underestimated with regard to reaching and engaging various audiences. You may even be including hashtags in your campaigns with the intent of linking them to Instagram, which is a great marketing strategy by the way— but have you ever noticed that your Instagram hashtag links don't open the app, and instead send the user to the Instagram web login?
Worry not, friend! We're going to go ahead and show you how to fix this little problem (that's followed with major consequences).
First, let's take a deeper look into what Instagram marketing hashtags can do for your brand's campaign, and how deep linking directly to those hashtags can maximize your marketing strategy even further.

Why App Deep Linking Should Be Part of Your Instagram Hashtag Marketing Strategy
Hashtags on Instagram have really changed marketing, and most savvy brands now use them as an important part of their social media marketing. They increase your brand's exposure, allowing you to reach a larger audience with your product or service.
All in all, hashtag marketing is a simple way for brands and campaign managers to spark conversations and contribute to current events while aligning a brand or a product with certain characteristics to attract a target audience. Hashtags help create campaign narratives and drive awareness of a brand's message.
When you use a hashtag, your post will show up on the hashtag's page. If you use a hashtag in your story, it may appear in the corresponding hashtag story, which is also shown on the hashtag page. For example, marketers often use the same hashtags to show off the newest products in a certain category. Think of it as a collection of images on that topic.
Consumers can opt to follow certain hashtags, so your #hashtagged post may appear in their feed even if they do not follow you (yet). Instagram hashtags for branding could be an excellent method for building an online community and encouraging people to interact with your brand.
Now when linking to open the Instagram app to a specific hashtag page from a different platform— such as the Twitter or Facebook apps— the default link typically takes your visitor to the Instagram website within the host app (even if they have the Instagram app installed!). Considering Instagram is an app mainly used on smartphones, this poses a major obstacle to the success of your advertising hashtags.
Think about it— logging in to your Instagram account via the website is not really ideal when you (likely) don't remember your password because of the length of time that has passed since you last logged in that way. It's inconvenient in that mobile moment, plain and simple. In fact, most users will abandon trying to click on the hashtag, which will result in lost followers, engagement, and (ultimately) revenue.
To make things even more confusing, you may at times see an interim page like this, which presents the user with a few different buttons— as well as a link to the web login.
Updating your Instagram hashtag link with a URLgenius deep link will enable you to detect and immediately open the correct page within the Instagram app for iOS or Android. Using URLgenius Instagram app deep links for hashtags will increase engagement on your images that use that hashtag, helping you increase your number of followers.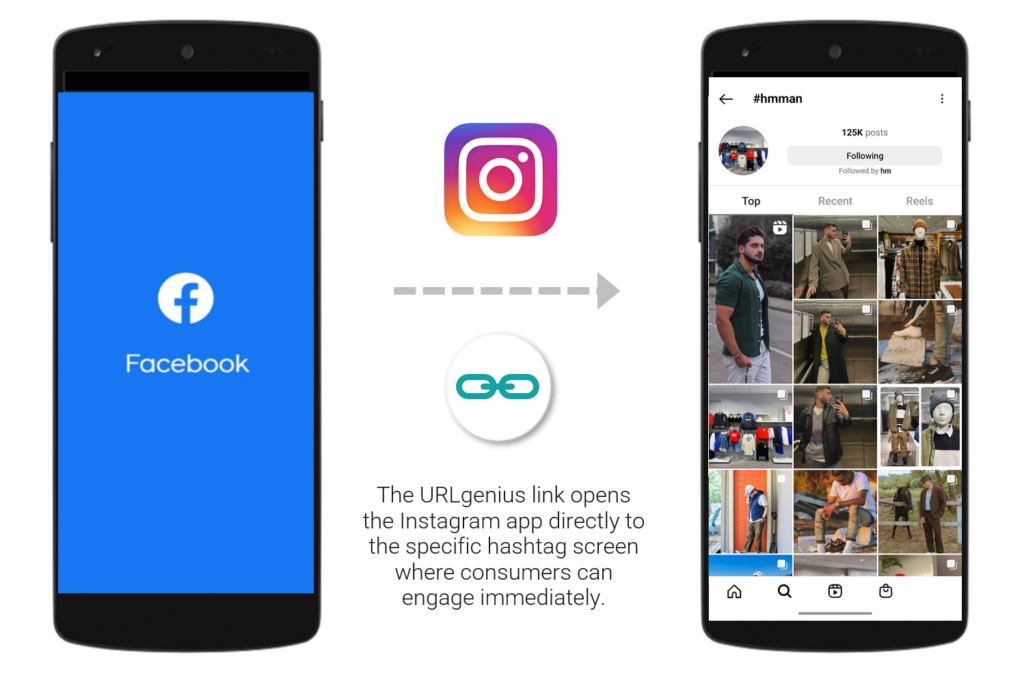 Let's say that for a season campaign you want to increase Instagram followers and engagement by promoting your Instagram hashtags via Facebook, Twitter, email marketing, and other channels. Your URLgenius hashtag links for Instagram will enable your visitors to view your latest images in the Instagram app with one click.
For example, H&M uses the hashtag "#hmman" for men's clothing. If the social media manager for H&M wanted to tweet that Instagram hashtag, this would be the regular underlying Instagram URL:

https://www.instagram.com/explore/tags/hmman/
When clicking that link from a smartphone or a tablet, the consumer is taken to the login or interim page on the Instagram mobile website, where an extra click or login prompt is required to engage with the content. The link cannot instantly and directly open the Instagram mobile app for iOS or Android (where users are always logged in).
In contrast, here is what the same link updated with URLgenius looks like:

http://urlgeni.us/instagram/hmman
In this example, when clicking on the URLgenius link, it will detect and instantly and directly open the hashtag "#hmman" in the Instagram mobile app for iOS or Android (if the app is installed). If the app is not installed, it will take the user to the Instagram mobile website within the host app. We find that upward of 65% of fashion brand audiences have the Instagram app installed.
Avoiding the Instagram mobile website login and any interim pages will increase the rate at which you acquire new followers. You are also likely to see an increase in likes and comments, as your audience can engage with your Instagram hashtags with ease at any given mobile moment.
Now let's create one. Choose an Instagram hashtag and follow these steps!

Step-By-Step: How To Generate a Link to Open the Instagram App To a Hashtag Page
First, to create an Instagram app deep link (to any Instagram page), navigate to the hashtag and copy/paste the link into the URLgenius homepage.
Notice that you are given the option to customize the end of the URL to align it with your campaign or hashtag. This will also help you find the link in your list of links in the URLgenius dashboard.
After that, simply select "Compose" and you'll be taken to the settings page for your Instagram hashtag app deep link and corresponding QR code.
2. Test the behavior of your Instagram hashtag app deep link
From the app deep link settings page, you can copy the link to place it in your campaign. First, however, it's a best practice to test the link, which you can do by scanning the QR code or clicking the button to email it to yourself.
3. Click "QR Settings" to download a custom Instagram hashtag QR code
Need a QR code that opens the Instagram app to your campaign's hashtag? You're in luck! Every URLgenius app deep link also comes with a QR code. Just click "QR Settings" to download and customize an Instagram QR code, and you will be taken to the page that allows you to download the code. You can also change the color, logo, and density (scanning distance).
4. Instagram hashtag app deep link analytics
URLgenius will track app clicks, app-opens, and other information— such as referring URLs and referring apps.
The following chart shows the volume of Instagram app-opens by platform and device. The app-open rate tells you what percentage of people who scanned had the Instagram app installed for iOS and Android.
This chart shows scans by city and separately by language preference. These anonymous insights help you figure out where and how to focus your campaign, both in terms of geography and language.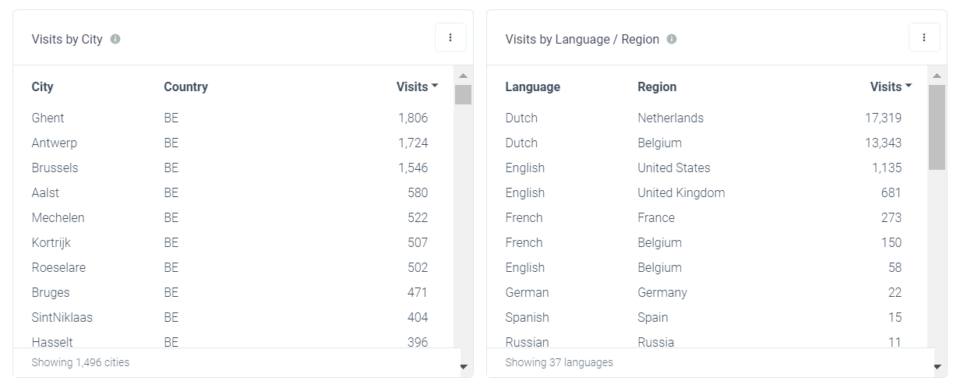 Create Your Instagram Hashtag App Link With URLgenius Today
More followers, more engagement, more $$$— need we say more? It's time to maximize your Instagram advertising efforts with app deep links today.
At URLgenius, we're here to help! Contact us with questions at info@urlgeni.us about Instagram marketing deep links and QR codes.
---
If you found this content helpful, check out some of our other popular how-to posts: