As of July 2022, Amazon (as expected) was the most visited online marketplace in the United States, with about 2.7 billion visits per month. Second place went to eBay, with about 789 million visits, followed by Walmart, with 443 million. That's a lot of shopping! In terms of revenue, all this translates to $152.90 billion in Q2 2022 alone, an increase of 8% year-over-year from $141.00 billion.
Walmart's continuous incline in growth in the face of fierce competition from Amazon is a great indicator of the trajectory in which the platform is likely to expand, considering how many direct-to-consumer brands have decided to sell on Walmart Marketplace, in addition to various other marketplaces around the world. If you are not doing so already, Walmart Marketplace offers you some awesome opportunities to maximize the reach of your products to possibly overlooked audiences.
Selling on Walmart Marketplace goes beyond just setting up shop and using the on-site tools to increase product visibility and search rankings. To find new customers and increase product consideration and sales, it's also important to drive off-site traffic directly to your products in the Walmart app— and social media platforms play a key role in that effort.
Social media advertising is evolving in its digital marketing role— it's quickly becoming e-commerce apps' best friend up and down the funnel, as more marketplace sellers allocate advertising dollars that link directly from social ads to in-app product pages. It makes sense right? Consumers spend a lot of time on social media worldwide— an average of about 2 hours and 27 minutes in the latest study.
If you're a seller with products on multiple virtual marketplace platforms (including Walmart), you may be trying to figure out where to allocate your paid media budget. Your products and your target audience will likely dictate which social advertising platform wins your advertising dollars. It's probably safe to say that Facebook, Instagram, and TikTok will all be in your advertising mix.
So once you decide where to invest, what is the key to creating a successful Walmart Marketplace campaign on social media? The secret is something that is often overlooked. You need to create a seamless link to open the Walmart app to the right screen from the social app. In other words, linking 'app-to-app' from the Facebook app directly to your product screen in the Walmart app.
In marketing speak, this is what we call deep linking from app to app or in this case, deep linking to open the Walmart app from the Facebook app.
It may sound simple enough, but if you place the regular Walmart link behind your ad, you'll only be sending traffic to the Walmart web login in your default browser. This will result in your conversion rate being close to zero, because consumers don't like logging into apps that way (and they might not even remember their password because their Walmart app keeps them logged in). But hey, good news— we're going to show you how to solve this dilemma in a few easy steps.
It's all about the app deep linking which we previously touched on briefly. In our example, we'll use Facebook advertising, but the concept applies to any social advertising or in-app advertising experience.
But wait— what is deep linking, you ask? Don't worry, we're going to cover that shortly. And by the way— did we mention that there's nothing you need install, nor do you need any technical resources to do so? That's right— we've made this process as simple as possible for you.
To start, let's dive in a little deeper on the topic of linking to open the Walmart app product pages in the app all without SDKs or technical resources.
Facebook App Deep Links to Open the Walmart App
Okay, so you have your Walmart Facebook ads set up. What next? How do you maximize the number of customers who will instantly go to your product page and take action when they click the ad? Well, you need to make sure that you remove any friction that could block conversion and engagement.
Like we said before, the regular Walmart link unfortunately does not allow the user to leave the social app— in this example, Facebook— but this isn't Walmart's fault. Instead, the social app runs you straight into what's called the walled garden— the Walmart web login.
What is the walled garden, you might ask? We've all experienced it. It's the phenomenon in which you click on a link within a particular app and (even though you have the app installed on your phone) instead of being sent to the Walmart app, you're sent to the website login page on your phone's default browser.
How annoying is that?
And you know what's even more unfortunate? That this is quite the common occurrence for most apps— not just social apps. The app that your shopper happens to be in attempts to keep them within the confines of its "walls". Think of it this way— the social app has its own embedded web browser, which your shopper is sent to— instead of simply allowing the user to leave and open the other app.
The thing is, the link just needs a special capability to securely jump over that login and open the destination app to the right screen.
It's that simple. Removing that friction is a powerful way to increase engagement and sales. When your shopper clicks, the link immediately opens the Walmart app to the right product screen. So how do you add that extra special app linking capability? Well, the URLgenius platform is here to help with a patented process for deep linking app-to-app, specially made for marketers and anyone else who might need such app linking capabilities.
All you need to do is update the link for your social ad. We're going to take you through each step of the process— and the best part? It's as easy as 1-2-3.
Step-by-Step: How to Create a Deep Link to Open the Walmart App from the Facebook App
Creating a Walmart app deep link? Easy. At URLgenius, we've perfected the process— you don't need any technical resources and you can get started immediately. Follow these steps and update your Walmart campaign links today!
The first thing you need to do is to navigate to the product page on the Walmart marketplace and copy the link from the address bar of your browser.
You only need the core links— you can remove any navigation tags that may have been added as you searched for the right Walmart product link to make sure they don't interfere with tracking or opening the Walmart app.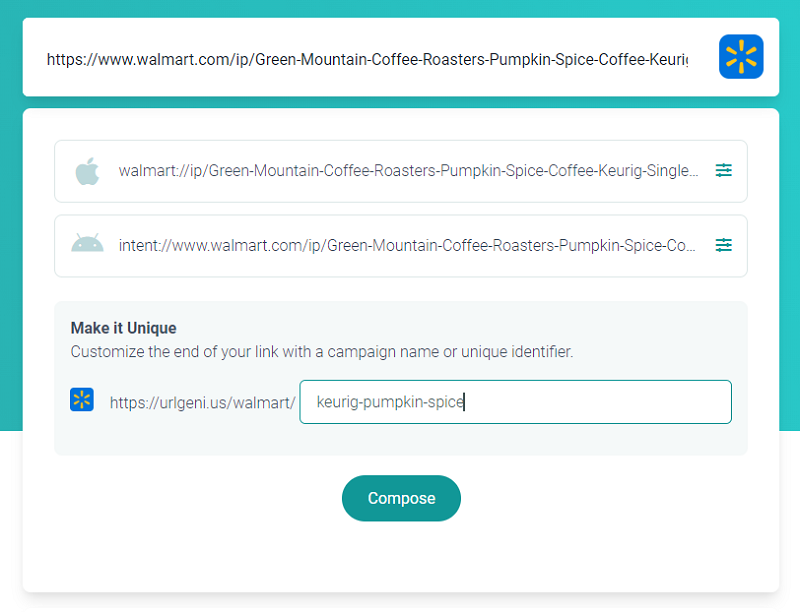 Paste the link into the box provided on the URLgenius home page. When pasting the link, notice the Walmart icon is highlighted— this tells you that URLgenius understands the type of link you just pasted. You'll see the app address for that product for iOS and Android devices— it's just showing you that information to let you know the link is going to the right place.
You can customize the end of your URLgenius link to match your campaign to make it easy to find later or just use the pre-populated random characters.
Now click "Compose" which takes you to the settings page for your Walmart app deep link, where you can copy to place into your social media ad. To test the behavior of the link, scan the QR code or email it to yourself or someone else. To go back and get your link later or look at the app-open analytics just click 'Console' from the menu.
Notice that there are advanced features on the settings page— this is also where you can see clicks and the number of app-opens.
URL branding pro tip: You can use your brand's domain for your Walmart app deep links. Just choose a word and set it up as a subdomain. See the instructions in the setting for your URLgenius link.
Walmart attribution pro tip: The URLgenius platform supports appending UTM and other tags for analytics. If you have access to the Walmart app analytics, you can append tags to your product links before you create URLgenius links, and URLgenius will pass that information to the Walmart app. Walmart (or the analytics platform) in turn needs to show that attribution information to you in some type of attribution report.
QR Codes for the Walmart App
Doing a multi-channel campaign in coordination with your social media ad? Lucky for you, every URLgenius Walmart app deep link also has a corresponding QR code.
Create a branded Walmart app deep link and custom QR code to use online or offline to promote your Walmart product listings. Use them in posters, retail displays, tradeshows, and giveaway promotions. Just click on 'QR Settings' to find and download your Walmart QR code.
URLgenius will measure scans and clicks separately and you can append tags for tracking in ways that won't disrupt scanning (including too many tags and appending them the wrong way is a common 'QR code fail!').
Benefits of Facebook Advertising for Walmart Sellers
Consider the audience you can reach with this strategy! Facebook recorded 1.96 billion daily active users in the first quarter of 2022. As one of the most popular social media platforms, it has altered the way businesses promote.
Whether you're launching new products or your brand is established this strategy will help you:
Reach new audiences that are not aware of your brand or products
Reach current customers that do not know that your products are available at Walmart
Make it easy for your customers to re-order their favorite products
Get more customers into your marketing funnel for re-marketing
Facebook Ads features provide a great deal of flexibility in terms of the various types of ads and ways audiences can be reached. Remember— Facebook advertisements can also be featured on Instagram and Facebook's display network, so you have a lot of options to test to see what drives the most engagement and revenue. Just make sure to use the URLgenius link in your organic posts as well, and you'll reap the same benefits in opening the app to your product screens.
URLgenius Is the Deep Link Between Social Advertising and Walmart Marketplace Success
As of today, social media is your best tool for finding new customers and driving traffic into your Walmart product listings. If your brand is available on the Walmart marketplace, but you are not selling directly from social media, you are missing significant sales and remarketing opportunities. So, doesn't it make sense to build a seamless bridge between social media apps and the Walmart app with URLgenius deep links today?
We are always here to help you with your campaigns! Contact us with questions at info@urlgeni.us about Amazon marketing and app deep links for any marketplace or ecommerce app.
If you found this content helpful, check out some of our latest how-to posts: