The first text message was sent on December 3, 1992, by a British engineer named Neil Papworth and it said: "Merry Christmas". Neil typed the message on a desktop computer and sent it to a mobile phone that weighed four and a half pounds. The message was received by Neil's boss at the company Vodaphone but the phone was not yet equipped to reply so that was it. How things have changed!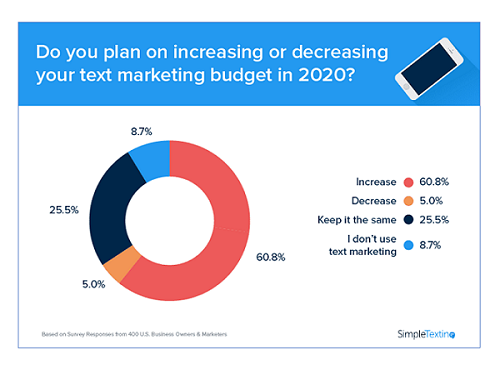 Consumers now send and receive billions of text or SMS messages every day. Some marketing pundits mistakenly thought social networking apps like Messenger, WhatsApp and countless others would mean the end of SMS text messaging and yet it remains an important if sometimes overlooked marketing channel. In fact, in one recent study by SimpleTextin, over 60% of marketers said they planned to increase their marketing spend on text marketing in 2020.
This blog post will teach you how to create a single app deep link and QR code that will open your visitor's SMS app on iOS or Android with a pre-populated text message making it easy to engage with customers and prospects. These links are easy to setup and there is no development needed and nothing to install. Using a single SMS app deep link is a great way to test the text marketing waters and to simplify the customer journey. It is important to remember that you don't need two icons and two links (one for Android and one for iOS). Create a single SMS app deep link or QR code that works on both platforms. You can use SMS deep links and QR codes on websites, email, TV or any channel. First we will cover how to setup the link which only takes a few minutes and then we can review some use case ideas.
Step-by-Step: Creating Single App Deep Links for SMS Text Messaging
Platforms like URLgenius enable marketers and agencies to create campaign links that open a visitor's SMS app on their iOS or Android device with a pre-populated message. Also called SMS app deep links or text message deep links, they look like regular links but have intelligence built in that can open the right app. In this example, lets say our promotion asks the customer to send the word "discounts" to a certain phone number or short code for information on the latest deals. To create your campaign link, all you need to do is enter a text string into the URLgenius home page in the following format with your company's phone number:
send.sms/your-phone-number/message
Or if you are setting one up one with a short code the format is the following:
short.sms/code/word >> e.g. >> short.sms/99791/CLUB
When you enter the string of information for your SMS deep link into URLgenius notice the cell phone icon in the upper right corner which lets you know URLgenius understands the type of link you want to create (if you don't see that icon something is amiss). Also notice there's a box which lets you customize the end of the link. Continuing with our example, we have customized the end the link to be "discounts" to match the name of our campaign.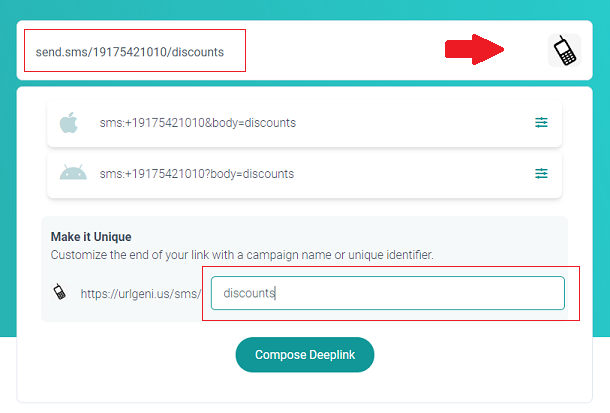 When you select compose you will be taken to the settings page for your SMS text messaging deep link. This is where you copy the link to enter into your campaign and test the behavior of the link. You can also update the default destination for desktop users and create a more customized QR code.

Before testing it, lets update the default destination in case a desktop user clicks on the link. What you'll see in the field is what you entered into URLgenius. Change this to the website your want desktop users to go when clicking the link. Note you can change this at any time even after the link has been deployed in your campaign. You can also route to different websites based on your visitor's language setting in their browser. For this example we have changed the default destination to the URLgenius blog.

That's it! Now we have our SMS text messaging app deep link which is pre-populated with the message "discounts". Try this link with your mobile device. Remember in this example if you click the link with a desktop device you will be taken to the URLgenius blog.
Or try this one which pre-populates the short code "CLUB":
Pro Tip: Use your brand's domain for the link and QR code which can be especially important when you plan to expose the link in your call-to-action. Your brand's domain would simply be used in place of the URLgenius domain. This feature inspires trust in the link and conveys that your brand controls the QR code.
If you want to customize the QR code or download it, just click the QR settings tab and notice that you can change the color and the logo in the center. You can also choose the right density to ensure it functions at the right distance.
5 SMS App Deep Linking Use Cases
Even if you haven't yet implemented an SMS platform, you can use your links in different ways to better understand the way your customers like to engage. Just have your team manually respond to the incoming inquiries Use your SMS app deep link and QR code on your website, in emails or on product packaging for example. Here are some ideas to get you started.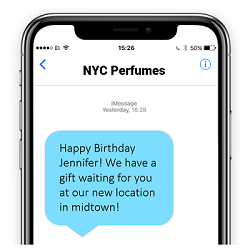 1. Holiday, Birthday or VIP Discounts
SMS campaigns are a great way to make your customer feel special. Even something as simple as a birthday message and special offer can help build trust and lifetime value. Segment your audience and understand which segment converts the highest with this type of promotion. Your best response rate might be from your most loyal customers or you may be surprised that it's a different segment such as your newest customers or prospects. If you have a massive list and are worried about too many responses just start with a small list that someone on your marketing team could reply to over a few days.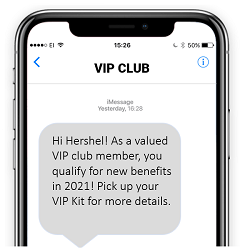 2. Loyalty Clubs and Programs
Loyalty clubs remain one of the most important ways for retailers and all types of companies to grow revenue from their most engaged consumers. SMS messaging with your app deep link can efficiently reach this segment of your customer base with your latest promotions. Even if you don't have a loyalty program yet, your SMS app deep link can help you start one. Segment your list first and choose a subset of customers and send them a loyalty offer. This is your opportunity to be creative. It's as easy as placing your SMS app deep link into an email campaign or another marketing channel. Remember your SMS app deep looks like a regular link but it is designed to open your your customer's SMS app on iOS or Android with a pre-populated message.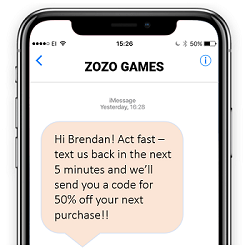 3. Time Sensitive Offers Deals
Time sensitive and seasonal offers are ideally suited for SMS app deep linking. The engagement rate on SMS messages is even higher than email so if you include the SMS deep link in an email segment you are likely to see an great response rate from that segment. Always target your audience and try sending out your SMS deep link about time sensitive promotions on different days, at different times or leading up to weekends and holidays to understand when conversion is highest. Time sensitive offers are great for clearing out inventory or introducing new product lines to select consumers. Ask your customer service team for additional ideas and remember you don't have to send your SMS app deep link to your entire list. Start with a small group of customers and grow from there.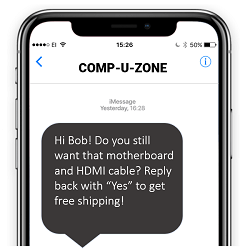 4. Abandoned Shopping Cart
Abandoned shopping carts are also perfectly suited for using your SMS app deep links. Sometimes your customers just need is a quick reminder. Start by looking for your most important and engaged customers that have not completed their purchases and understand if an SMS message will inspire them to complete the transaction. Also try using your SMS message deep link in campaigns that launch at different times of the day to see if that also has an impact on conversion. And finally consider which products to focus on when using your SMS app deep link. It could be that more expensive or considered purchases don't convert as well as lower priced or more commonly used products.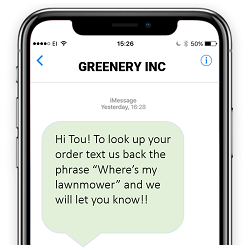 5. Order Lookup & Confirmation
Efficient order lookup and confirmation is essential for building loyalty. Use your SMS app deep link to make it easy and efficient for your customers to lookup orders and to understand when they will arrive. The more detailed the better and find ways to delight customers by telling your most important audience segment that you included a free gift or unique incentive in the delivery box. The opportunities to increase conversion with SMS app deep links are endless!
Contact us if you need help creating an SMS app deep link or if you have questions about your use case with SMS app deep links or QR codes.
---
See these "how-to" articles for more deep linking and QR code best practices: