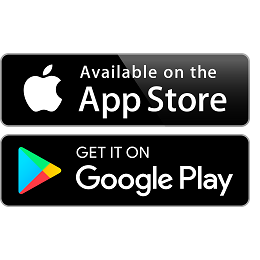 As a mobile app marketer, your goal is to get more app installs. The way to do that is by promoting your app store links, of course. When developing your growth strategy, keep in mind that not all app install links are created equal. Traditional web URLs require separate app store links for Google Play and Apple App Stores.
These icons provide a familiar experience on websites, but separate links are very inefficient when scaling campaigns on smaller screens and ad formats. So use a single "smart" app store link and QR code, intelligent enough to detect when the consumer is clicking (or scanning) from an iOS or Android device, and routes them to the correct app store. As marketers, of course, you also need campaign attribution to measure the success of your efforts.
App deep linking platforms like URLgenius enable you to generate a single app download link QR code that can route mobile visitors to Google Play and Apple App Store. The link or QR can also include campaign attribution tags that inform your marketing optimization efforts. Let's see how, shall we? First of all, you'll need to gather your iOS and Android app store links and get them ready to append campaign tracking parameters.
How to Link to the App Store and Google Play
Apple lets you create iOS app store links and view results through App Store Connect. For each app user acquisition campaign you launch, you should generate a new campaign link with the App Analytics feature to track and attribute the results to your campaign.
A best practice is to use a standardized campaign naming convention that logically flows into App Store Connect so you can easily align your efforts with your budget and then optimize your campaign for the best results. An example iOS App Store link might look something like this:
apps.apple.com/us/app/disney/id1446075923?pt=123456&ct=20-06-16-IG-Stories-Summer
Take note of your iOS App Store link or add it as in item in your campaign brief and then generate your Google Play link.
Generate a Campaign Link to Google Play
The first step in composing a Google Play Store link with attribution is to ensure your Android app is configured to receive and track install data. Ask your Android app development team. Once confirmed, you'll want to make use of Google's Campaign Builder.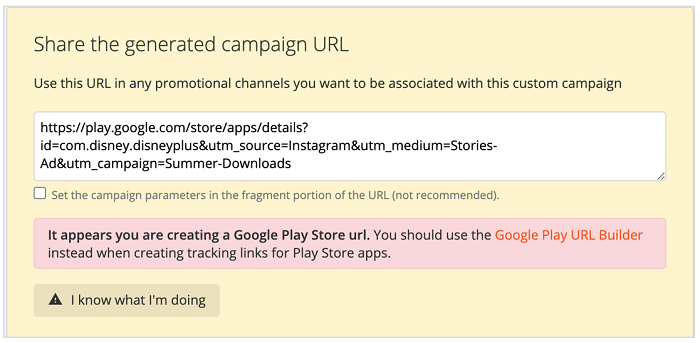 When you generate the campaign URL, Google will recognize that the link goes to Google Play and will then direct you to the Google Play URL Builder.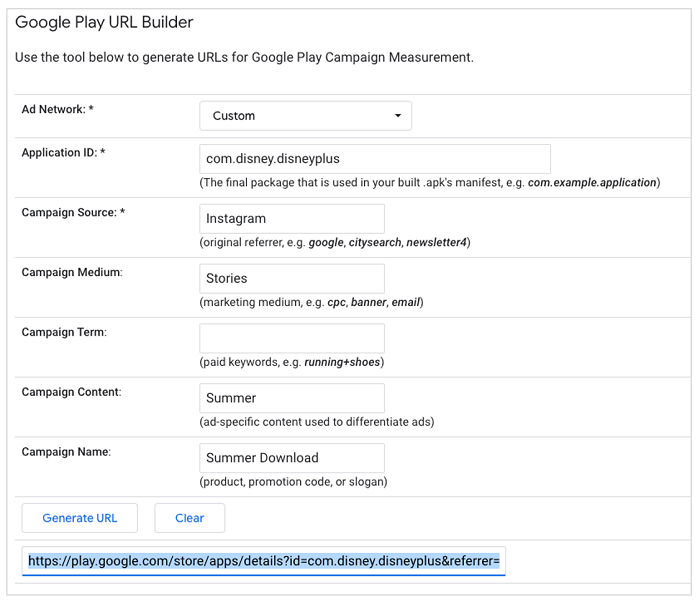 Your app store link will look something like this:
play.google.com/store/apps/details?id=com.disney.disneyplus&referrer=utm_source%3DInstagram%26utm_medium%3DStories%26utm_content%3DSummer%26utm_campaign%3DSummer%2520Download
Take note of your Google Play campaign link or add it as in item in your campaign brief. Now take both your Apple App Store and Google Play links to the URLgenius platform to create a single app store link.
How to Generate a Single App Store Link QR
Now go to URLgenius, and take the app store links you've just wired up and enter one of them, either one, into field provided on the home page. You will then see a field for the other app store link and and a field for a fallback URL for desktop users.
When you compose the link, you then have a single URLgenius link that will determine if a user clicked with an Android or iOS device and take your visitor to the right app store with attribution analytics enabled. Add your URLgenius link into your campaign brief and tracking documentation and get ready to deploy it to increase app downloads.
Note for iOS App Install Tracking
Make sure to append the "pt" and "ct" parameters in your iOS app store URLs. Apple gives instructions here. In summary, create and name a new campaign (e.g. "AppBanner") in iOS App Store Connect. The console will generate a campaign link containing your unique "pt" and "ct" values. Insert your campaign link containing the "pt" and "ct" into the fields for iOS routing on the URLgenius settings page for your banner.
More App Deep Linking Power
App install campaigns are great, but what happens if a consumer already has your mobile app installed on their phone and they click on the link you just created? You need a genius deep linking solution that can recognize when an app is already installed on a mobile device and open the app in those instances, and when not installed, gracefully direct new users to the app store for download.
URLgenius provides this intelligent fallback capability without the need for any SDK to be installed on your mobile app. You'll save time, development resources and maintenance time while adhering to today's strict privacy policies. The process is the same just paste the regular web URL link into URLgenius that you want to open in your app. If you don't see your app in the list of supported apps just request to have it added.
Deferred Deep Linking
We can +1 this link with more capabilities. Let's say you are promoting a specific product screen within your mobile app. When a consumer clicks the URLgenius link, it opens the specific product screen within the app. If the user does not have the app installed, it directs them to the app store for download. After the app is downloaded, the ideal experience is to get them back to the same screen within the app after registration. This is called deferred deep linking. That is to say, you defer the deep linking action to a specific screen, until after the app download.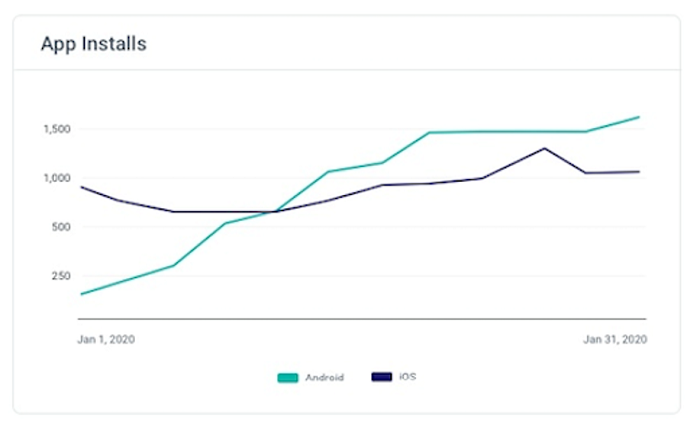 Deferred deep linking is the holy grail of mobile app promotion and app store linking. With just a small line of code to install on your mobile app, URLgenius provides you with an elegant deferred deep linking solution that gives you control over the customer experience and does not require an SDK or any significant technical resources to implement.
Marketing Channels for App Store Linking

Now that you have your app download link it's time to promote it – everywhere! Social media advertising is a great place to start.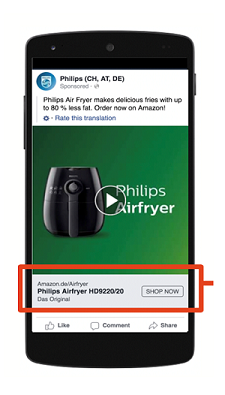 Facebook Ads to In-App Product Campaigns
Facebook advertising is one of the most popular channels for increasing product sales. What you may not know is that the embedded browser in Facebook will prevent other apps from opening. Even if the customer has the app installed they will be sent to your website from the Facebook ad. The link behind the ad just needs to have the right deep linking capabilities. Make sure to update the product links behind your Facebook ads with URLgenius so they can open your app.
The same concept applies to third party apps like Amazon and Walmart. URLgenius can support just about any app. If you don't see the shopping app you want to link into within the list of supported apps, just ask to have it added. Try linking into category, product, or special promotional screens. If the app is configured for it, you can link into just about any screen or feature in the app.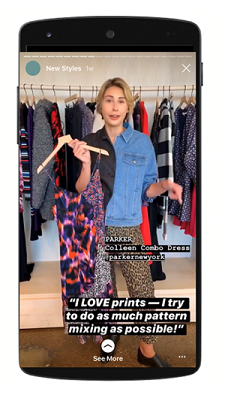 Instagram Story-to-App Campaigns
Instagram Stories provide great inventory for marketers to get their message across with swipe ups that drive app installs and engagement.

Like Facebook and Twitter, however, Instagram also has an embedded browser which are designed to keep users within their walled gardens. These are just fine and dandy in a web only world, but when it comes to app marketing they pose a challenge, unless you make use of an upstream deep linking platform that operates at the browser level, like URLgenius.
Fashion retailer Rent the Runway merchandises their mobile app by using a URLgenius link as the call-to-action in posts featuring the latest fashions in the RTR closet. The URLgenius link lets the users leave the Instagram embedded browser to open the app or go to the app store. Remember you can create links that will automatically open the app if it's installed and if not then route the user to the correct app store depending on the device.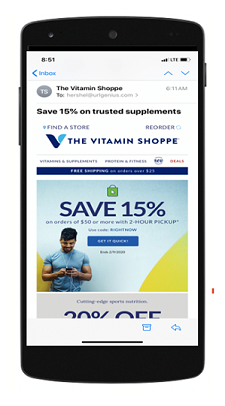 Email Marketing: App Download and Engagement Campaigns

Email marketing is frequently referred to as the workhorse in a digital marketing operation. On a daily basis you're driving customers to your website through this channel. It's time to leverage this for increased app engagement and installs. Talk with your email marketing colleagues and see about getting app deep links embedded in your email templates to drive all of your numbers.
If your email system is setup for segmenting audiences by dynamically appending attribution tags, no problem, they will be appended in the same way to URLgenius deep links.
Remember that every link in your email campaign, including social links or brand links, that goes to a website instead of opening an app will result in lost engagement and sales.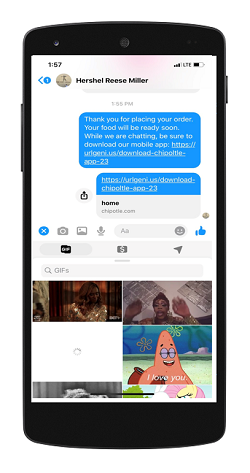 Messenger & Messaging App Promotion

Messaging apps continue to gain popularity, now with chatbots and order functions there are even more opportunities to drive app installs and engagement. Facebook Messenger, WhatsApp and Telegram are all being used today to have smart conversations with customers and prospects.
Whether you have a bot strategy now or have one in the planning stages make sure to include your app in the conversation. Using intelligent links that marketing can control will increase app downloads and app re-engagement. Never send app users back to your website from any channel and that includes messaging.
Platforms like URLgenius will give you control over where to send the customer if the messaging app is not installed. For example, you may want to send them to a special landing page about customer service options.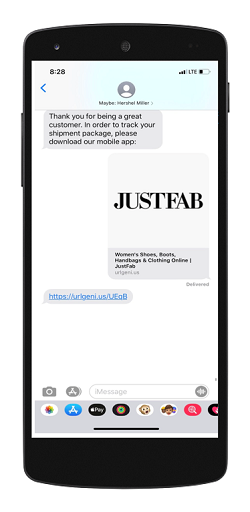 SMS App Install Campaigns
Despite the popularity of messaging apps, SMS messaging is still a widely used communications channel that marketers often tap into. You can easily let your marketing team create deep links for use in SMS campaigns. Remember you don't need technical resources to create deep links to drop into a campaign and you have control over the fallback for when the app is not installed.
Any mobile channel where you have permission to communicate with your customers, such as SMS, should be used to acquire more app users and engagement. Provide consumers with incentives, enhanced customer service and package tracking in exchange for app installs.
Another benefit of letting your marketing team or agency create app deep links for SMS or any channel is that they have control over the link. So if the campaign needs to be paused or the fallback needs to be changed, that can be done at anytime without requesting technical help. Platforms like URLgenius also provide quick stats including clicks, app-opens, referring URL and geo.
QR Codes for App Marketing

QR codes enable you to weave a physical web of links. When you compose a deep link with URLgenius, you automatically create a custom, branded QR code which you can download from the settings page for the link.

Just like traditional link building strategies, you'll want to deploy broad QR Code campaigns that cover the physical and digital scanning channels you have access to, including:

Product Packaging
Point of Sale Displays
Direct Mail Campaigns
Contactless Menus
TV Ads (like that Coinbase Super Bowl ad)
Table Top Tents
Business Cards
Decals
Standing Banners
Digital Signage
Make sure you get a brand optimized QR Code generator that can tailor the code density based on where you are placing the codes.

If you have any questions on how to get app store linking up and running for your organization, please feel free to contact our solution advisor team.

Happy Mobile Marketing!