The trend toward increased app usage has only accelerated during the Covid-19 crisis. App Annie recently reported that consumers increased their time spent in apps by 20% in Q1 2020 compared to the same quarter the previous year. Apps in every sector from shopping to exercise to healthcare and entertainment are seeing increased downloads as consumers stay at home during the pandemic.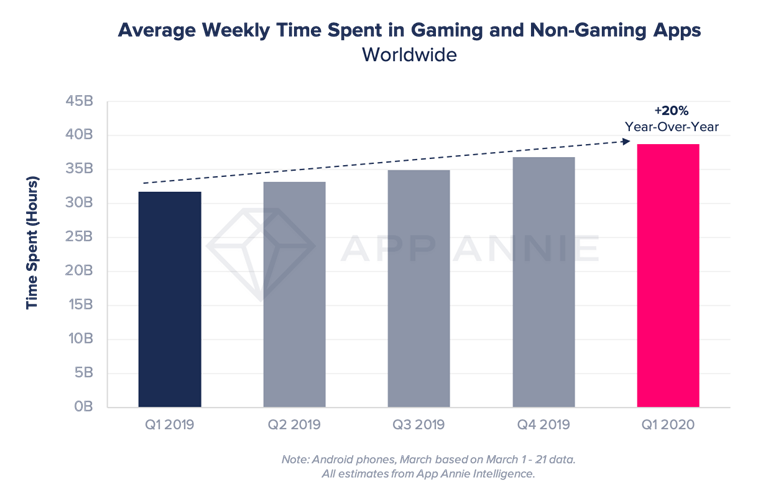 Retailers and other companies need only glance at such trends to understand there is an urgency in shifting resources to increase app engagement to maintain and increase revenue in this environment. If you have a paid search campaign that is sending app users back to your mobile website that can translate into lost revenue and a high app uninstall rates. Marketers and agencies can take control the consumer journey with paid search campaigns that include app deep linking.
App Deep Linking for Marketers and Agencies without SDKs
You don't need SDKs or technical resources to update your paid search campaigns to open your app for iOS and Android from the same link. Marketers can update existing paid search campaigns with app deep links that can open your brand's app if installed while giving you control over the fallback URL when it's not installed. This blog post takes you through the steps for turning a typical web search campaign into a powerful channel for app re-engagement and downloads.
1. Create deep links into your app for paid search campaigns
App deep linking platforms like URLgenius are designed for marketers and agencies and let you create and test deep linking into your app at no charge. If you have a large complex search campaign you can start by just choosing a few links for different keywords. If the app you're linking to is not on the app deep linking platform yet just request to have it added. To create a deep link you simply paste the web URL form your search campaign into the home page. Note that you can customize the end of the URL.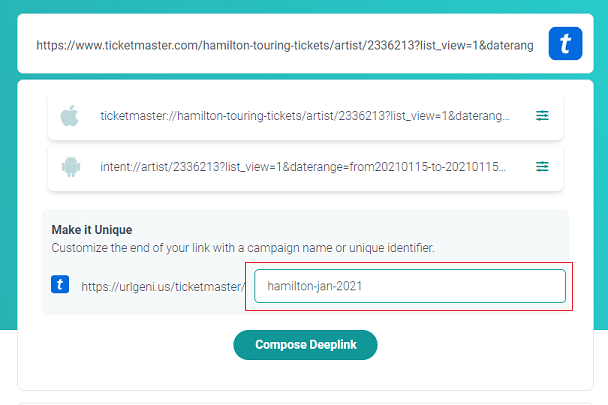 2. Append tracking parameters and set fallback URL
When you select compose you will be brought to the settings page for the deep link where you can copy the link to place in your search campaign.

The settings page is also where can change the fallback destination for your deep link by platform and device. Note that you can append tracking parameters before you compose the link or you can add or change tracking parameters for your deep link at any time here in the settings. You can include tracking parameters for your search marketing platform in addition to your web and analytics platform.

3. Use your brand's domain for your app deep links
A best practice is to use your brand's domain for app deep linking. This is an optional feature that you should be able to setup in your app deep linking account. This will inspire customer trust while leveraging your domain's quality score in your search ads. You just need to have your web team or hosting provider create a subdomain and a CName record that points to your deep linking provider.

4. Use the tracking template feature in Adwords
Cloud-based app deep linking platforms like URLgenius act as a redirect that contains logic that enables the your app deep links to open the app on iOS and Android or fallback that you designate in the settings. So your URLgenius link is not your final destination which is still your default web URL. So make sure to enter your deep link into a tracking template in your Adwords setup.
The format of the link that goes into the tracking template has the final destination appended to your deep link. Continuing with our example for Ticketmaster the link would look something like this:
deeplink.ticketmaster.com/ticketmaster/hamilton-jan-2021?url=https://www.ticketmaster.com/hamilton-touring-tickets/artist/2336213?list_view=1&daterange=from20210115-to-20210115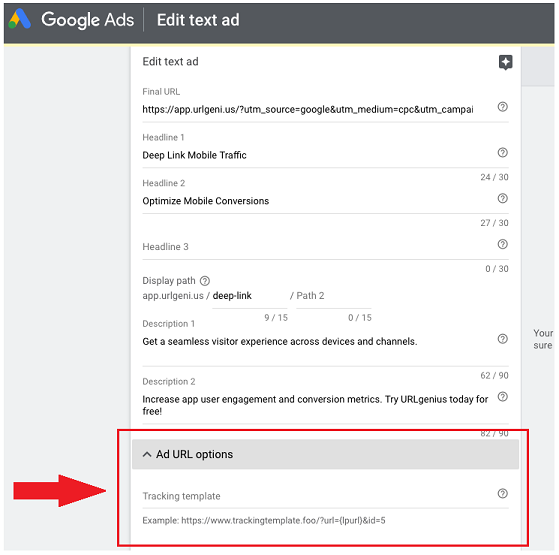 That's the final step. This approach to app deep linking gives marketers and agencies more control over the consumer journey as they work to optimize revenue and paid search in ways that can immediately break down marketing silos between your app and website while increasing ROI. Start with a few key words and measure the difference in conversion. The first thing you will learn is what percentage of the people clicking on your paid search campaigns already have your brand's app installed. You might be surprised at what you find.