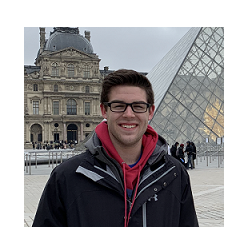 A lot of forward-thinking marketers are finding innovative ways to use URLgenius app deep linking to increase revenue for their business. Affiliate marketing is just one important use case that is being discovered by all types of affiliates. Leading your visitors into an ecommerce app vs. website can translate into increased engagement and ultimately affiliate revenue.
We spoke to Aaron Nowak, Founder and CEO of SlabStox, a leader in sports card information, to learn how URLgenius deep linking into the eBay app has become a strategic part of the company's strategy to increase product engagement and conversion.
Hi Aaron! Tell us about your company how did you get started?
Thanks for running this interview! Happy to provide some info on our business and how URLgenius helps us. I've been collecting sports cards ever since I was in middle school, and that quickly turned into a buy low, sell high game for me in high school. Once I got to college, I started to apply some of my business analytics studies to sports cards. I would run data analysis to help prove sports card trends (it works a lot like the stock market). Two years ago, I started SlabStox to share the knowledge and information I've learned over my years of buying and selling sports cards. I knew there was massive potential for a lot of people to get involved, and I'm really grateful I started when I did. The market exploded and now there are many people getting into the industry.
My childhood neighbor, Nate, always took interest in baseball prospects, so he offered his knowledge to help with my card purchases. Once I saw the potential, I asked him to help me share this knowledge and show others on how to invest. We started in baseball, but now basketball is our largest segment, followed by baseball then football.
How did you come up with the name SlabStox?
I came up with the name SlabStox because a graded sports card (where it gets authenticated and assigned a numerical grade of 1 through 10) is called a "slab." And since I wanted to report on the cards like stocks, I added "stox" resulting in "SlabStox." Basically, we share information, help others learn how to invest, and provide them direct links to investments on eBay.
Any advice for someone that is just starting a card collection?
For those just starting their collection or investment portfolio, the best thing you can do get the right knowledge before making purchases. Easy mistakes can be avoided by doing research, listening to others and taking it all in. Follow us on Instagram (@slabstox), sign-up for our daily investment newsletter at slabstox.com and subscribe to our YouTube channel. There are also lots of other information outlets.
What problem you were having when you found URLgenius?
We started using URLgenius because we had a problem with our newsletter audience clicking our card purchase recommendations on eBay. We needed the links to open the app but the regular eBay links in combination with our email provider were preventing the app from opening. We knew that to maximize engagement the links needed to open the app.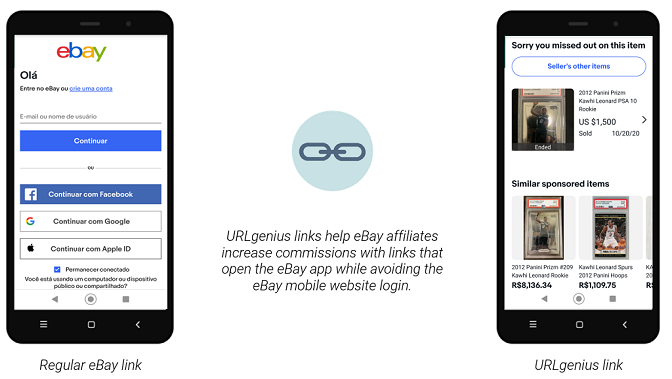 URLgenius supports eBay affiliate tracking. How easy was it to setup your affiliate links?
The process is super easy. All we have to do is copy our eBay links including the affiliate tags and paste them into URLgenius which converts them into a deep link, and bang – we have our updated link for our newsletter. It takes very little time and is extremely easy to use. If there ever is an issue, the people at URLgenius are great. They all are very responsive and have solved any issues we've had with link generation.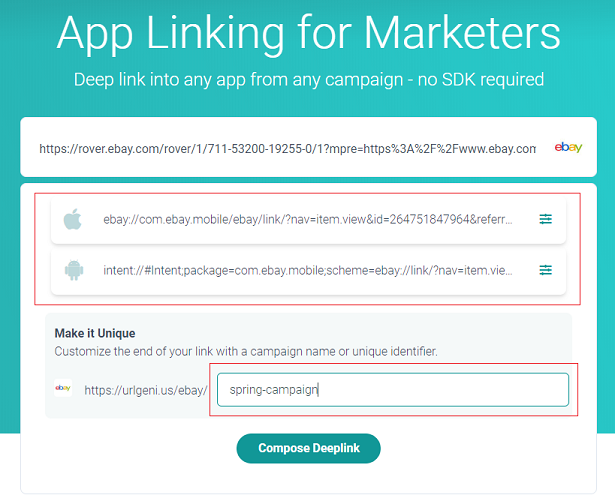 How did you measure the increase in conversion compared to regular eBay affiliate links?
We actually didn't measure the difference in conversion due to the small audience we had starting out and it wasn't something we felt we even needed to prove because no one wants be sent to the web login screen. But I can say this – our customers LOVE getting into the eBay app instead of being sent to the website. In fact, if the links aren't going into the app they reach out to us right away telling us the links are going to the eBay website. The preference for the app is that strong. The app is where people stay logged into their eBay account and it makes completing purchases easy and in the moment.
You're using the SlabStox domain for your links, was that easy to setup and what are the benefits?
It's really about trust – our audience knows our domain and that they're getting redirected to the eBay app through an extremely trusted source. They know that we are the market leaders in sports card information and are sending them to eBay only. The domain set up was very easy and URLgenius did a really great job of explaining the process.
Any plans for using URLgenius deep links to other apps?
At the moment, our main focus is using URLgenius with eBay since it's the biggest sports card market out there. We want to grow our YouTube channel so linking into the SlabStox channel and videos may be next.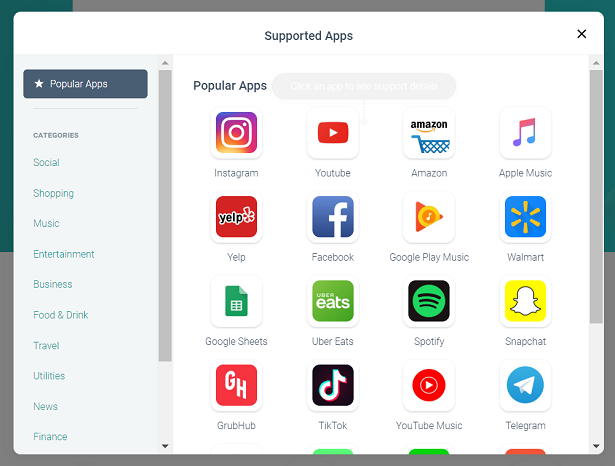 Would you recommend URLgenius to other eBay sellers?
I would definitely recommend URLgenius to other eBay sellers. It's really difficult to get consumers onto the eBay app to the right screen and URLgenius does an excellent job of helping you do that.
You just graduated from the University of Wisconsin this year what's next for you?
For the last one and a half years of school, I have been doing the business full-time while handling a full-time class schedule. Now, I will just have all my time free for the business and will be able to create content and newsletters at a greater rate. It was my dream to work full-time in sports cards, so I am very grateful and thrilled to be able to do that after graduation.
One more sports card question! Which cards should I be on the lookout for at garage sales and flea markets?
Anything 1970's or before for baseball. 1986 Fleer Basketball cards (MJ rookie year). Key rookie cards from 2000 until today for both basketball and baseball stars. 1996 Kobe Bryant rookie cards. That should keep you busy!
Thanks for your time Aaron and thanks for using URLgenius!!