Putting a LinkedIn profile URL in your email signature is becoming more common, but doesn't work so smoothly on mobile devices. On iPhone or Android-enabled phones, LinkedIn URLs push users to the mobile site rather than the application, even if the app is installed on the phone.
URLgenius has fixed that problem. By using URLgenius professionals can create a deep links to their LinkedIn profile. Any iOS user who clicks on your URLgenius link will be deep linked to your profile on the LinkedIn app. Users no longer have to deal with annoying login pages, and can effortlessly connect with you via mobile. It's just smart networking. Right now URLgenius supports deep linking on iOS for professional profiles. Links will function for Android users, but be directed to LinkedIn's mobile website. Improved support for Android deep linking, and additional content like company profiles and group pages, will be available soon.
Suggested Uses
Use your URLgenius LinkedIn deeplink anywhere your content shows up on a mobile phone or tablet.
Add your LinkedIn profile deeplink to your email signatures, websites, your Tweets, and Facebook posts.
Put it anywhere you want to promote your profile URL so that mobile users can get to your profile quickly and easily.
SAMPLE EMAIL SIGNATURE Brian Klais CEO – Pure Oxygen
http://urlgeni.us/linkedin/brianklais
SAMPLE TWITTER PROFILE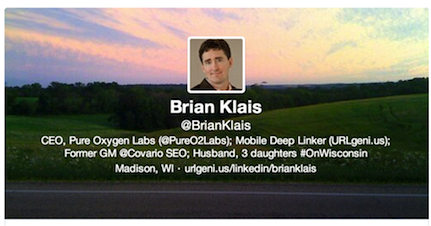 Instructions
Create your link: Go to URLgeni.us and paste in your professional LinkedIn URL. We instantly extract the necessary member ID credentials to generate a custom deeplink. Our process will replicate vanity URLs and/or member identification data contained in your LinkedIn URL.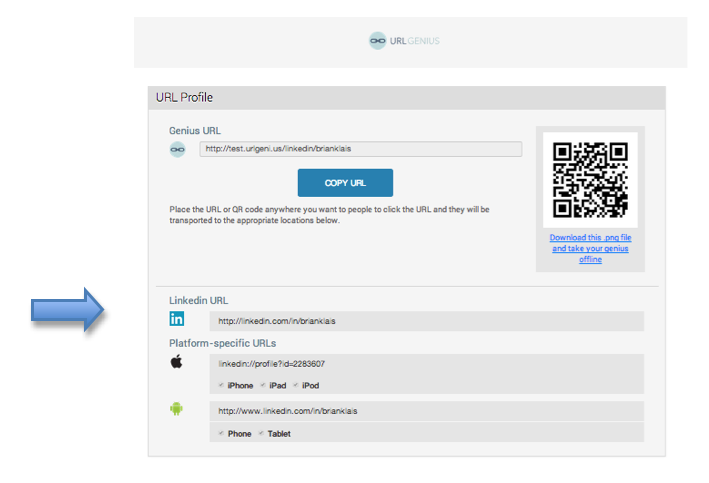 Add your link everywhere: Time to start adding your link to emails, tweets, and Facebook posts.
Check your stats: Append + to your LinkedIn deeplink (ex. http://urlgeni.us/linkedin/brianklais+ ) to see click through stats. URLgenius will display how many iOS users opened the app. You might be surprised how many do.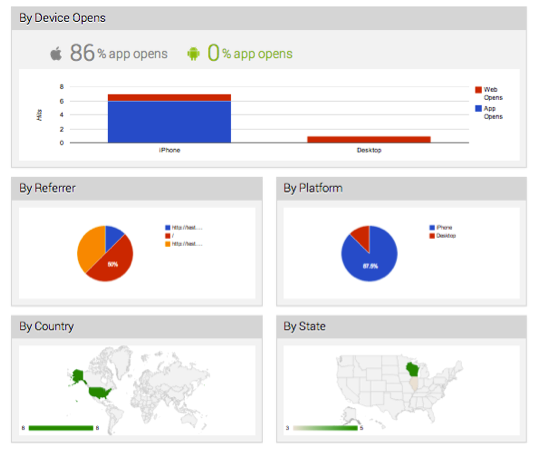 More Deep Linking Tips:
URLgenius supports deep linking to most social platforms. See these "how-to" articles for more information:
Facebook Deep Linking Step-by-Step: Track App Opens and Engagement Across Channels
Snapchat Deep Linking Step-by-Step: Track App Opens and Engagement Across Channels 
Top 10 iOS App Deep Linking Schemes for Mobile Social Marketers
Instagram Deep Linking: Create Links That Can Detect the Instagram Mobile App for iOS and Android
For more information about URLgenius see these these FAQs and use cases.
If you have any questions about mobile app deep linking to any type of app for iOS or Android or if you need support setting up a test contact us we are happy to help!