Today, Google rolled out a new sort of mobile SEO penalty that punishes companies that have mobile websites with irrelevant redirects. Google will start placing a "searcher beware" warning label on their listings. This is a new penalty specifically for mobile SEO errors and is not the same as page de-indexation or ranking downgrade.
We covered this issue in our previous research where 67% of top retailer mobile sites had the problem of faulty/irrelevant mobile redirects and will likely be affected.
In fact, we're already seeing evidence of this update in the wild affecting big brands, like BMW. What's interesting is that the normally clickable listing title has become unclickable. Google now makes the consumer click "try anyway" to avoid a bad experience. This change will definitely reduce a brand's traffic as searchers will be likely skip the unclickable result, and go to the next one.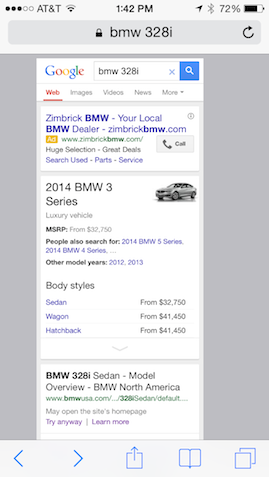 As part of this update, Google has committed to notify webmasters of irrelevant redirects it finds via Webmaster Tools. It is not clear however whether such notifications will serve as a proactive warning to address the faulty redirects within some specified timeframe, or as a retroactive alert that your mobile listings have already been treated with this label.
Marketers should keep in mind that such Webmaster Tools data is post-crawl. Rather than wait for Google to discover mobile redirect problems, Pure Oxygen Labs recommends that brands proactively audit their mobile redirects and address issues before Google sees them to avoid unnecessary hits to mobile SEO traffic.
To learn more about this and avoid the issue, request a copy of our research or get in touch for help resolving mobile SEO errors on your site. In the meantime, here are three helpful tips for enterprise marketers who rely on mobile sites:
Audit: Identify irrelevant mobile redirects that exist between ANY desktop and mobile pages, not just the mobile home page. Google Webmaster Tools will provide this information, but only if the pages have been crawled. They don't specify how much notice they'll provide before applying the "searcher beware" warning to mobile listings. So brands should check with their Mobile SEO provider to identify faulty mobile redirects in advance / on a more proactive basis.
Prioritize: Once faulty mobile redirects have been identified for all desktop URLs, prioritize fixing them based on current traffic/sales contribution, missed opportunity cost, and general level of technical effort.
Optimize: Generally this involves fixing the device-detection code used by the server to target certain smartphones, along with the pattern-matching code that populates the server's response headers with the mobile page location. Make sure desktop URLs that redirect smartphones are mapped to relevant mobile pages. If one does not exist, mobile users should receive the desktop version for now.