Latin America is one of the world's fastest-expanding e-commerce markets, and for years, retail strategists have almost kept the region as a closely guarded secret when it comes to global revenue. While the focus internationally has typically been on Asia to satisfy Wall Street's hunger for profits, brands have spent vast resources penetrating markets like China to learn that success in a new yet crowded overseas shopping environment requires more than a solid product and consumer demand.
Which brings us to Mercado Libre— the online marketplace that we like to call The King of E-Commerce in Latin America. Some of our readers might be new to the marketplace but know that Mercado Libre (Spanish for Free Market!) is an e-commerce giant— similar to Amazon and Walmart— that allows brands and sellers to expand their reach south of the equator. And as expected from any major online entity, the platform has an app for smartphones— giving consumers the convenience of doing all their shopping whenever, wherever (just like that one Shakira song).
Marketers, therefore, face the same challenges compared to any U.S. marketplace when working on campaigns designed to increase sales. The question is, how do you get shoppers back into the Mercado Libre app at every turn to browse product details and promotions, add-to-cart, and— most importantly— buy your products quickly and efficiently in a mobile moment?
Whether you're just getting started or you already have a presence on Mercado libre, you can maximize your marketing efforts with the right links that get your shoppers back into the app from any channel. And this is where we can help you!
There is one channel, however, that might be the most important when it comes to getting everything right. Two words— familiar, popular, can't live without them: social media. More specifically, seamlessly linking from social media advertising directly to your product screens in the Mercado Libre app is the key to reaching your revenue goals.
Increase Mercado Libre Sales By Linking Social Advertisements Directly to the App
We're sure we don't have to tell you this, but as a business owner or marketer with a Mercado Libre shop set up, it's essential that you expand your online presence beyond the geographical sense. You have to create a digital web of social media marketing— one that's connected to Facebook, Instagram, TikTok, etc. Think about it— aren't these apps where most people spend countless hours of their day perusing through?
And when the time comes for you to ensure that you've distributed all of your Mercado Libre advertising efforts throughout each social media platform, wouldn't you that it's important to also ensure that each ad smoothly links directly into the Mercado Libre app? (Pst— the answer is yes.)
There is a big common problem, however, when linking app-to-app.
It's called the walled garden. Unfortunately, the regular link embedded in each respective social ad does not take the user to the desired destination (Mercado Libre, in this case). Instead, your potential customer is taken to the Mercado Libre login page within the host app.
The truth of the matter is, the key to an effective social media advertising campaign is a link to open the Mercado Libre app directly from your social advertisement. Why? Because it makes purchasing your product as easy as possible for your consumers. Without this custom deep link, your consumers will be inconvenienced by something we call the walled garden.

Jumping Over the Walled Garden With a Link to Open the Mercado Libre App (An App Deep Link!)
Sorry, but you won't find any roses or sunflowers in the walled garden. Instead, you'll find frustration, abandoned carts, decreased revenue, and maybe even a curse word or two. All in all, the walled garden is a major obstacle that stands in the way of your Mercado Libre advertising campaign's success. While social ads do indeed help you maximize your audience reach, your efforts are rendered nearly useless when potential customers are taken to the Mercado Libre login page as opposed to the Mercado Libre app itself.
Through no fault of the e-commerce platform, the regular link of your advertisement prevents your shopper from leaving the host social media app because of the cursed walled garden. And the crazy thing is, this is quite the common occurrence for most apps— not just social media apps. The app that the consumer happens to be in will do everything to keep them within the constraints of its "walls."
What does this mean for your online store? Again: customer frustration, abandoned carts, decreased revenue, and maybe even a curse word or two!
Alright, alright. We know what your next question is— how do I remove this friction that can very likely block and decrease user engagement? Leave that to the geniuses— URLgenius, that is. We've created a tried-and-trusted, patented deep linking generator designed for you— marketer or anyone else— that allows you to produce your own deep link within just a few minutes!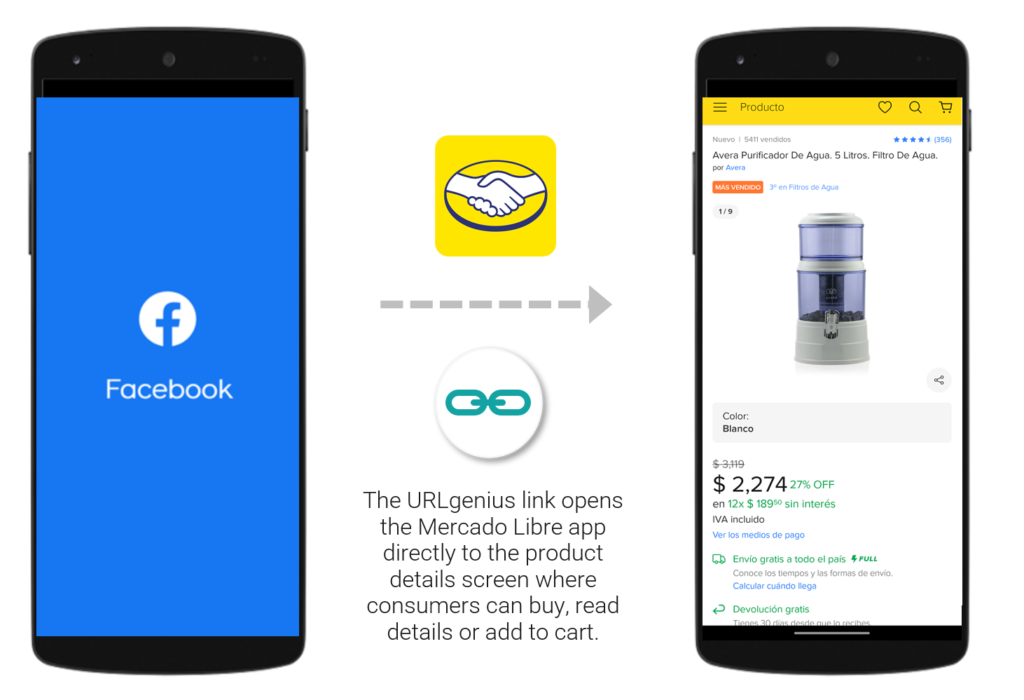 These deep links we speak of will bestow upon your ads the capability to securely take your customer from the app they're in directly to the desired product page in the Mercado Libre app.
And we're serious when we say we've made this process as simple as possible for you (no SDKs or other technical resources are needed!). All you need to do is input your advertisement link into our deep link generator's box, and replace the link of your social ad with the deep link.
You'd like a tutorial, you say? Not a problem— let's dive right in, shall we?

Step-by-Step: How to Generate a Deep Link that Opens the Mercado Libre App from Facebook, Instagram, TikTok, and Other Social Media Apps
Creating an app deep link for Mercado Libre Marketplace is easy! At URLgenius, we've designed a process for marketers— you don't need SDKs or technical resources and you can get started immediately. Follow these steps and update your Target Plus Marketplace campaign links today!
The first thing you need to do is to navigate to the product page on the Mercado Libre Marketplace website and copy the link from the address bar of your browser.
You only need the core links— you can remove any navigation tags that may have been added as you searched for the right product link to make sure they don't interfere with tracking or opening the Mercado Libre app to the right screen.
Paste the link into the box provided on the URLgenius home page. When pasting the link, notice the Target icon is highlighted— this tells you that URLgenius understands the type of link you just pasted. You'll see the app address for that product for iOS and Android devices— it's just showing you that information to let you know the link is going to the right place.
You can customize the end of your URLgenius link to match your campaign to make it easy to find later or just use the pre-populated random characters.
Now click "Compose" which takes you to the settings page for your Mercado Libre app deep link, where you can copy to place into your social media ad or any other marketing channel. To test the behavior of the link, scan the QR code or email it to yourself or to someone on your team. To go back and get your Target app deep link later or look at the app-open analytics just click 'Console' from the menu.

Notice that there are advanced features on the settings page— this is also where you can see clicks and the number of app-opens.
URL branding pro tip: You can use your brand's domain for your Mercado Libre Marketplace app deep links. Just choose a word and set it up as a subdomain by creating a CName record (ask your web team). See the instructions in the setting for your URLgenius account.
Mercado Libre attribution pro tip: The URLgenius platform supports appending UTM and other tags for analytics. If you have access to the Mercado Libre app analytics, you can append tags to your product links before you generate URLgenius links, and URLgenius will pass that information to the Mercado Libre app. The team at Mercado Libre (or the analytics platform being used) in turn needs to show you that link-level attribution information in some type of report.

QR Codes for the Mercado Libre App
Doing a multi-channel campaign in coordination with your social media ad? Lucky for you, every URLgenius Mercado Libre app deep link also has a corresponding QR code.
Generate a branded Mercado Libre app deep link and custom QR code to use online or offline to promote your Mercado Libre Marketplace product listings. Use them in posters, retail displays, tradeshows, and giveaway promotions. Just click on 'QR Settings' to find and download your Mercado Libre Marketplace QR code.
URLgenius will track scans and clicks separately and you can append tags for tracking in ways that won't disrupt scanning (including too many tags and appending them the wrong way is a common 'QR code fail!').

Benefits of Facebook and Other Social Advertising for Mercado Libre Marketplace Sellers
Consider the audience you can reach with this strategy! Facebook alone recorded 1.96 billion daily active users in the first quarter of 2022. As one of the most popular social media platforms, it has altered the way businesses promote.
Whether you're launching new products or your brand is established this strategy will help you:
Reach new audiences that are not aware of that brand or products
Reach customers not aware that your products are available on the Mercado Libre Marketplace
Make it easy for your customers to re-order their favorite products
Get more customers into your marketing funnel for re-marketing
Dial-up seasonal and promotional campaigns on a regular cadence so your customers and prospects find you on social media during promotions
Build on your first-party data strategies as you drive more traffic to the Mercado Libre mobile app for iOS and Android (you could even design a campaign to increase app installs!)
Facebook advertising features provide a great deal of flexibility in terms of the various types of ads and ways audiences can be reached. Remember— Facebook advertisements can also be featured on Instagram and Facebook's display network, so you have a lot of options to test to see what drives the most engagement and revenue. Just make sure to use the URLgenius link in your organic posts as well, and you'll reap the same benefits in opening the app to your product screens.
URLgenius Is the Deep Link Between Social Advertising and Mercado Libre Marketplace Success
If your brand is available on the Mercado Libre website and app, but you are not selling directly from social media, you are missing significant sales and remarketing opportunities. App deep links will help turn social media into your best tool for finding new customers and driving traffic to your Mercado Libre Marketplace product listings. So, doesn't it make sense to build a seamless bridge between social media apps and the Mercado Libre app with URLgenius deep links today?
We are always here to help you with your campaigns! Contact us with questions at info@urlgeni.us about Mercado Libre app deep linking from social media including Target, Walmart, or Amazon.
---
If you found this content helpful, check out some of our latest how-to posts for deep link app marketing: