We all know the ongoing joke about the retail store that everyone loves— you just can't step into Target without spending at least $50 on items you just didn't know you "needed". The store seems ubiquitous, as the retail giant has expanded its reach into nearly every pocket around via the Target app. Incredibly, the company surpassed $100 billion in 2021 and is on track for strong growth in 2022 and beyond.
Given that success, you may already be a Target Plus Marketplace Seller or perhaps your team is thinking about having a presence on the platform likely in addition to Amazon. The question then becomes, how can your marketing team get consumers back into the Target app to discover your brand, view product details, and ultimately click the 'buy' button?
The answer is related to the 4 P's of marketing of course: Product, Price, Place, and Promotion.
Place today— one could argue— in addition to the physical location also includes social media and mobile apps in general. In that context, your marketing team is smart to combine social media campaigns with the Target app and together make the combination a powerful sales channel that consistently delivers results. This article will give you the key to implementing such campaigns successfully.
So why are we focusing on the Target app specifically instead of the website?
The app makes a Target lover's shopping journey even more accessible with its easily navigable product categories and pages. And don't forget, most of the population in the US has an ongoing love affair not only with this retailer, but also with their favorite smartphone apps— so it only makes sense that consumers prefer the app to the website when browsing the "Tar-jay" terrain for all their shopping needs.
The key to successful marketplace sales and social media promotion is linking smoothly from social media apps like Facebook directly into the Target app to your product pages making it easy to purchase without logging in to the website. Always test your campaign links to Target no matter the channel and if the app doesn't open you need an app deep link.
Let's dig into this issue further.
What Is Target Marketplace? How To Get Your Product Into Target & Increase Sales
The Target Marketplace follows the same model as competitor e-commerce platforms (Amazon, Walmart Marketplace, etc.). With that being said, the Target Plus platform distinguishes itself from Amazon and Walmart in that it's an exclusive, invitation-only platform— with the intent of ensuring that shoppers are offered the highest quality products, hand-picked by the retail corporation's representatives.
Now let's say you are a small business owner whose online shop has found great success on the Amazon and/or Walmart platforms, with loyal customers lauding the exceptional quality of your products. The likelihood of Target allowing you to become part of the specially curated Target Plus Marketplace increases exponentially in comparison to similar, yet struggling competitor vendors.
From there, it's imperative to expand your online presence through social advertising through advertising— namely on social media apps such as Facebook, Instagram, TikTok, and YouTube. After all, that's where consumers are spending a significant chunk of their time. Social advertising is important, and without it you are leaving the fate of your business' sale performance completely to the algorithm's whim to try and target the perfect audience to buy your products.
Social ads narrow in on your audience reach, but herein lies the problem. When clicked from Facebook or any social app, the regular Target link will take your visitors to the Target web login page.
You can probably guess what most people do at that point– they abandon their shopping journey! So you just wasted some precious media spend. To make sure potential customers can complete their shopping journey and buy your product, make you're not sending shoppers back to the Target website instead of opening the app.
The good news is you can easily remove this web login friction when going from the social app to the Target app. The best way to do this? Using an app-to-app deep link in your social ad. You simply update your campaign links for Target to give them some additional app linking capability that allows your shopper to securely leave the social app and open the Target app to the right product screen where they can buy immediately or at least add-to-cart.
Let's jump to the questions you're likely to ask and what your marketing team should know about the solution to this common industry challenge.

The Walled Garden: What Is It and How To Avoid it with App-to-App Deep Linking
As pretty and romantic as the name of this event is, the walled garden is a major obstacle that stands between your Target Marketplace shop and products and a high conversion rate and revenue.
Through no fault of Target, the regular link of your advertisement doesn't allow the shopper to leave the social media app because of this walled garden where dreams are crushed. We kid, we kid. It sends the user to the Target web login (even though they're already logged into their Target account on the app!)
And you know what's even more frustrating about it all? Well, this is quite the common occurrence for most apps— not just social media apps. The app that your patron happens to be in does everything to keep them within the constraints of its "walls."
What does this mean for your online store? It means the more likely this occurrence will frustrate your potential customers, and especially when they can't remember their login information for the life of them.
Okay, so how do you remove this friction that can ultimately block and decrease user engagement? With URLgenius' tried-and-trusted, patented deep linking generator designed for marketers (and anyone else), of course!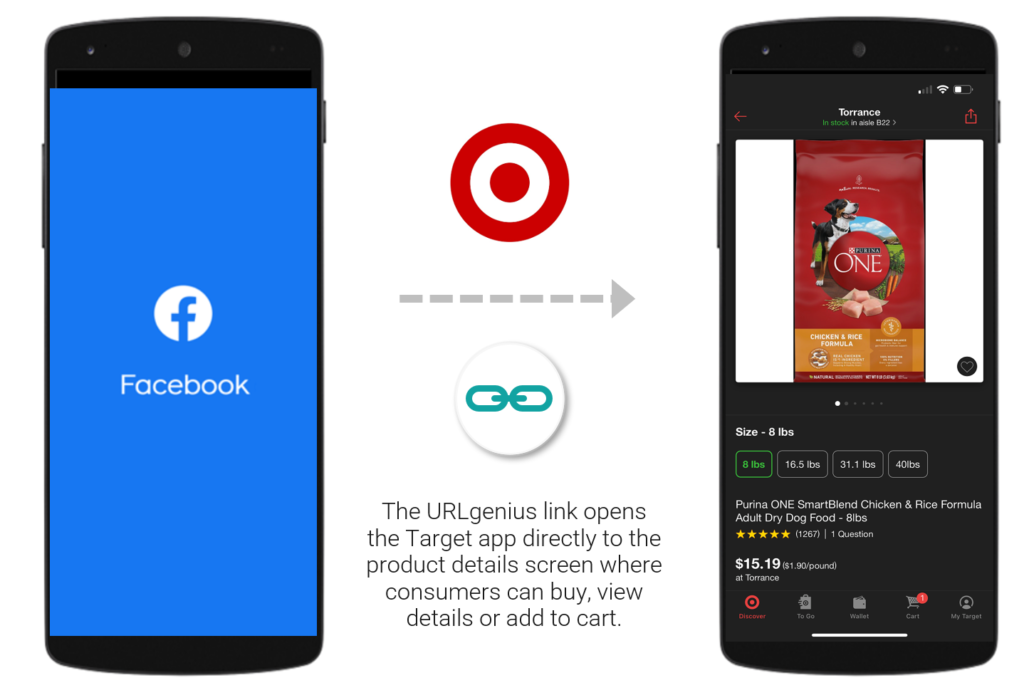 Deep links give your ads the capability to securely take your customer from the app they're in directly to the desired product page in the Target app.
All you need to do is plug your advertisement link into our generator's box, and update the link of your social ad. And don't worry— our geniuses have made this process as simple as possible for you (no SDKs or other technical resources are needed).
Alright, let's jump right into the step-by-step process of creating your Target Plus advertisement deep link!

Step-by-Step: How to Create a Deep Link that Opens the Target App from Facebook and Other Social Media Apps
Creating an app deep link for Target Marketplace is easy! At URLgenius, we've designed a process for marketers— you don't need SDKs or technical resources and you can get started immediately. Follow these steps and update your Target Plus Marketplace campaign links today!
1. The first thing you need to do is to navigate to the product page on the Target website and copy the link from the address bar of your browser.
2. You only need the core links— you can remove any navigation tags that may have been added as you searched for the right product link to make sure they don't interfere with tracking or opening the Target app to the right screen.

3. Paste the link into the box provided on the URLgenius home page. When pasting the link, notice the Target icon is highlighted— this tells you that URLgenius understands the type of link you just pasted. You'll see the app address for that product for iOS and Android devices— it's just showing you that information to let you know the link is going to the right place.
4. You can customize the end of your URLgenius link to match your campaign to make it easy to find later or just use the pre-populated random characters.
5. Now click "Compose" which takes you to the settings page for your Target app deep link, where you can copy to place into your social media ad or any other marketing channel. To test the behavior of the link, scan the QR code or email it to yourself or to someone on your team. To go back and get your Target app deep link later or look at the app-open analytics just click 'Console' from the menu.
Notice that there are advanced features on the settings page— this is also where you can see clicks and the number of app-opens.
URL branding pro tip: You can use your brand's domain for your Target Marketplace app deep links. Just choose a word and set it up as a subdomain by creating a CName record (ask your web team). See the instructions in the setting for your URLgenius account.
Target attribution pro tip: The URLgenius platform supports appending UTM and other tags for analytics. If you have access to the Target app analytics, you can append tags to your product links before you create URLgenius links, and URLgenius will pass that information to the Target app. Target (or the analytics platform being used) in turn needs to show you that link-level attribution information in some type of report.

QR Codes for the Target App
Doing a multi-channel campaign in coordination with your social media ad? Lucky for you, every URLgenius Target app deep link also has a corresponding QR code.
Create a branded Target app deep link and custom QR code to use online or offline to promote your Target Plus product listings. Use them in posters, retail displays, tradeshows, and giveaway promotions. Just click on 'QR Settings' to find and download your Target QR code.

URLgenius will track scans and clicks separately and you can append tags for tracking in ways that won't disrupt scanning (including too many tags and appending them the wrong way is a common 'QR code fail!').

Benefits of Facebook and Other Social Advertising for Target Plus Marketplace Sellers
Consider the audience you can reach with this strategy! Facebook alone recorded 1.96 billion daily active users in the first quarter of 2022. As one of the most popular social media platforms, it has altered the way businesses promote.
Whether you're launching new products or your brand is established this strategy will help you:
Reach new audiences that are not aware of that brand or products
Reach current customers that do not know that your products are available on the Target Plus Marketplace
Make it easy for your customers to re-order their favorite products
Get more customers into your marketing funnel for re-marketing
Dial-up seasonal and promotional campaigns on a regular cadence so your customers and prospects find you on social media
Build on your first-party data strategies as you drive more traffic to the Target mobile app
Facebook Ads features provide a great deal of flexibility in terms of the various types of ads and ways audiences can be reached. Remember— Facebook advertisements can also be featured on Instagram and Facebook's display network, so you have a lot of options to test to see what drives the most engagement and revenue. Just make sure to use the URLgenius link in your organic posts as well, and you'll reap the same benefits in opening the app to your product screens.

URLgenius Is the Deep Link Between Social Advertising and Target Plus Marketplace Success
If your brand is available on the Target website and app, but you are not selling directly from social media, you are missing significant sales and remarketing opportunities. App deep links will help turn social media into your best tool for finding new customers and driving traffic to your Target Plus Marketplace product listings. So, doesn't it make sense to build a seamless bridge between social media apps and the Target app with URLgenius deep links today?
We are always here to help you with your campaigns! Contact us with questions at info@urlgeni.us about Target, Walmart, or Amazon marketing, and deep links.
---
If you found this content helpful, check out some of our latest how-to posts for deep link app marketing: