Yesterday, I had the honor of presenting to a sell-out crowd of a few hundred social marketers at Madison's Social Media Breakfast. What an extraordinary, high-energy community for Madison social media! Aside from the home-town hospitality, what made the event particularly exciting was seeing first-hand how interwoven mobile technology has become with social media. (When polled, 99% of attendees were using a smartphone or tablet that moment – to be social.) It was electric!
First, many thanks to Lance Ratze, from Yola's Cafe and Coffee Shops of Madison, and Wendy Soucie for the invitation to be part of such a great event! Keep up the great work you do for the community!
My presentation was titled "Mobile's Brave New World for Search and Social Marketers." My goal was to first look at how smartphone and tablet technology is changing us as consumers in a few profound ways.
We then focused on the intersection of Mobile, Search, and Social. How are companies going beyond the basics of mobile sites, apps, and barcodes to interconnect their media types and profiles? How can we make it easier to do business with mobile consumers? I wanted to share a few cutting-edge mobile-search, mobile-social, and app-aware link techniques that can help marketers overcome the complexities of this brave new mobile world we live in.
I also like keeping presentations interactive. (I learn more that way.) Here were a few interesting tidbits I picked up from the audience:
First, the distribution of Android to iPhones was nearly opposite the oft-touted market trends. At least 60% (if not 65%), when polled, were on iPhone. Maybe 35% on Android. (Just a few brave souls raised their hands to represent the once-mighty Blackberry.) I found this distribution surprising. While not a scientific poll, I generally consider social media users to be fairly early adopters, and as such, assumed they might skew towards Android. Not the case.
Second, QR codes evoke very emotional responses. Social media folks either love them or hate them. But NO ONE likes scanning QR codes that lead to dead pages or non-mobile pages.
Third, no one in social media likes being asked repeatedly to retype passwords, from their smartphone, into social mobile sites like Facebook, Twitter, Linked In, Foursquare, etc. Those cursed login screens instantly kill the mobile social mojo. Social sites like these need to implement "open the app" buttons that detect when the app is on the device, and if so, open it. (As should any company that has apps for that matter.)
Fourth, in times of great change, it's helpful to understand your place in history. Whether it's looking back at Martin Cooper's original brick of a cell phone at Motorola, or gazing back 100 years to see how our ancestors' horse-drawn society was also disrupted by a different "mobile" technology. We need these reminders to see how we ourselves often defend today's "buggy makers" and "blacksmiths" if we are to have any hope of staying on the right side of history…
If you didn't catch the presentation, the slides can be viewed here (already over 1,000 views). There are also some great comments in the 300+ real-time tweet archive (minus the spambots that attacked once we started trending!). And lastly, here are a few photos attendees snapped and tweeted during the presentation: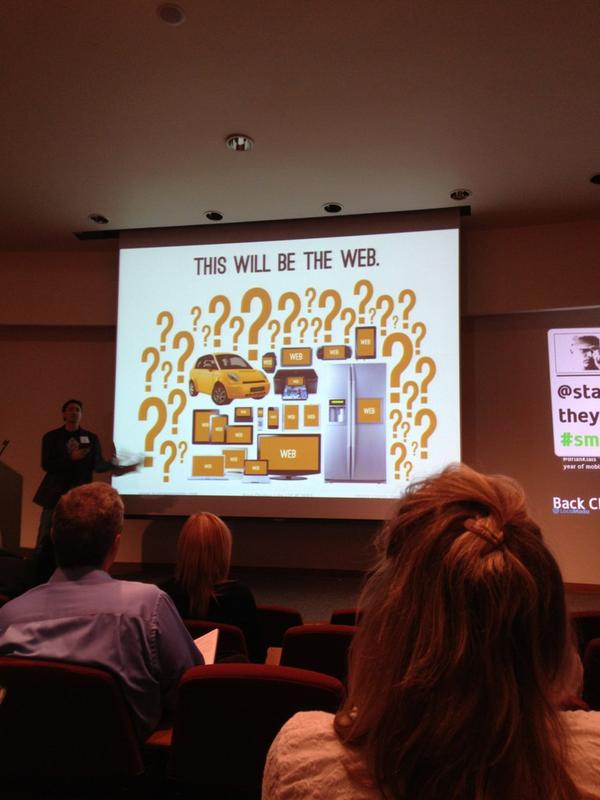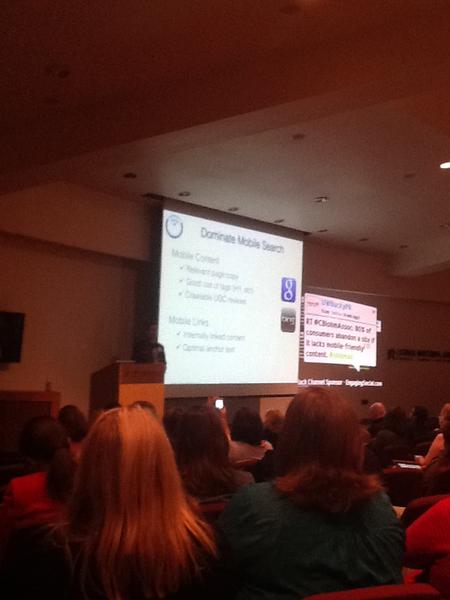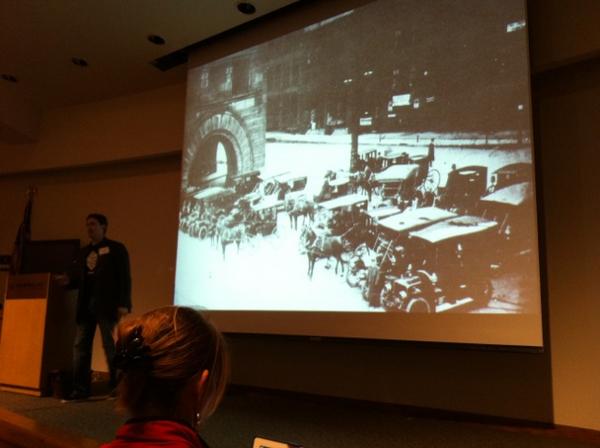 Thanks again to SMB Madison for the wonderful hospitality – and to all attendees for making it such a terrific event. Rock the mobiles!
-Brian