For those familiar with the free version of URLgenius you may know that your links have been set to present the user with a choice page letting the user select between app or Web. Paying customers have the option to remove the choice page which would automatically open the app when found on the iOS or Android device. Until now!
Starting immediately, we're pleased to announce all URLgenius links are now set to auto-open by default 98% of the time while 2% of the time the choice page will be displayed allowing the user to select between app and web. The change will also apply to any active links created in the last 30 days. This change was made as a result of feedback from our clients who told us that getting their customers to reengage or download the app was their first priority.
iOS 9.2 and Auto-Open
The auto-open user experience is different across browsers and platform. The Android experience will immediately open the app when detected while the release of iOS 9.2 changed the auto-open experience which we covered in detail in this blog post.
In iOS 9.2, auto-open calls the "Open App" modal.  Here's an example for Twitter: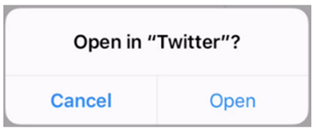 If no selection is made the user is redirected to the fall back URL. The URLgenius platform also allows customers to set how long this dialog remains open but we find that 2.5 seconds is optimal in most cases.
Additional Choice Page Features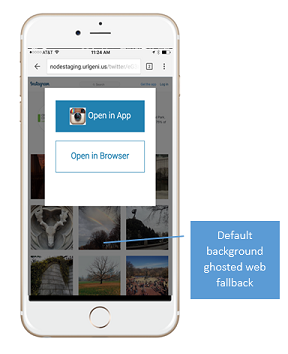 Another exciting new feature is an updated choice page that now includes a ghosted image of the fallback URL. This approach provides a more branded default experience. The choice page is also fully customizable.
We hope the new auto-open default experience drives even more engagement and conversion for your mobile app. Contact us if you'd like to change any of the following default settings for your links:
Auto-open default at 98%
Choice Page default at 2%
iOS 9.2 "Open App" modal display at 2 seconds
Choice page branding
Examples linking to mobile apps for brands ranked in the Internet Retailer 500.
Contact us with any questions and send us your feedback!