A key benefit of deploying intelligent links throughout omnichannel campaigns is understanding user preferences for apps vs. mobile websites. That preference may also change by marketing channel, content and marketing promotion. This insight is key when rolling out major updates to apps or websites and when implementing special time sensitive promotions. The only way to acquire this app vs. web preference information is to ensure your marketing links can (1) auto-open your app and (2) periodically ask consumers what their preference is when capturing that mobile moment.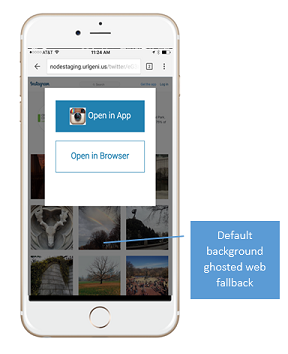 We're pleased to announce that URLgenius now offers this kind of statistical polling automatically. Most of the time (98%) your links will detect and automatically open your mobile app for iOS or Android regardless of where your links are deployed including display, search, email, affiliate or social. The other 2% of the time we present the user with a choice page which allows you to understand changing trends in user preferences over time as your mobile app and website capabilities evolve. See this blog post for more details on default settings for URLgenius links.
The polling percentage can be set to any number to suit campaign objectives allowing for maximum flexibility. For example, when using URLgenius links in search marketing campaigns, the polling percentage should be set to zero to comply with ad words policies unless the advertiser creates a subdomain for URLgenius links.
This statistical sampling also allows us to extrapolate your app open rates which we present in the URLgenius dashboard. This is important because in some browser\device combinations the app open event can be difficult to capture. The more you deploy your URLgenius links, the smarter the URLgenius platform gets in accurately portraying your open rate analytics and in turn, helping you to understand consumer preferences for app vs. web. This statistical polling capability is unique among deep linking platforms and does not require any SDK or API integration. In addition, you can also use your preferred web or channel analytics platform by appending tracking parameters to your URLgenius links for even more granular reporting.
Another exciting new feature is the image used in the background of the polling choice page. Instead of a plain white background, that image will be a ghosted screenshot of your fallback Web URL. Alternatively, the choice page can be fully customized and branded. This is especially helpful for those brands and advertisers that that want a more fully branded experience when the choice page is presented to the consumer or when using the choice page as an opportunity to engage the consumer with a more specific goal in mind.
Routing traffic between apps and websites according to content, marketing promotion and marketing channel will become increasingly important for understanding the consumer journey.
Our objective is to give you complete control over the consumer journey as your acquire insights on users preferences between app web during all stages of the consumer engagement cycle to help capture mobile moments that maximize engagement and conversion.
Contact us to setup a free test or if you'd like to change any of the following default settings for your URLgenius links:
Auto-open default at 98%
Choice page default at 2%
Choice page branding
Check out our deep linking examples to IR 500 mobile apps. How are you using URLgenius in your marketing efforts? Send us your feedback and questions.