There's been a lot written about Google App Indexation in the mobile and advertising trade press. Anyone with an app to promote on the Android platform can potentially benefit because when your app is indexed Google is able to find it and then surface the app content in Google search results. That means when users search for something on mobile that is related to the content within your app you will have a better chance of being found. If your app is not installed than Google goes further and presents the user with convenient install button.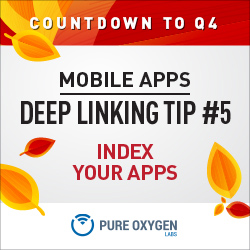 Sounds like a no-brainer right? So naturally one would think that agencies, retailers and brands would be rushing to get their mobile apps indexed for Google. So we recently took a look at the Internet Retailer Mobile 500 to see just how far along they were in this effort.
First we took a look at how many IR Mobile 500 retailers have mobile apps. We found that about 47% have an app for the iPhone and about 41% or 205 retailers had an Android app. Surprisingly, of those 205 retailers only three (yes 3!) had taken steps to index their apps for Android.
No doubt most retailers have a lot of technical projects in the queues and Google App Indexation takes some developer effort. But the benefits can be extremely helpful for omnichannel marketers trying to understand ways to engage consumers. App indexation paves the way for mobile deep linking strategies which can be applied to automatically take consumers from any marketing channel to a page deep within the app without fumbling through a mobile website.
REI for example, using URLgenius by Pure Oxygen Labs, learned through mobile deep linking that up to 80% of their mobile display campaign clicks were from loyal app users. For search marketing, brands can discover what percentage of searches on branded terms are app users. For some brands that number exceeds 50% or more.
These types of insights empower marketers to make better decisions when it comes to merchandising, messaging and the timing of promotions across device types. Marketers can proactively use such insights to decide when to open mobile apps and from which channel which will help maximize overall return on ad spend.
Need help indexing your app or setting up mobile deep linking tests across channels including display, search, email or affiliate? Contact us to get started!