For brands and retailers that have a mobile app, simply driving installations can be challenging. The good news is that most brands have been spending the last several years working hard to build a strong social following on Facebook, Twitter, Pinterest and Instagram. So a good place to start is to determine what percentage of your followers by social channel have your app installed.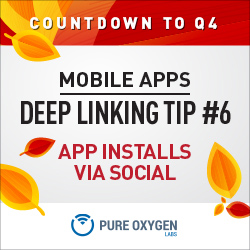 Not all brands can assume high app penetration rates among social followers. REI for example, using URLgenius by Pure Oxygen Labs, was surprised to learn that less than 20% of its followers who were engaging with the brand via social media had the REI app installed. Yet REI realized anyone following the brand may be open to installing the app if prompted at the right time. Social channels, therefore, presented a huge opportunity for REI to deep link to the app store to drive installs.
Deep linking across browsers can be tricky and developing solutions for each use case can be resource intensive. (See this post for a summary of browsers types and limitations.) Facebook and twitter for example, use embedded browsers in iOS which do not support Apple Smart Banners (they won't be visible). In this case, other solutions need to be implemented such as HTML based smart banners or active deep linking which will sense when the user doesn't have the app installed and automatically route to the app store.
Marketers today need tools that can help them proactively develop strategies for controlling when to open apps vs. when to send users to an app store or route customers to a mobile website. For example, the app might be at a stage where there are certain product categories that simply convert better on the mobile web.
On the other hand, when mobile apps mature, marketers often want to route more traffic to the app to understand conversion trends. Mobile marketing and deep linking requires brands, agencies and marketers to be nimble in order to change course quickly when needed and to capitalize further on things that are working.
Marketing via social channels can be a great way to drive app installations for retailers and brands. Whether you are driving installs or on-going engagement, the key to deep linking is to ensure marketing is in control. When marketers are free of deep linking SDK and API dependencies, install and engagement strategies can be tested and validated easily across channels. Check out the FAQs.
Looking to get started? Contact us – we can typically get test links setup within minutes!