In less than a month, Google will make a significant algorithm change that will impact more mobile sites than previous updates. This advanced warning gives marketers time to get out in front of the change before it impacts their rankings. In lieu of "Mobile-geddon" panic and "End of Days" predictions, your friends at Pure Oxygen Labs would like to share 5 helpful tips to weather this algorithm storm.
p.s.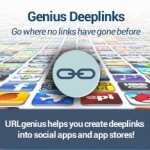 Do Your Android App Pages Rank for Top Mobile Keywords?
App indexation is an exciting new opportunity to drive Android app engagement from mobile search queries. To take advantage, make sure your Android manifest.xml supports deeplinks. You'll boost Android app usage from Google – and every other channel including email, social media, and direct-load mobile web traffic! Learn more.
Overwhelmed by scope of all these mobile-friendly requirements? Fear not. We live and breathe this stuff, and we want to help. Get in touch.