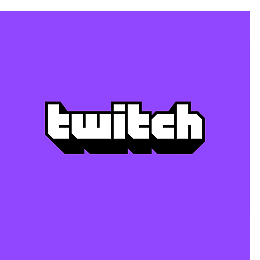 Twitch is today's most popular streaming game service and was acquired by Amazon in 2014 for almost 1 billion dollars. That dominance is now being challenged by newer platforms including Microsoft Mixer, Facebook Gaming and even YouTube but Twitch is still the market leader with emarketer predicting the platform will reach 47 million monthly users by 2023.
Similar to social networks like Instagram, TikTok and Snapchat, it's all about engagement and followers. Whether you just created your profile on Twitch or another gaming service or you are an established player or viewer looking for ways to increase followers, this blog post is for you! It explains why app deep linking should be an important part of your growth strategy and how you can create an app deep link or a QR code in just a few minutes that opens directly to your profile in the Twitch app. You should use an app deep link whenever you share or promote your profile instead of the regular Twitch link.
Why is app deep linking into Twitch profiles important for growth?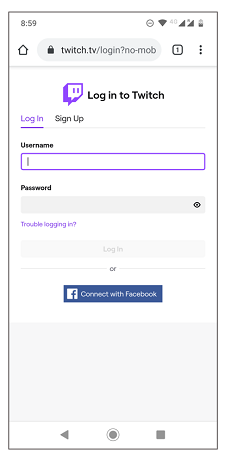 Like all social networks, when you join Twitch you are assigned a profile link. You can share the link on social media, messenger apps, email campaigns or any marketing channel and even QR codes to help drive awareness and engagement with you and your content.
The problem with regular Twitch profile links is that they don't always open the app when clicked from a mobile device. Depending on the context in which you click the link, you are often sent to the Twitch mobile website even if you have the Twitch app installed. That is because regular web URLs cannot always open mobile apps and every app is different in terms of its linking abilities and whether the content in the app such as a profile page has an "app address" or URL scheme.
Even if the app has deep linking capabilities the app still will not open in certain use cases. When promoting your Twitch profile on social media for example, the embedded browser for the social network will prevent the Twitch app from opening and then send your visitor to the Twitch website to login even if the app is installed. This results in lost followers because most people abandon mobile website logins and may not even know their password because they have been using the app where login is persistent.
Twitch App Deep Linking for Players and Marketers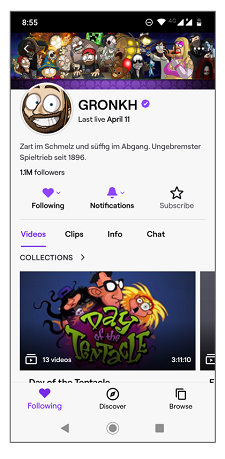 The solution for Twitch players and marketers is to use an app deep linking platform like URLgenius which lets you update your Twitch profile link with additional deep linking capabilities. Most deep linking platforms are designed for app developers but those designed for marketers and agencies will let you create an app deep link to any app including Twitch which you can test and implement immediately.
This concept applies to any app so if you don't see support for your preferred gaming platform just request to have it added. You can also control the fallback destination for when the Twitch app is not installed. The ability to control the fallback is helpful when you are promoting your Twitch profile to broad audience. In cases where the app is not installed, you could send the visitor your social media page or website for example instead of the Twitch login or app store entry.
QR codes are also a great way to promote your Twitch profile. Most phone cameras on iOS and Android now have QR code scanning capabilities which has increased the use of QR codes. When you create an app deep link to your Twitch profile a corresponding QR code will also be created that you can download and use in any marketing channel.
Step-by-Step: Creating Deep Links to Twitch Profiles
The first step is to find the Twitch profile URL you want to link into. This is the link that you paste into URLgenius:
When you paste the link into the deep linking platform you should have the opportunity to customize the end of the link. In this example, we will customize the end of the link to 'GronkH' to match the profile. Marketers may want to align name of the app deep link with the campaign or marketing channel.
When you click compose, you will be brought to the settings page. This is where you can copy your Twitch app deep link to place into your campaign or marketing channel including websites, email and social advertising.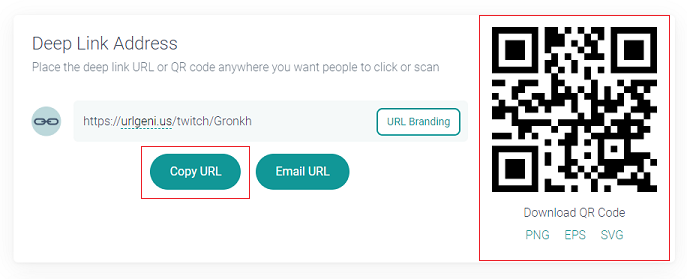 By default, your visitor will be taken to your Twitch profile on the Twitch website when the link is clicked by a desktop computer or when the app is not installed.

You can change the fallback destination by device for when the Twitch app is not installed.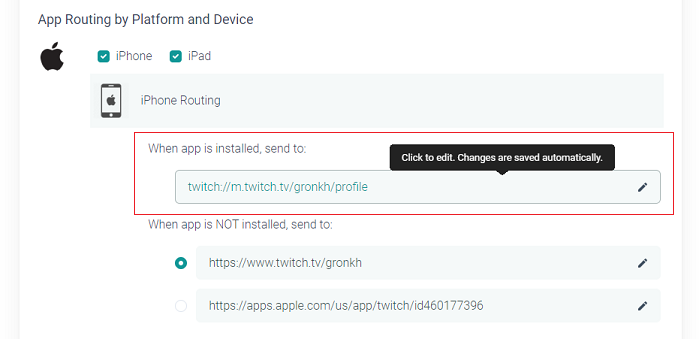 That's the final step! We now have an app deep link for the Gronkh. You can use the link in any marketing channel including other social networks. The link will open the Twitch app directly to the profile. Try it from your mobile device:
Remember you can use the app deep link to your Twitch profile in any type of marketing campaign including websites, email, social advertising, search marketing and QR codes. You can even use your own domain for your URLgenius links. Try creating one to test in a campaign. You are likely to see a big difference in conversion compared to regular URL for your Twitch profile.



---
See these "how-to" articles for more deep linking and QR code best practices:
How to Create a QR Code that Deep Links to Your Mobile App
How to Deep Link into Instagram TV Videos
How to Make Deep Link QR codes into Products in the Amazon App
How to Create YouTube Video QR Codes and Deep Links into the App
How to Make Deep Links and QR Codes for Facebook Pages
How to Make Deep Links and QR codes into Snapchat to Grow Followers
How to Create Deep Links and QR Codes into Twitter to Grow Engagement
How to Make Deep Links and QR Codes for Facebook Messenger
Deep Links and QR Codes for Telegram Usernames and Channels
How to Generate Deep Links and QR Codes for Spotify Music
Top 10 App Deep Linking and QR Code URL Schemes for Marketers