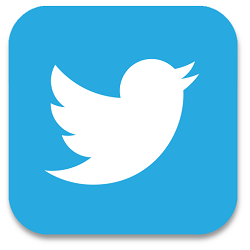 Social media managers are always striving to increase engagement with their social content. When determining where to focus social marketing efforts, it helps to understand what percentage of a target audience has a particular social app installed on their mobile device.
Let's take Twitter as an example. What percentage of your audience has the Twitter app? How many app opens are you triggering with your tweets throughout the day? What cities are they clicking from? These types of questions are not easily answered with Twitter analytics. App deep linking platforms like URLgenius let you see such insights.
Plus using an app deep link when promoting your Twitter profile in other social networks and channels will help you avoid that Twitter mobile website login which is preventing you from getting more followers.
Generate a Twitter app deep link to open your profile.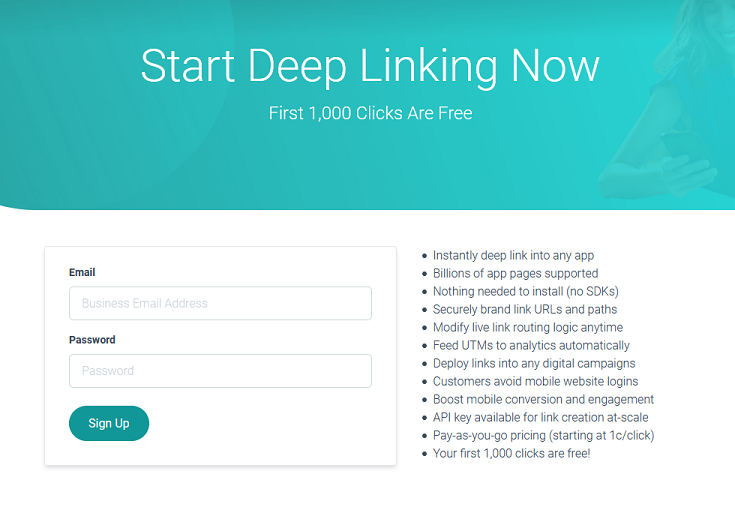 Login to URLgenius account: http://urlgeni.us/signin

You'll see a box on the homepage where you can type or paste your Twitter profile: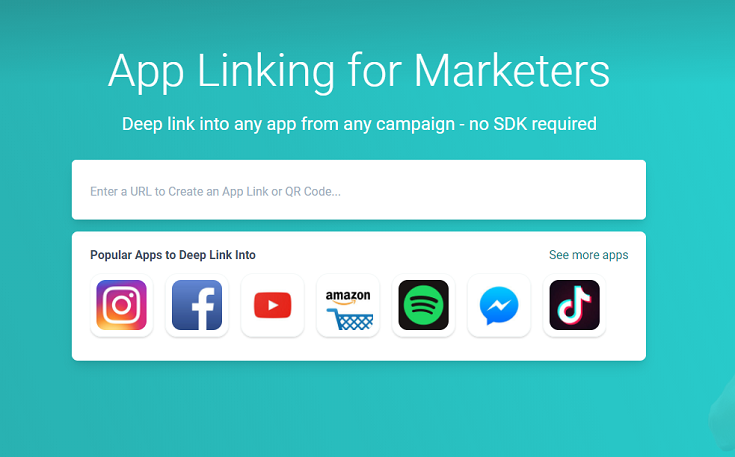 Copy and paste your Twitter profile in the box provided:
http://www.twitter.com/

username

Note that "

username

" is the Twitter profile name.
The screenshot below creates a link to the Gap's Twitter profile
Pro Tip: Note the field that is populated with 4 random characters that you can change. Customize the end of the link to match your profile or the name of your campaign.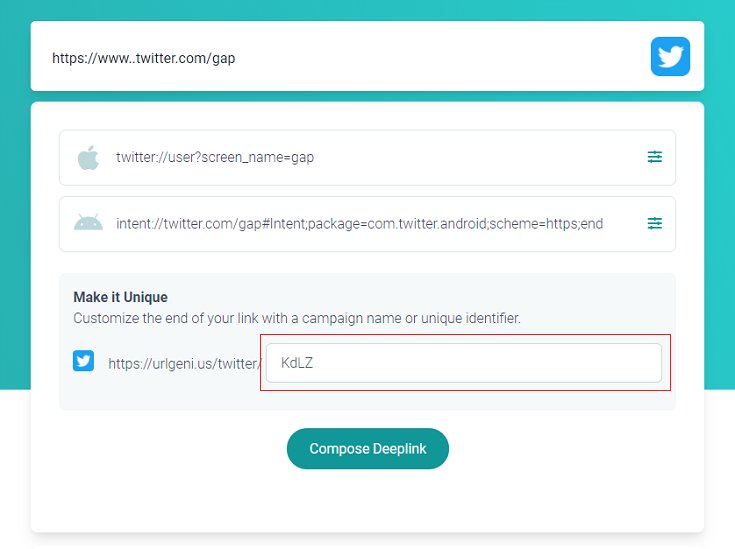 Now click the "Compose Deeplink" button.

After clicking "Compose" you will be brought to the settings page for Twitter deep link you just created. Now you can copy the link for use in any marketing channel (website, email, etc).  Just place your URLgenius link behind the Twitter icon or in other channels to promote your profile. Notice there is a QR code which you can use to test the link which you can also customize and downlooad.

Copy the link and use it in your other marketing channels.

Place it behind the Twitter logo on your website and email templates
Promote your Twitter app deep link within other social networks to when cross-promoting your social channels
Twitter deep linking metrics via URLgenius

Once you start promoting your URLgenius deep link to your Twitter profile, you can login to understand your Twitter engagement you're. Here's an example of a chart for daily visitors, clicks and app opens from your Twitter profile link:

This next chart below shows your Twitter app opens by platform. You can also determine what percentage of your engagers have the Twitter mobile app installed while app store visits indicates people who have shown interest in your in-app Twitter profile but do not have the app installed.

And here's a view of clicks on your URLgenius Twitter deep link by device and by state.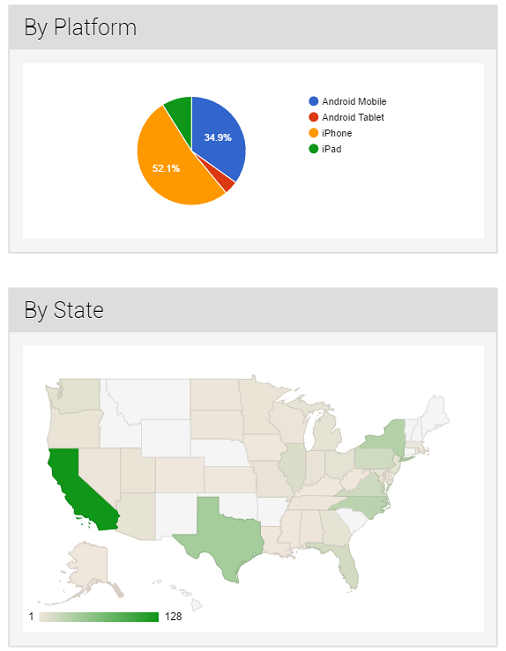 ---
See these "how-to" articles for more deep linking and QR code best practices:
How to Create a QR Code that Deep Links to Your Mobile App
How to Deep Link into Instagram TV Videos
How to Make Deep Link QR codes into Products in the Amazon App
How to Create YouTube Video QR Codes and Deep Links into the App
How to Make Deep Links and QR Codes for Facebook Pages
How to Make Deep Links and QR codes into Snapchat to Grow Followers
How to Create Deep Links and QR Codes into Twitter to Grow Engagement
How to Make Deep Links and QR Codes for Facebook Messenger
Deep Links and QR Codes for Telegram Usernames and Channels
How to Generate Deep Links and QR Codes for Spotify Music
Top 10 App Deep Linking and QR Code URL Schemes for Marketers