Social media managers are always striving to increase engagement with their social content. When determining where to focus social marketing efforts, it helps to understand what percentage of a target audience has a particular social app installed on their mobile device. That can be a good indication of how engaged that audience is with that social media platform.
Let's take Twitter as an example. What percentage of your audience has the Twitter app for Android or iOS installed on their smartphone or tablet? How many app opens are you triggering with your tweets throughout the day? Which Tweets are generating app opens from tablet devices? These types of questions are not easily answered with Twitter analytics. URLgenius, the deep linking platform for social and brand apps, lets you easily obtain these insights and others for free. Just follow these steps.
Create a deep link to your Twitter profile.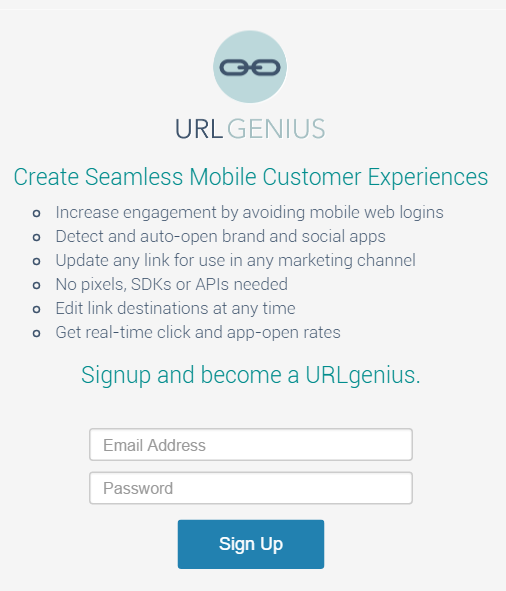 Login to URLgenius account: http://app.urlgeni.us/signin.

You'll see a box on the homepage where you can type or paste your Twitter profile: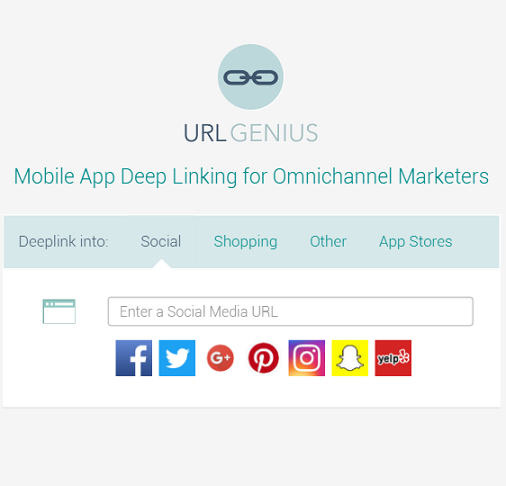 Copy and paste your Twitter profile in the box provided:
http://www.twitter.com/

username

Note that "

username

" is the Twitter profile name.
For example, the screenshot below creates a link to the Gap's Twitter profile: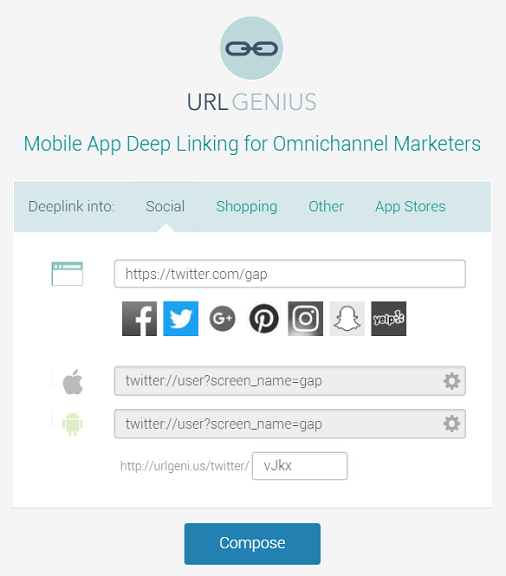 Optional: Note there is a field that is pre-populated with 4 random characters that you can edit. You can customize the path for tracking purposes. For example, you may want to change it to say 'fall-campaign" or "email-campaign". In this example we used "fall2016".
Now click the "Compose" button.

After clicking "Compose" you will be brought to the settings page for Twitter deep link you just created. Now you can copy the link for use in any marketing channel (website, email, etc).  Just place it behind the Twitter icon or anywhere you want to promote your profile.

Copy the link and use it in your other marketing channels. Here are some examples of where to promote and use your URLgenius deep link for Twitter:

Place it behind the Twitter logo on your website
Place it behind Twitter logo in your emails
Where possible, promote your Twitter deep link within other social networks to cross-promote your social marketing channels
Use behind banners in display advertising that promote your Twitter presence
Use in paid search campaigns to promote your Twitter profile
Analytics tip: append your preferred web or channel analytics UTM parameters for tracking (Google Analytics, Omniture or UTMs for any analytics package.)
Twitter deep linking metrics via URLgenius

Once you start promoting your URLgenius deep link to your Twitter profile, you can login to URLgenius at any time to understand how much Twitter engagement you're driving. Here's an example of a chart for daily visitors, clicks and app opens from your Twitter profile link:

This next chart below shows your Twitter app opens by platform. You can also determine what percentage of your engagers have the Twitter mobile app installed while app store visits indicates people who have shown interest in your in-app Twitter profile but do not have the app installed.

And here's a view of clicks on your URLgenius Twitter deep link by device and by state.
More Deep Linking Tips:
URLgenius supports deep linking to most social platforms. See these "how-to" articles for more information:
Instagram Deep Linking: Create Links That Can Detect the Instagram Mobile App for iOS and Android
Facebook Deep Linking Step-by-Step: Track App Opens and Engagement Across Channels
Snapchat Deep Linking Step-by-Step: Track App Opens and Engagement Across Channels 
Top 10 iOS App Deep Linking Schemes for Mobile Social Marketers
Ready to get started?  Sign-up now or contact us with your questions.