Snapchat is the social media app famous for pioneering the way for those fun face filters that we're all familiar with (let's be honest here, most of us have tried that dog filter at least once, am I right?). Not only that, the platform invented the concept of chatting with friends via disappearing "snapped" photos in real time. Imitation being the highest form of flattery, competing social platforms like Instagram and TikTok soon released their own Snapchat-like features.
The app was released in September 2011, and today averages 319 million active daily users. Two years after launching, its developers released the "My Story" feature, allowing its users to post various snaps chronologically, accessible to all their added friends. Another two years after that, in January 2015, Snapchat officially launched the "Discover" portion of the app, which ultimately transformed it into a platform upon which major publishers could post ad-supported, short-form content— publications that include CNN, People, Vice, etc.
And now? Well, any business big or small has the capability to advertise on the app including direct-to-consumer (DTC) brands and companies. In this post, we'll be discussing the benefits of advertising your Amazon store and products on the Snapchat platform, with a focus on the ways app-to-app Amazon deeplinking helps maximize conversion while driving your Amazon remarketing funnel.
So, again, as you read this post, just remember that Snapchat app deep links drive sales and remarketing for your Amazon store and product listings!

Snapchat Deeplinking to the Amazon App is the Key To Increasing Conversion Rates
Snapchat Ads are your door to finding e-commerce success among what could be overlooked audiences. For example, did you know that brands advertising on Snapchat in July 2022 could reach approximately 616.9 million unique devices? That's a big community of socially engaged consumers you definitely don't want to miss and the demographics get even more interesting by age with 62% of users falling between 18 and 34 years old.
So how are these Snapchat numbers related to deep linking? The answer is linking from app to app. As consumers, when we're in one app like Snapchat we often want to jump out to go to another app perhaps even for just a moment. You need a secure bridge when linking app-to-app— even for Amazon.
App deep linking is the solution. Let's go through an example, shall we?
Now let's say you, an Amazon seller (or your agency), is looking to invest part of your marketing budget into a Snapchat advertising and marketing campaign— maybe even dip your toes into the Snapchat influencer marketing realm.
With the budget in place, you move ahead with the creation of your Snapchat ads. Given the volumes of information you've read about Snapchat demographics and audience reach, you're confident that the Snapchat algorithm will present your ads to the right shoppers and you're expecting a great conversion rate!
A potential customer (let's call him Joe) is in the market for your product—let's say an all-natural shaving cream. As an active Snapchat user (and Amazon Prime member!), Joe is a great example of someone that fits the profile you're trying to reach with your ad. Perfect. Joe taps the CTA, 'Shop Now' on your Snapchat story ad. He's ready to purchase the product right at this very moment, or at least add it to his cart. But hold on—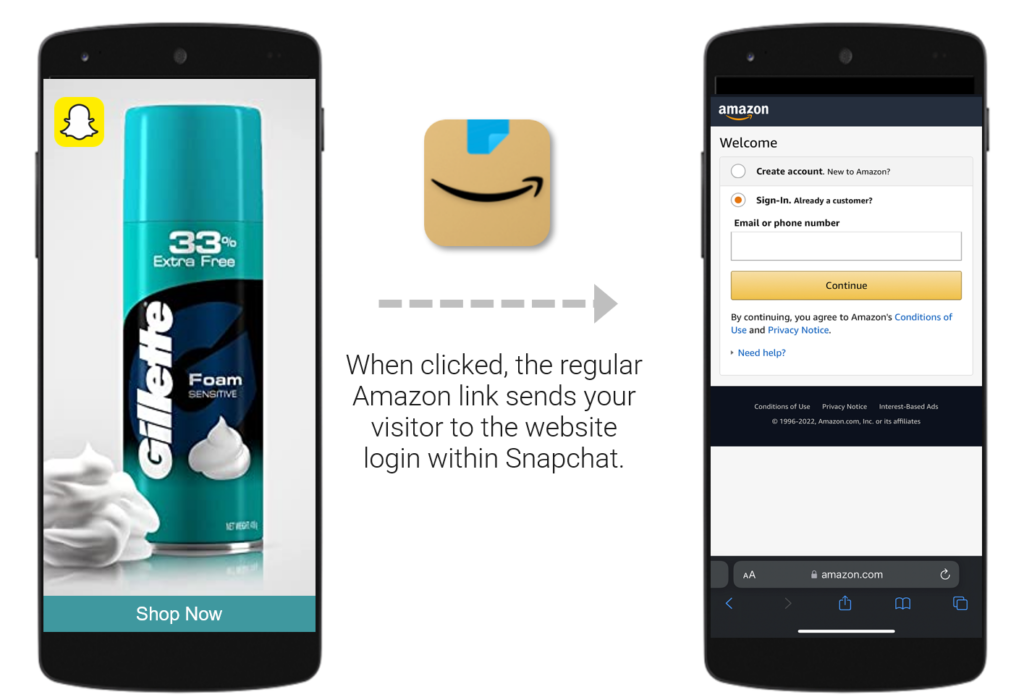 Joe is sent to the Amazon web login, even though the Amazon app is already on his phone! Why is he still in the Snapchat app at the web login, and why is he suddenly forced to rack his brain for his Amazon password because really— it's been years since Joe logged into his Amazon account that way because he's an avid app user (aren't we all?).
Guess what happens next? Joe moves on. He's seen this link behavior before, and in the past has tried to switch over to the Amazon app and search for the product— but to no avail. Joe's tolerance for manually foraging through Amazon for a product seen in an ad on the Snapchat app is now nonexistent. Nevertheless, he puts a "pin" in his mind to find it later (he doesn't).
And that, my friend, is how you lose a sale— and potentially a loyal customer.
Skipping Over the "Walled Garden" Between the Snapchat App and Amazon App to Increase Sales and Engagement
So, why did this happen? Well, Joe unfortunately ran straight into the (nearly) inescapable walled garden. (Through no fault of Amazon, might we add.) What's that, you ask? Long story short, the walled garden refers to the annoying experience of clicking a link within an app that theoretically should lead to the destination app (when already installed on your phone). Instead, you're sent to the website login page.
Even more unfortunate? This is a very common occurrence within most apps— not just social media apps. The app that your shopper happens to be in is attempting to keep your shopper within the confines of its "walls". Think of it this way— the social app has its own embedded web browser, which your shopper is sent to— instead of simply allowing the user to leave and open the other app.
The walled garden is the biggest enemy of a successful direct-to-consumer marketplace advertising campaign. As a matter of fact, the phenomenon hurts your Amazon sales by lowering your conversion rate, lowering your funnel contribution, and ultimately even lowering your product's ranking.
When really at the end of the day, the link just needs a special capability to securely jump over that login and open the destination app to the right screen.
That's where URLgenius can help.
It really is that simple you just need to update the Amazon link for your campaign. When your shopper clicks your brand's ad on Snapchat, the link immediately opens the Amazon app to the right product screen plus you can include your Amazon Attribution tags so you can immediately see your results in the Amazon ads console. Creating that secure bridge from app to app results in dramatic increases in engagement, remarketing, and— of course— sales.
Pro tip: Use your brand's domain for your URLgenius deep links for Amazon. When deep linking from Snapchat directly to the Amazon app using your brand's domain, it allows you to extend your brand to the app deep link when sending your customers from app-to-app creating higher click confidence.
We know what you're thinking at this point— how do you add that unique app linking capability? Well, the URLgenius platform is using a simple but powerful, patented enterprise process for deep linking app-to-app. The platform is designed especially for marketers and agencies and anyone else who might need such app linking capabilities.
And guess what no SDKs, no technical resources needed (scratch this off your 'to-do' list). Let's begin step-by-step it only takes a few minutes so get your Amazon link ready and follow along!
Step-By-Step: How To Deep Link into the Amazon App from a Snapchat Ad
URLgenius makes it easy for you— the seller, affiliate, influencer, or content producer (anyone!) to create app deep links to marketplaces to use as your call-to-action in any channel. Direct your audience to exactly where you want them to be in the Amazon app.
URLgenius is the only verified Amazon Ads partner that can pass Amazon Attribution measurement tags without SDKs. Follow these steps and update your campaign links today.
Pro tip: These are the steps to create a single link. If you need to create links programmatically for an advertising data feed, URLgenius offers access to an API.
1. The first thing you need to do is to navigate to the Amazon page and copy the link from the address bar of your browser.
2. You only need the core links— you can remove any navigation tags that may have been added as you searched for the right Amazon link to make sure they don't interfere with opening the app.
3. Paste the link into the box provided on the URLgenius home page. When pasting the link, notice the Amazon icon is highlighted— this tells you that URLgenius understands the link you entered.
4. You can customize the end of the link to match your campaign to make it easy to find later. If not needed, just use the pre-populated random characters.
5. Click the "Compose" which takes you to the settings page for your Amazon app deep link, where you can copy and place it into your Instagram ad.
6. To test the behavior of the link, scan the QR code or email it.
Notice that there are advanced features on the settings page— this is also where you can see clicks and the number of app-opens. You can also enable Amazon Attribution tags on the link so you can measure how much revenue is being driven by your YouTube campaign and your URLgenius app deep lin
Measurement pro tip for Amazon sellers: You can use the Amazon Attribution features right from within URLgenius. Authenticate your Amazon account from the settings of your URLgenius account. Once you do that, URLgenius can automatically append Amazon Attribution measurement tags when you create your deep link. Currently, this feature is supported for store and product details pages. For other types of pages, create your Amazon link in the Amazon Ads console and include the measurement tags when you create your URLgenius link. Then in the Amazon Ads console, you can see the results Snapchat campaign attributed to that URLgenius link.
Measurement pro tip for Amazon Associates and Influencers: Amazon provides a link generator for Amazon Associates that lets them update links and append their affiliate tags which enable tracking for commissions. Generate your affiliate link in the Amazon affiliate system then update that link with URLgenius. You do not need to include navigational tags or search tags. Check out this URLgenius case study where the Affiliate tripled sales compared to regular Amazon product links. Always use URLgenius when promoting affiliate links in non-Amazon channels.
Contact us if you need help setting up your Amazon links.
QR Codes for the Amazon App
Doing a multi-channel campaign in coordination with your Instagram ad? Lucky for you, every URLgenius app deep link also has a corresponding QR code.
Create a branded app deep link and custom QR code to use online or offline to promote your Amazon store and product listings. Use them in posters, retail displays, tradeshows, and giveaway promotions. Just click on 'QR Settings' to find and download.
URLgenius will track scans and clicks separately and you can append tags for tracking in ways that won't disrupt scanning (including too many tags and appending them the wrong way is a common 'QR code fail!'). Make sure to contact us for expert QR code guidance. We can even create an unlimited number of personalized QR codes and send them directly to your printer!
URLgenius is the Deep Link Between Snapchat Seller and Influencer Marketing and Amazon Success
If you're an Amazon Seller, Influencer, or Associate; and you're not selling via Snapchat ads and videos with Amazon app deep links, we urge you to start today— you could be missing a significant number of sales and remarketing opportunities!
If you're an influencer, and the brands you're working with are not using URLgenius, send them this post and tell them they could increase sales by two, three, or four times!
We are always here to help you with your campaigns! Contact us with questions at info@urlgeni.us about Amazon marketing or about creating deep links from any app.
Check out these other latest how-to posts about app linking and social e-commerce: